This is the TDMST Weekly Round-Up of news affecting professional truck drivers, written by Vicki Simons for the week ending November 7, 2020.
We welcome your comments, thoughts and feedback on the items of your choice below.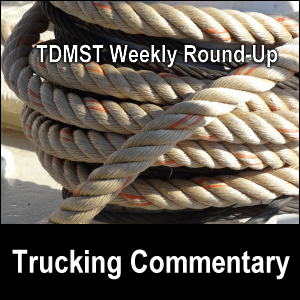 1. Regarding AB5 being overturned by Proposition 22
In my opinion, "finally some liberty prevails" was the key phrase in a November 5, 2020, article about how California's controversial AB 5 was overturned on Election day by Proposition 22.
The article states (emphases added) that Proposition 22:
"protects the rights of drivers for various ride-sharing companies… to work as independent contractors, rather than employees…"; and
"protects the ride-sharing companies' liberties to contract with drivers, rather then being forced to hire them as employees with expensive mandated benefits."
From other articles I've read, it was apparent that at least 3 of the gig economy companies were prepared to move out of California if Proposition 22 did not pass!
In other words, the entrepreneurial spirit in these companies was not going to be stifled! Yay!
Lawmakers who were supposedly concerned about the "rights of workers" to get certain employer-provided benefits — and put AB5 into place — were not listening to those in the gig economy who:
wanted the freedom of working for themselves (not employers); and
voluntarily chose to either be without employer-provided benefits or get them independently.
In my opinion, those lawmakers who tried to limit (or take away) the freedom of the people were acting in a blatantly unbiblical and unconstitutional manner.
The Biblical model is for people to work with their own hands for their sustenance:
1 Thessalonians 4:11: "and to aspire to live quietly, to attend to your own matters, and to work with your own hands, as we instructed you."
Ephesians 4:28: "He who has been stealing must steal no longer, but must work, doing good with his own hands, that he may have something to share with the one in need."
1 Corinthians 4:12a: "We work hard with our own hands. …"
Ecclesiastes 9:10: "Whatever you find to do with your hands, do it with all your might, for in Sheol, where you are going, there is no work or planning or knowledge or wisdom."
Amendment XIV: Section 1 (emphasis added):
All persons born or naturalized in the United States, and subject to the jurisdiction thereof, are citizens of the United States and of the state wherein they reside. No state shall make or enforce any law which shall abridge the privileges or immunities of citizens of the United States; nor shall any state deprive any person of life, liberty, or property, without due process of law; nor deny to any person within its jurisdiction the equal protection of the laws.
However, now that Proposition 22 has passed, the people have spoken and this measure of freedom can continue.
Hurray!
Other articles about how Proposition 22 may affect the trucking industry include:
I look forward to reading more about wins for gig economy workers — especially professional truck drivers — in the days to come!
2. Regarding Veteran's Day:
Watch for freebies, discounts and special sales like this for military personnel and veterans:
3. Regarding APU, technology, HOS, recall:
APU
---
Technology
---
HOS
---
Recall
4. Regarding autonomous vehicles:
I am sharing these articles as a courtesy so that you may stay on top of this and contact your elected officials:
5. Regarding accidents and Low Clearance Awareness Day:
Accidents
Learn from these accidents and seek to prevent them from happening to you and others:
---
November 8 is Low Clearance Awareness Day
Remember that back in 2016, I named November 8 as "Low Clearance Awareness Day."
My offer of a reward about a specific low clearance is still outstanding.
In the name of Truck-Drivers-Money-Saving-Tips.com, I will give a $50 Amazon.com gift card to
the first professional truck driver who can document to my satisfaction
that any GPS (Global Positioning System) unit that has specifically been configured for 13'6″ commercial motor vehicles
has routed him/her to go under any overpass that is shorter than 13'6″ in the lanes of travel (not on the shoulders) within the continental USA.
6. Regarding bad operations, drugs and violence:
Bad operations
Protect yourself and your rig; don't do these things:
---
Drugs
Never haul illegal drugs!
---
Violence
Watch out for things like this and protect yourself:
7. Regarding economy:
These are some of the most recent articles about the economy, as it affects the trucking industry:
8. Regarding electric and fuel:
Electric
---
Fuel
9. Regarding inspections, insurance, maintenance, operations:
Inspections
---
Insurance
---
Maintenance
---
Operations
10. Regarding money:
11. Regarding routing, safety, sleep:
Routing
---
Safety
---
Sleep
Are Your Drivers Getting Enough Sleep?"Even though it's slightly overshadowed by that other big national event this week, the National Sleep Foundation reminds us that this week (Nov. 1-8) is Drowsy Driving Prevention Week. NSF says drowsy driving is reaching epidemic proportions in 2020, with an estimated 100,000 police-reported crashes involving drowsy driving every year in the U.S."
12. Regarding weather and winter:
Weather
---
Winter
My husband Mike and I wish you — and all professional truck drivers — safe travels and lots of money saving opportunities on the road.
---
---
Return from TDMST Weekly Round-Up: 2020.11.07 to our TDMST Weekly Round-Up Trucking Commentary or our Truck Drivers Money Saving Tips home page.
---