This is the TDMST Weekly Round-Up of news affecting professional truck drivers, written by Vicki Simons for the week ending February 13, 2021.
We welcome your comments, thoughts and feedback on the items of your choice below.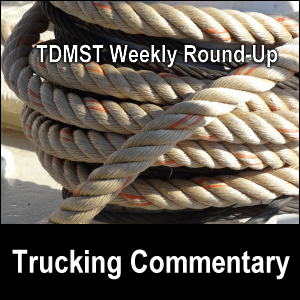 1. Regarding economy, costs, and trucker concerns:
There is a lot going on with the economy that is not covered in trucking publications, including:
8 Million More Living In Poverty, 9 Million Small Businesses In Danger Of Closing, 10 Million Behind On Rent
The economic turmoil we are facing in the USA is due to:
very bad decisions (a series of them) having been made by numerous elected officials; and
very bad advice from unelected bureaucrats (some of whom have conflicts of interest).
According to Investopedia: "M1 is the money supply that is composed of physical currency and coin, demand deposits, travelers' checks, other checkable deposits, and negotiable order of withdrawal (NOW) accounts. M1 includes the most liquid portions of the money supply because it contains currency and assets that either are or can be quickly converted to cash."
The Federal Reserve states, "The money supply is the total amount of money — cash, coins, and balances in bank accounts — in circulation."
A continually updated chart shows M1 for the United States.
From the resource listed just above, we see that the money supply in the USA was increased:
from $3.9751 Trillion in January 2020
to $6.0476 Trillion in November 2020 (the most recent month for which numbers are available as of this writing),
an increase of over 52% (the percentage increase of which you may calculate for yourself).
This is what happens when money is printed "out of thin air."
Listed on TreasuryDirect.gov is the USA's "Total Debt" — and as of February 11, 2021, is well over $27 Trillion.
The population of the USA varies, but as of this writing is estimated at 328.2 million people.
Let's do the math (which you may calculate for yourself on a Big Number Calculator:
$27,846,645,214,540.70 /
328,100,000 =
$84,872.43
for every man, woman, and child.
If this disturbs you, please contact your state and federal lawmakers (U.S. House and U.S. Senate).
Meanwhile, please learn what you can from these articles…
Economy
---
Costs
---
Trucker concerns
Please note that this list is different from the one that ATRI releases annually.
2. Regarding pricing, congestion pricing, taxes and fees, and tolls:
Pricing
---
Congestion pricing
---
Taxes and fees
---
Tolls
3. Regarding accidents, huge Fort Worth accident, and distracted driving observed:
Please learn what you can from these articles and seek to reduce the possibility that you will be involved in an accident.
Some of these are definitely preventable!
Accidents
---
Huge Fort Worth Accident
---
Distracted driving observed
4. Regarding legal, politics, teens, and violence:
Legal
---
Politics
---
Teens
There's a reason why auto insurance rates are higher for teens than those who are in their twenties or older: their brains have not yet fully matured.
In the article Content: Brain Maturation is Complete at About 24 Years of Age, we read:
"The brain undergoes maturation over the first 24 years of life…."
For a graphical representation, NerdWallet has compiled:
Average Car Insurance Rates by Age and Gender.
That being said, I am definitely opposed to letting teenagers drive commercial motor vehicles.
Even so, this was recently published…
---
Violence
Professional truck driver Bogdan Vechirko should never have faced jail time or a massive fine in the first place because there should never have been "protesters" on the road!
He should never have been put in a position where he had to "reach a deal" in order to resolve the "criminal charges" brought against him.
Still, this news is at least somewhat positive:
5. Regarding volume, supply, and rates:
Volume
---
Supply
---
Rates
6. Regarding speed, technology, ELDs, logistics, last mile:
Speed
---
Technology
---
ELDs
In my opinion, Canada's move to require certification on electronic logging devices is certainly superior to the USA's move to allow ELD manufacturers to "self-certify" their devices.
---
Logistics
---
Last mile
7. Regarding autonomous vehicles, electric, and fuel:
Autonomous vehicles
I am totally opposed to fully autonomous, self-driving, or driverless commercial motor vehicles.
I recently signed the petition Make the government keep our roads safe and encourage you to consider signing it, too.
I am listing these articles as a courtesy to keep you informed about what is going on.
---
Electric
---
Fuel
8. Regarding drugs and inspection:
Never take or haul illegal drugs — and always be prepared for a truck inspection.
Drugs
---
Inspection
9. Regarding employment and predictions:
Employment
---
Predictions
10. Regarding weather:
Please be ultra-careful driving in the winter!
11. Regarding COVID-19 and masking:
The entire "casedemic" and push for wearing masks and getting a "vaccine" is based on fear, not on science and not on good health practices.
On the bases of freedom, liberty, and religious beliefs, I am totally opposed to wearing masks and getting a vaccine.
According to 42 U.S. Code Chapter 21 – Civil Rights, it is unlawful to discriminate against any person in a place of Public Accommodation because of his or her religion (religious belief).
42 U.S. Code § 2000a-1 – Prohibition against discrimination or segregation required by any law, statute, ordinance, regulation, rule or order of a State or State agency | U.S. Code | US Law | LII / Legal Information Institute
42 U.S. Code §?2000a-1.Prohibition against discrimination or segregation required by any law, statute, ordinance, regulation, rule or order of a State or State agency

All persons shall be entitled to be free, at any establishment or place, from discrimination or segregation of any kind on the ground of race, color, religion, or national origin, if such discrimination or segregation is or purports to be required by any law, statute, ordinance, regulation, rule, or order of a State or any agency or political subdivision thereof.

(Pub. L. 88-352, title II, §202, July 2, 1964, 78 Stat. 244.)
Be that as it may, here are the most recent articles about this topic in the trucking industry.
12. Regarding achievement:
Our heartiest congratulations go to Roger Daily for his amazing accomplishment!
My husband Mike and I wish you — and all professional truck drivers — safe travels and lots of money saving opportunities on the road.
---
---
Return from TDMST Weekly Round-Up: 2021.02.13 to our TDMST Weekly Round-Up Trucking Commentary or our Truck Drivers Money Saving Tips home page.
---