This is the TDMST Weekly Round-Up of news affecting professional truck drivers, written by Vicki Simons for the week ending October 7, 2017.
We welcome your comments, thoughts and feedback on the items of your choice below.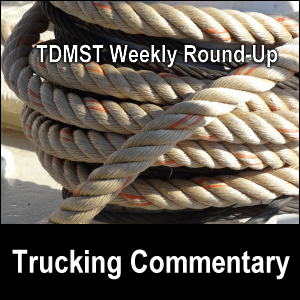 1. According to an October 2, 2017, article, "In 2015, large trucks were involved in more than 400,000 crashes, a 4% increase from 2014. Those crashes resulted in 4,000 deaths and 116,000 injuries."
Ouch!
Furthermore, the article stated, "The AAA Foundation looked at safety and cost benefits of four advanced safety systems available for use in trucks", which were named.
"According to the foundation, the societal safety benefits, which include the economic value of lives saved, injuries prevented, etc., of equipping all trucks with lane departure warning and video-based onboard safety monitoring far outweigh the costs. …
"Lane departure warning systems can prevent up to 6,372 crashes, 1,342 injuries and 115 deaths each year.
"Video-based onboard safety monitoring systems can prevent as many as 63,000 crashes, 17,733 injuries and 293 deaths each year."
I'm interested in knowing the costs of these products, how they will help prevent crashes when the other vehicle is clearly at fault, and what the real ROI (Return On Investment) is.
If you're currently using one or both of these systems, would you please comment below — or write a product review?
2. A September 26, 2017, article revealed that a truck driver who "veered" — possibly to try to avoid a collision with a four-wheel vehicle — "careened through a freeway guardrail in Otay Mesa and crash landed onto the street below, killing the driver instantly".
Be on your guard against any vehicle that may do this to you.
Drive with a spirit of anticipation and be ready to slow and stop.
3. A September 27, 2017, article entitled "High cost of truckers not having enough places to park and rest" stated:
"A pilot study by Oregon State University illustrates the high economic cost of having too few safe places for commercial truck drivers to park and rest.
"Over a seven-year period on one 290-mile stretch of highway alone, at-fault truck crashes resulted in approximately $75 million of 'crash harm,' research conducted by the OSU College of Engineering for the Oregon Department of Transportation shows."
Farther on down the article, we read a quote from Salvador Hernandez, a transportation safety and logistics researcher at Oregon State:
"'Around the country, commercial drivers are often unable to find safe and adequate parking to meet hours-of-service regulations,' Hernandez said. 'This holds true in Oregon, where rest areas and truck stops in high-use corridors have a demand for truck parking that exceeds capacity. That means an inherent safety concern for all highway users, primarily due to trucks parking in undesignated areas or drivers exceeding the rules to find a place to park.'"
The solution is not to wait for the day when autonomous trucks are on the road.
4. No explanation was given in the September 28, 2017, article for why the driver of a Peterbilt truck was traveling "at a high speed when he rear-ended Wummer's Ford Escape while she was slowing down to around 10 mph for a work zone".
The woman whose vehicle he hit died at the scene.
I suspect that this driver was either tired or distracted.
Stay alert!
5. "An Indiana truck driver called out the Big Brother-esque over-regulation that he experiences in his occupation", states a September 21, 2017, article.
The trucker also stated, "Every minute of every day is monitored by Uncle Sam, who takes care that I can never make a decision for myself based on my circumstances."
The irony that the trucker points out is that the very clocks that are designed to keep truckers from working too long end up making them feel "rushed to get to their destinations before the clock runs out."
Truckers, don't allow yourself to feel rushed on the job. Haste can lead to waste.
6. What led to a tractor-trailer loaded with vodka flipping on its side in North Carolina?
According to a September 22, 2017, article, "the driver flipped his cab and trailer as he made a right turn … [and failed] to lock down the load, which allowed it to shift when he took the turn".
Remember to slow down before curves and turns. Do not let the momentum of the freight inside your truck take you places you don't want to go. Stay in control.
7. Are you one of the "1 in 3 shoppers [who according to an article] uses the Internet to seek information before shopping"?
My husband Mike and I are. Among the Smartphone apps we use is Flipp. We also use Trello to help us keep up with our virtual shopping list.
8. Drivers, I want to know if you run into any problems with the "all-electric APU, the TriPac Envidia" from Thermo King, particularly as it concerns keeping the unit going when the truck has not been running for a while.
This was one of "two new products at the North American Commercial Vehicle show" in Atlanta, according to a September 29, 2017, article.
9. "The Owner-Operator Independent Drivers Association is just one member of the group of 31 organizations in the coalition" … "that is growing in membership while making an appeal to delay a federal regulation requiring trucks to be equipped with electronic logging devices", according to an October 4, 2017, article.
Continuing… "There are significant technological and real-world concerns that have not been addressed by FMCSA, according to OOIDA. These concerns include the certification of devices (or lack thereof), connectivity problems in remote areas of the country, cybersecurity vulnerabilities, and the ability of law enforcement to access data. The FMCSA's inability or refusal to resolve these issues makes the enactment of HR 3282 [– 'a bill proposed by US Representative Brian Babin (R-TX-36) that would delay the ELD mandate for two years' –] unquestionably necessary."
The article states that the estimated cost to "impacted stakeholders [is] more than $2 billion … a massive unfunded mandate that provides no safety, economic, or productivity benefits for most ensnared by the mandate."
"Operation Black and Blue" (according to its website) "is an organized protest, in which we endeavor to sustain the integrity and dignity of the trucking industry, and the drivers, by protesting against unfair regulations." This group also had a Facebook page.
www.facebook.com/pg/OperationBlackandBlue/about/?ref=page_internal (no longer online)
This October 4, 2017, article states that 1 million truckers have yet to comply with the mandate. Out of 3.5 million, that is about 28.5%.
10. Obviously, investor Warren Buffett doesn't see truck drivers disappearing from the American landscape any time soon. (link)
An October 3, 2017, article states that the Buffet-controlled "Berkshire Hathaway has made a significant minority investment in [the] truckstop chain".
This October 3, 2017, article reports that "Berkshire bought a 38.6% stake in Pilot Flying J, and in six years, it will boost ownership to 80%".
Another confirmation as to truckers remaining on the scene for a while was an article about tractor manufacturers at the NACV Show designing their rigs for driver preferences.
11. Did you know that French "Truckers were furious that the reforms, pushed through by France's president Emmanuel Macron, would threaten bonuses they are entitled to such as night pay, travel expenses and a thirteenth month salary, that make up a significant portion of their salaries"?
12. At "the peak of their shipping season", potato farmers in Skagit County, Washington, are feeling the effects of a "driver shortage" that the October 6, 2017, article said was due
– "partly from commercial drivers striking over a new federal law that requires drivers to use an electronic device that automatically logs miles and hours driven"; and
– partly because truckers are "delivering supplies to hurricane-damaged communities in Texas and Florida".
goskagit.com/news/local_news/potato-farmers-hit-by-trucking-shortage/article_7de675b5-38e5-5db5-b235-3280804e8b60.html (no longer online)
I suspect that if shipping potatoes paid more, there would be more trucks available to ship them.
Of course, that would probably cause the price of potatoes to go up.
Just saying…
My husband Mike and I wish you — and all professional truck drivers — safe travels and lots of money saving opportunities on the road.
---
---

Return from TDMST Weekly Round-Up: 2017.10.07 to our TDMST Weekly Round-Up Trucking Commentary or our Truck Drivers Money Saving Tips home page.
---