This is the TDMST Weekly Round-Up of news affecting professional truck drivers, written by Vicki Simons for the week ending November 23, 2019.
We welcome your comments, thoughts and feedback on the items of your choice below.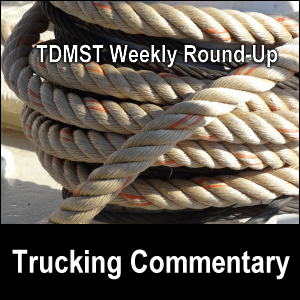 1. Regarding trucker earning limitations:
An excellent article by Allen Smith of AskTheTrucker.com spells out the conflict between:
safety regulations (determined by the FMCSA) and
wage and hour regulations (determined by the Department of Labor).
askthetrucker.com/trucking-hos-safety-regulations-confused-with-department-of-labor-wage-and-hour-laws/ (no longer online)
He wrote:
In order to understand this confusion, we must make it clear. The professional driver is regulated by the clock ( FMCSA) but paid by the mile. If a driver is ONLY paid by mileage (piece work wages), any driving obstructions (Detention time, weather, mechanical failures, paperwork, traffic, and even left waiting for another load.) that interferes with that drivers' regulated clock, limits how much a driver can potentially earn.
Allen further makes the following points:
The American Trucking Associations (ATA) wants to the maximum number of hours and miles from truckers at the lowest cost possible;
Truckers want to earn as much money as possible within their Hours of Service;
Truckers have been conditioned to believe that the only thing that is valuable is the "miles they produce", but not their time; and
District Judge Timothy Brooks ruled in a Class Action lawsuit against PAM Transport that federal labor laws require that "truck-driver employees" must be paid "at least minimum wage for every non-sleeping hour spent in their truck" (aka "24 hours less 8 hours sleeping time").
Now, in my opinion, if truckers must sleep in their trucks so that upon waking they can work where the truck is located, then:
their sleeper berth time is not truly free like it would be if they were home;
their presence in the truck is akin to in-truck security; and
they need to be paid during their sleeper berth time, too.
Just saying.
2. Regarding truck technology:
Articles this week have covered a number of technological advances:
3. Regarding trucking regulations:
The more regulations that are put in place in the trucking industry, the harder it is to earn and save money.
Here are some recent articles regarding aspects of and responses to trucking regulations:
4. Regarding Thanksgiving travel, weather, meals, and more:
According to a November 18, 2019, article, AAA predicts for the Thanksgiving 2019 holiday that:
"more than 55 million travelers plan trips of 50 miles or more away from home," which would be "the second-highest travel volume since … 2000"; and
"Wednesday, Nov. 27 will be the worst travel day" that week.
Depending on where you travel, winter-like weather may cause problems next week — including the possibility of "high-impact snowstorms" — so please exercise great caution as you plan trips and drive.
Pages on our site about Thanksgiving include:
If you are hauling a refrigerated van (reefer), please do not let demand for your truck and services make you feel pressured to take shortcuts or additional risks.
At least two truck stops are offering free Thanksgiving dinners to CDL holders:
one in Bolingbrook, Illinois (near Chicago), and
one in Boise, Idaho.
Although cargo theft incidents and loss values rose during 2019's third quarter, potential cargo theft is always an issue whenever trucks are parked for long periods of time over holiday weekends.
Articles describing "heavy cargo theft threat" over this holiday are here and here.
So, if you plan to park, practice good security procedures.
Also, if you're away from home during the holiday, please touch base with your home support team.
5. Regarding conflict of interest regarding ELDs?:
In a straightforward video by James Lamb of the Small Business in Transportation Coalition (SBTC), he makes the points that:
the ELD mandate was instituted to save lives, but since being implemented the number of truckers dying on the job has jumped to a 30-year high;
program evaluation requires that the ELD mandate be suspended; and
there may be a conflict of interest that is holding back the FMCSA from suspending the ELD mandate (possibly due to a financial connection).
There's a 4-word phrase that is suitable advice regarding any government regulation: follow the money trail.
If it is the case that insider(s) profit from the billions-of-dollars ELD industry, naturally, they would be reluctant to let go of that.
James has turned this matter over to another branch within the government for greater scrutiny.
If I hear more about this, I will let you know.
Meanwhile, if you want to sign the petition against the ELD mandate, you may do so online here, the goal of which is 100,000 signatures.
6. Regarding new small fleet fueling network:
According to a number of articles — here, here, here and here — "Pilot Flying J has launched the One9 Fuel Network, a nationwide fueling network that gives drivers and smaller fleets access to personalized credit and rewards benefits with a variety of travel center brands."
If you use this fueling network, would you please write and submit a service review?
7. Regarding trucker awareness over illegal load?:
Just about every time I read about a truck that was stopped at the border and found to contain contraband, I wonder if the trucker hauling the load was aware of its presence.
In a November 20, 2019, article, we read that a "Mexican citizen was driving a tractor trailer full of 'plastic garment hangers', according to the truck's manifest", but upon inspection at the Otay Mesa Cargo port of entry in California, the U.S. Customs and Border Protection found 10 tons of marijuana.
I don't know any details about this particular load, but I have these two questions:
If a trailer is sealed at the time a trucker picks it up, how would the trucker know what is truly in it?
If the trucker is truly innocent — accepting at face value what is on the manifest or Bill of Lading — how could he/she prove it?
Mike and I have picked up sealed trailers numerous times, one incorrectly loaded load of which could not be axled out and the drama that followed.
What tips do you have for making sure you're not inadvertently hauling something illegal inside a sealed trailer?
Please comment below.
8. Regarding a trucking company getting sued by an auto insurer:
This may be a first!
According to a November 19, 2019, article, "An auto insurer has filed suit against both a trucking company and the victims' estates following a crash that killed seven motorcyclists in rural New Hampshire in June."
Beyond the payout amount issue, here's the part of this situation that is interesting to me:
"The suit also asks the court to relieve Pilgrim Insurance of its obligation to defend Westfield Transport against any additional civil litigation. The lawsuit cites Massachusetts state policy that 'allows Pilgrim to relinquish its duty to defend if it tenders its full policy limits to this Court.'"
I am very interested in learning how this lawsuit is resolved.
9. Congratulations!
Professional truck drivers, we appreciate the work that you do all year long!
According to a recent post, "Trucks carried 70% of all U.S.-Mexico freight in September, up $400 million".
Thanks so much for your personal contribution to the trucking industry!
My husband Mike and I wish you — and all professional truck drivers — safe travels and lots of money saving opportunities on the road.
Have a blessed and safe Thanksgiving.
---
---
Return from TDMST Weekly Round-Up: 2019.11.23 to our TDMST Weekly Round-Up Trucking Commentary or our Truck Drivers Money Saving Tips home page.
---