This is the TDMST Weekly Round-Up of news affecting professional truck drivers, written by Vicki Simons for the week ending December 23, 2017.
We welcome your comments, thoughts and feedback on the items of your choice below.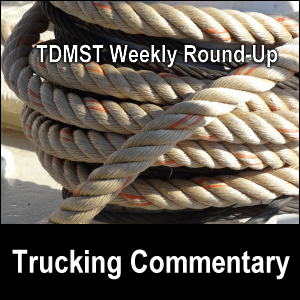 1. A semi-retired truck driver who used his dump truck to collect and drop off food bank donations found himself with six tickets totaling $1005, according to a December 15, 2017, article.
While claiming that the vehicle is "absolutely safe", he said no safety check had been performed on it "because he primarily uses it on his farm".
If you drive a commercial motor vehicle for any purpose, make sure that it undergoes the required inspections at the required times.
2. A December 18, 2017, article about driver turnover at big trucking companies having hit 95 percent left me wondering about an unaddressed factor:
Why aren't the number and severity of regulations within trucking lowered in order to make it easier for experienced drivers to want to stay in the industry?
Are all of the regulations absolutely necessary?
3. One survey indicated that 68 percent of truckers who did not have an Electronic Logging Device (ELD) installed in their trucks had no plan to do so prior to Dec. 18, and "31 percent said they didn't plan to install an ELD at all."
"Some drivers, mainly independent truckers and small carriers, have threatened to leave the industry rather than switch to ELDs from paper logs", the article stated.
Refusing to have an ELD installed in a commercial motor vehicle where one is required leaves only 2 options:
– either shut down (refuse to drive commercially, period);
– or continue operating and hope one doesn't get caught.
What are the fines — and CSA points — associated with this action?
4. Isn't the point of having an electronic logging device (ELD) that there will never again be the need to fill out paper log sheets?
If so, why did Deryk Powell, president of Velociti Inc., indicate this in one December 18, 2017, article:
"There is also a fear that newer drivers in the industry, who have only used ELDs, may not know how to properly fill out paper logs if they experience an ELD failure."
"ELD failure"?
Really?
That's a problem.
Did the FMCSA count on that?
5. The owner of a transportation service said that not only is there an "extreme shortage of truckers" right now, but that he believes "ELDs are only going to make finding new drivers harder."
Regarding the 14-hour time frame that truckers have to work each 24 hours, "Once it starts, it doesn't stop, even if the driver does."
This is why the Hours of Service regulations need to be changed!
There needs to be much more flexibility throughout the trucking industry. One size does not fit all!
6. A December 19, 2017, article stated that an auto parts delivery truck driver "was charged with first-degree larceny" after "illegally running up his company's credit card up to about $28,000 that he allegedly collected in cash".
Well over 100 suspicious transactions were made this year, when the trucker put some fuel in the truck and pocketed the difference in cash.
What is surprising is that "he knew the charges weren't allowed, but he was having money problems and did not realize how many fraudulent charges he put on the card".
Don't take things that don't belong to you.
Theft will eventually catch up with you.
7. A December 19, 2017, article stated, "The reaction of truck drivers to the Tesla truck [which features a semi-autonomous driving system] was split between two extremes.
According to a survey of over 100 truck drivers by ClassADrivers.com, 46.2% were 'not at all' interested in the new trucks, and 43.2% were 'absolutely' excited about it. The remaining drivers fell somewhere between those two poles."
Read the article to learn the concerns that drivers had with the truck and its technology.
8. Could the general public be getting ready to pay for the increased costs of the ELD mandate?
Independents and owner-operators won't absorb this cost. They'll have to pass it along.
The information in this article says by how much costs are anticipated to go up.
9. What would possess a truck driver to drive when he had a Blood Alcohol Concentration (BAC) of .21 percent? That is "almost three times the legal limit", according to this December 20, 2017, article.
Never drink alcohol — or use alcohol such as in mouthwash — before driving a commercial motor vehicle (CMV).
Also, please be extremely careful about consuming cough syrup that contains alcohol.
10. Similarly, never use illegal drugs such as methamphetamine ("meth") before driving a CMV.
According to a December 20, 2017, article, a trucker who was high on meth was "sentenced to life in prison for killing two women in [a] horrific crash".
The article stated that the trucker
– was so high that he didn't know what he was doing;
– had a previous history of substance abuse (two DUI convictions and one conviction for possession of cocaine); and
– was sentenced to life in prison for his actions in this situation.
Why did the trucking company for which this trucker drove hire him in the first place, knowing that he had this history?
Our condolences go to the families of the women who died.
11. Although we oppose the ELD mandate, "Noël Perry, partner and transportation economist at freight transportation forecasting company FTR Transportation Intelligence, argues that ELDs would become an industry standard even without the federal mandate because it provides valuable data to trucking companies," according to a December 20, 2017, article.
"Trucking companies… know which customers make drivers wait hours before picking up a load. They can use this data to push for higher rates or to find new, more time-conscious customers."
By having the data recorded by a machine instead of just taking a trucker's word for it that he/she is waiting to be loaded/unloaded, there may be more money in it for the trucker.
If only the trucking companies will stick up for their drivers and their time!
12. "One part of this [revised GOP tax bill] removes itemized deductions, which impacts employed interstate truck drivers," according to a December 20, 2017, article.
"Right now, truck drivers get a per diem, which compensates them for meals when they are out on the road. According to Accounting Manager for IM Trucking, Cathy Knicely, the per diem compensates $63 per day, but they only see 80% of this, resulting in $50.40 for meals each day."
Drivers, if you currently do not have your own business, it may be time for you to look at starting one so that you can start writing off some legitimate business expenses.
Check with your tax advisor for more info.
If it is wise for you to do so, take a look at earning a second income from the cab of your truck.
My husband Mike and I wish you — and all professional truck drivers — a blessed Christmas, safe travels and lots of money saving opportunities on the road.
---
---
Return from TDMST Weekly Round-Up: 2017.12.23 to our TDMST Weekly Round-Up Trucking Commentary or our Truck Drivers Money Saving Tips home page.