This is the TDMST Weekly Round-Up of news affecting professional truck drivers, written by Vicki Simons for the week ending January 13, 2018.
We welcome your comments, thoughts and feedback on the items of your choice below.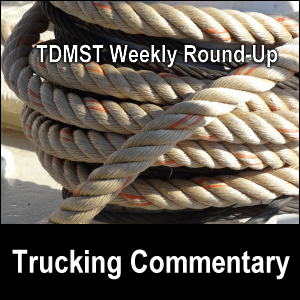 1. Based on information that I've seen shared in one Facebook group that opposes the Electronic Logging Devices (ELD) mandate, there are problems with certain ELD models.
I am asking for truckers to provide their real names and product reviews of their ELDs that contain:
– the name of the manufacturer of their ELD unit;
– the model of the ELD they're using;
– the problem(s) that they've experienced; and
– anything else that is relevant to the situation.
Submit your ELD product review here.
2. I'm also asking truckers to provide their real names with service reviews on their ELDs, including:
– the name of the manufacturer of their ELD unit;
– the model of their ELD unit; and
– any and all ongoing service fees associated with Electronic Logging Device use.
Submit your ELD service review here.
3. In a December 19, 2017, article, we read that David Daley, the safety director for R.C. Moore Trucking, "believes said the new [ELD mandate] law will ensure all truckers follow the same safety requirements."(1)
Yet, according to independent trucker Jake McDaniel, "The owner-operators are the safest guys on the road because we have to take responsibility for it."
Since the whole point of the ELD mandate is to improve safety and save lives, I would like to see a side-by-side comparison of the number of truck crashes and fatalities between:
– owner-operators and
– trucking companies.
I believe that that kind of comparison would shed a great deal of light on the need for owner-operators to be mandated to have equipment in their trucks that won't improve safety for them — because they're already safe.
4. And speaking of that, we received this by email from the Owner Operator Independent Drivers Association:
"On January 2nd, FMCSA formally published OOIDA's ELD exemption request in the Federal Register. The request, originally submitted last November, would allow small trucking businesses that do not have a carrier safety rating of 'unsatisfactory,' and can document a proven history of safety performance with no attributable at-fault crashes to use paper logs rather than be forced to install ELDs. …"
Contact OOIDA for more info and the opportunity to comment.
5. A December 21, 2017, article described a few points about "How Tesla's Semi will dramatically alter the trucking industry", including:
– electrification (which will definitely have an impact on fuel being used by trucks, fuel taxes being used for road infrastructure, and most likely usher in a need for mileage-based tax platforms); and
– "autonomous self-driving or driving assist technology", because:
– "the highest cost to the trucking company is the driver behind the wheel, with wages and benefits — not to mention legalities and downtime";
– limitations on a driver's ability to drive (Hours of Service regulations) as opposed to an "autonomous truck [being able to] drive 24/7, stopping only to load/unload or refuel"; and
– relief of "driver shortages".
The article also stated regarding veteran vs. rookie truckers, "those with the most skills are the least likely to lose their jobs when automation becomes the norm."
I could be wrong, but based on my limited experience, those who are paid more for doing a job are more likely to be "let go" than those who can do the same job for less money.
Veteran truckers should prepare now for this potential situation.
Just saying…
6. Check out the 7 Mistakes to Avoid for Smooth Roadside Repairs for some great tips.
7. So, the American Trucking Associations thanked Congressman Bill Shuster for his leadership on key issues on January 3, 2018, huh?
This is the same Bill Shuster who:
– has been Chairman of the House Transportation Committee since 2013 (reference).
OpenSecrets.org reports that Bill Shuster received $105,750 from Transportation: Trucking PACs.
He was the 7th highest paid elected official from that sector.
At one time, OpenSecrets.org reported that he had received received $4,700 from the ATA during the 2016 election cycle $4,700 of which came directly from the ATA, but that information has since disappeared from their site.
Without that money, would he have done what the ATA wanted?
Hmm…
8. After a truck driver "halted his rig in his lane of travel" on a Georgia road, he then stepped into the path of an oncoming car and was struck.
Ouch!
Even if you have to stop your truck in a highly traveled area, make sure that you have your flashers going and if possible, wear a high visibility and reflective vest so that you can be seen.
(For your convenience, we are linking to or listing products on Amazon.com, with which we have an affiliate relationship.)
Idea: GripGlo Reflective Safety Vest, Bright Neon Color with 2 Inch Reflective Strips – Orange Trim – Zipper Front, Medium
9. The eastern USA has felt the effects of Winter Storm Grayson.
There's still a lot of winter left in the northern hemisphere.
Here are some cold weather and winter storm tips:
– Always gauge weather conditions to determine if it safe to drive. If it isn't, stay parked.
– When wind is up, drive slowly. If it is blowing too hard, your rig can be flipped over on its side.
– Never drive through a lot of water.
– Certain kinds of terrain cannot be traveled upon without extra equipment (like snow chains).
– Bundle up and stay warm when it gets cold!
10. According to a January 2, 2018, article, "Truck drivers, bus drivers, and other operators of commercial vehicles could be more likely to lose their licenses for texting while driving, under legislation the Iowa Department of Transportation will ask state lawmakers to approve this year."
11. "The Federal Motor Carrier Safety Administration has issued a final rule that reduces annual registration fees collected the Unified Carrier Registration (UCR) Plan and Agreement for the 2018, 2019, and subsequent registration years," says a January 5, 2018, article.
12. This type of technology can document detention time so drivers can be paid for it.
Hurray!
A January 5, 2018, article stated: "…blockchain systems could do a better job of allowing such data [including location data] to be harnessed for automating detention-pay contracts and helping drivers and shippers/receivers work within available hours."
13. After all of the fussing, fighting and feuding about getting Electronic Logging Devices put in trucks — so that the truckers don't exceed their Hours of Service — why do some "states suspend hours regs for some drivers" when the weather gets bad?
Will drivers cave into violating HOS regulations just because there's some emergency?
14. A January 5, 2018, article reported about how a concrete truck driver was ejected from his truck off an I-10 exit ramp.
I'm speculating here, but I am fairly confident that:
– the loaded truck overturned on the exit ramp because the driver was taking the curve too fast; and
– the driver was ejected from the truck because he wasn't buckled in the driver's seat.
Based on this,
– constantly monitor conditions so that you can drive accordingly; and
– fasten your seat belt before you drive a single inch and keep it on the whole time you're driving.
15. Allowing Federal Authority language in government bills is TRUCKER wage theft.
truckingsocialmedia.com/allowing-federal-authority-language-government-bills-trucker-wage-theft/ (no longer online)
Thanks to TruckingSocialMedia.com for this blurb:
"Dave at Smart Trucking created this video in 2017 when anti trucker wage provision language was going to be introduced in the THUD bill and FAA bill. Now the 2018 Trucker Wage Theft Provision language is most likely to be added to the January 2018 Spending Bill and/or Infrastructure bill. Call your reps and tell them NO to the Federal Authority language which will over ride states rights to pay drivers for all time. 202-224-3121".
My husband Mike and I wish you — and all professional truck drivers — safe travels and lots of money saving opportunities on the road.
---
---
Return from TDMST Weekly Round-Up: 2018.01.13 to our TDMST Weekly Round-Up Trucking Commentary or our Truck Drivers Money Saving Tips home page.
---
Reference
1. on.wlbz2.com/2kyjU6a (no longer online)