This is the TDMST Weekly Round-Up of news affecting professional truck drivers, written by Vicki Simons for the week ending April 14, 2018.
We welcome your comments, thoughts and feedback on the items of your choice below.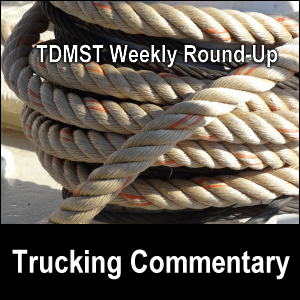 1. According to an April 10, 2018, article from AskTheTrucker.com, "the ATA, the 50 ATA-affiliated state trucking associations, the Truckload Carriers Association and others" have tried five times unsuccessfully to get language passed into law that would prevent truck drivers from being paid for all of their time.
askthetrucker.com/the-ata-will-not-give-up-on-preemption-efforts-affecting-driver-wages/ (no longer online)
But they aren't stopping!
What it is called: "the Denham Amendment, Denham language, F4A preemption, FAAAA preemption, Meal and Rest Break Preemption."
What it would do: "If preemption language is to be included in one of the many final bills that the ATA and others have been lobbying so hard for, it would affect how drivers are paid permanently."
For example, now that Electronic Logging Devices (ELDs) are in place, everyone with access to the data knows exactly how long truckers are at shippers' and receivers' locations.
That documentation is the "teeth" so that truckers can be paid detention pay for having to "sit there" while trailers are loaded or unloaded.
"There are states who have laws and believe that truckers should be paid for all their work."
But if this "preemption language" is passed, truckers whose main way of being paid is by the mile can forget about being paid anything other than mileage pay.
This is why it is crucial for you to connect with your federal lawmakers to tell them to stay out of states' affairs.
Please watch the video (less than 5 minutes long) to see how you can take action — and then take action.
Your paycheck may depend on it.
2. Recently, there have been two totally opposite views on Team Run Smart regarding truck parking:
– On April 6, 2018, an author wrote that paid truck parking is "A future cost of doing business" and shared: "Personally, I have found that if we know we will need a place to park later in the evening, pay to park equals peace of mind where in the past our stress level would be up wondering how long it would take us to find a safe parking spot."
– On April 9, 2018, another author wrote that he feels that he's been a good customer for more than 30 years and that when truck stops charge for parking, he feels "as though I am no longer a valued customer." Furthermore, he stated, "A lot of truckers and trucking companies have made the decision to pay for parking. I have no problem with their decision. As for me, I have decided not to."
Here's the question, drivers (especially company drivers):
Does your trucking company have a reimbursement plan in place for paid truck parking — or do they make you pay for paid trucking out of your own pocket?
3. Speaking of truck parking, according to an April 11, 2018, article, "…in the wake of the ELD mandate coming into effect last December, notes Heartland Express driver Bob Stanton, 'the term "shipper/receiver of choice" is getting a lot of traction,' particularly as it relates to load/unload efficiency and the ability to park at least somewhat securely for longer periods when out of hours. 'If I've got a choice on a well-reviewed customer or a negatively reviewed one – who am I going to choose?'"
The article describes the "Dock411 smartphone app/service, which enables such reviewing" of facilities and allows app users to "add information about and comments on more than 100,000 facilities."
4. An April 9, 2018, article about trucking in Australia stated, "WE HAVE credible evidence that shows that [truck] drivers are not the cause for problems in the industry."(a)
One woman was quoted as saying that "nine times out of 10 the car drivers are at fault."
So, this issue isn't just happening in the USA.
5. This April 9, 2018, article is the first time I've read of a trucker being ticketed for being overweight because of weight from snow and ice on his trailer's roof.
Look for my article about this coming out soon.
6. Look for more and more trucking companies to adopt virtual reality (VR) technology to educate truckers so as to "improve worker safety."
Trucker workplace safety includes driving and tasks such as loading and unloading.
According to an April 11, 2018, article, in 2016, "truck driver deaths [accounted] for 40% of all worker fatalities."
for.tn/2qohhXQ (no longer online)
Ouch!
7. The 100th Street bridge in Byron Township, Michigan, has been struck again, this time by "a pair of trucks carrying oversized loads along US-131." The damage to the structure was so great that DOT officials limited travel to a single lane.
There are signs warning of the clearance height and a violator can be fined up to $250.
However, what was most alarming to me in the April 10, 2018, article, was the statement that state law is such that "the driver of a truck that damages the bridge can be held financially responsible for the resulting costs up to $1 million"!
This is the first time I've read that a trucker can personally be held responsible for repairs for damage that he/she has caused.
Pay attention to truck routes and low clearances.
If you're driving an oversized rig, pay close attention to your permitted route.
8. Speaking of holding parties responsible, I read in an April 10, 2018, article that "Some California lawmakers want to hold the nation's big box retailers responsible for labor abuses by trucking companies that haul their goods."
In a nutshell, here's what the legislation would do if passed into law:
"Trucking companies that fail to pay judgments when they cheat workers would be identified on a public list and would be required to disclose their violation history to corporate customers. Retailers that then do business with those same companies will be jointly liable if workers obtain future judgments."
Of course there is opposition to the bill, but its seems to me that it would put "teeth" into trucking companies shirking their responsibility to "stop systematically exploiting their workers."
What are your thoughts about this, truckers?
9. I've never read of a trucker swerving to avoid something and managing not to be involved in an accident.
This week, there were two such situations:
– When a "truck driver who swerved to avoid hitting another vehicle on Interstate 78 ended up tipping over the truck" (link); and
– When a car driver missed his exit, stopped on the highway, and maneuvered to his exit, "two truck drivers crashed to avoid hitting him" (link).
10. According to an April 10, 2018, article:
"The Owner-Operator Independent Drivers Association and National Motorists Association claim in a lawsuit that a deal requiring the commission to transfer $450 million annually to PennDOT for off-turnpike road projects is artificially inflating turnpike tolls and violating their constitutional rights."
The article indicates that the Pennsylvania Turnpike Commission will be financially devastated if it has to pay $6 billion in toll refunds.
Hmm…
Isn't there some kind of middle ground so that those who were overcharged can be paid back in a timely manner?
In my opinion, the Commission needs to do two things:
– immediately cease spending turnpike tolls for non-turnpike projects; and
– come up with an agreement to refund what is owed as quickly as possible.
Speaking of turnpikes and rates, according to an April 9, 2018, article, "the West Virginia Parkways Authority [has] proposed a toll increase that could double" current tolls!(b)
11. The Commercial Vehicle Safety Alliance (CVSA) will be holding Operation Safe Driver Week this year from July 15-21, during which "driving behavior" will be targeted. For more information, read this article.
12. I find it sad and funny at the same time that, according to an April 4, 2018, article: "The Federal Motor Carrier Safety Administration said a medical professional does not become a certified medical examiner until he or she receives a signed certificate and that any DOT exams performed before that time would be considered invalid."(c)
Why?
In a related article, we read: "The FMCSA's National Registry of Certified Medical Examiners website has been down since it was hacked on Dec. 1."(d)
The FMCSA is regulating truckers and they can't even keep this website from being hacked?
Aack!!!
My husband Mike and I wish you — and all professional truck drivers — safe travels and lots of money saving opportunities on the road.
---
---

Return from TDMST Weekly Round-Up: 2018.04.14 to our TDMST Weekly Round-Up Trucking Commentary or our Truck Drivers Money Saving Tips home page.
---
Reference:
a. www.bigrigs.com.au/news/hot-topics-truck-drivers-not-cause-of-problems-on-/3383345/ (no longer online)
b. www.landlinemag.com/Story.aspx?StoryID=72093#.Ws56mXYh3cs (no longer online)
c. www.landlinemag.com/Story.aspx?StoryID=72069#.Ws57AXYh3cs (no longer online)
d. www.landlinemag.com/Story.aspx?StoryID=72069#.Ws57DnYh3cs (no longer online)