This is the TDMST Weekly Round-Up of news affecting professional truck drivers, written by Vicki Simons for the week ending May 5, 2018.
We welcome your comments, thoughts and feedback on the items of your choice below.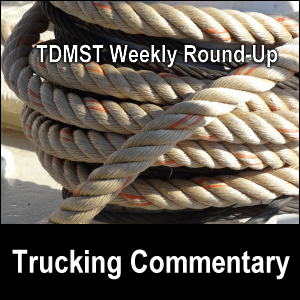 1. Last week, I devoted this column to urging our readers to contact their federal elected officials about the Denham Amendment that threatened trucker wages.
This is a short recap of what happened and some additional resources.
AskTheTrucker.com reported that the Denham Amendment passed the U.S. House, but "that the vote is narrower than in the past when it was included in prior votes."
askthetrucker.com/although-house-bill-includes-denham-amendment-its-still-a-victory-for-truckers/ (no longer online)
So that you can see who voted how, here is a link to the roll call vote.
Now, this issue has to go before the U.S. Senate.
We are urging you to call your U.S. Senators to ask them to oppose this amendment on the Senate side.
Here are resources that can help:
– ATA's Myths and Facts about Denham Amendment Busted; and
askthetrucker.com/myths-and-facts-of-denham-amendment/ (no longer online)
– How to Submit Comments to government agencies.(a)
2. According to a May 4, 2018, article, "The California Supreme Court… issued a ruling outlining loose criteria by which carriers should determine whether a driver is an employee — and thereby entitled to certain benefits and protections granted by California labor laws — or an independent contractor, and thereby not subject to requirements like minimum wage and meal and rest breaks, among other benefits."
I hope this will lead to good things for all truckers in the USA eventually.
3. Because I was trying to make sense of evidence that didn't seem to match — and something seemed "very wrong" at the time — I devoted the entire TDMST Weekly Round-Up for the week ending July 29, 2017, to the subject of what has now been called:
"The second worst immigrant smuggling case in modern U.S. history."
We have now learned that James Bradley has been sentenced to "life in prison for his role in a human-smuggling operation that resulted in 10 fatalities".
An April 20, 2018, article included two quotable quotes:
"Smuggling illegal aliens into this country disregards both our laws and their safety," Attorney General Jeff Sessions said in a statement. "The defendant's actions in this case led to the agonizing deaths of 10 people. Were it not for his actions, they might still be alive today." "Today's sentencing of James Matthew Bradley, Jr., brings some closure to a truly horrific and unnecessary tragedy that involved exploiting human cargo for pure greed," said Special Agent in Charge Shane Folden, HSI San Antonio.
No matter how large the promised pay-off sounds, never engage in smuggling.
Never compromise.
Maintain your integrity.
4. If the Pennsylvania Turnpike Commission knew from a 2016 inspection that there was corrosion in the Lehigh Tunnel, why was it that case that they allowed over a year to elapse, such that the failure to get the work done in a timely manner resulted in the death of "70 year old truck driver Howard Sexton"?
I speculate that a wrongful death lawsuit may be issued by the family against the Commission, especially since it has been documented that:
– turnpike tolls have increased
– but some monies collected have gone to unrelated projects.(b)
5. Beware of any kind of weather conditions that can impede your ability to see and travel safely.
Among these weather conditions may be:
– dense fog,
– smoke,
– blizzards or blowing snow, and
– dust storms.
According to an April 30, 2018, article, "Wind gusts of up to 53 m.p.h. have been reported in the area, resulting in 'brown outs' and a multi-vehicle crash."
Furthermore, part of I-80 in Nebraska was shut down because of dust storms.
When in doubt, park your truck safely and legally — and let your driver manager know of your actions.
6. If you're going to use a GPS to navigate your truck route, make sure that you enter the correct address.
One Oregon trucker made a mistake and ended up enduring a 4-day ordeal because of it.
We personally believe that it is best to use a truckers atlas for navigation and to be prepared with an emergency kit.
7. I don't understand how it is possible for someone to drive a truck professionally if he/she does not have a valid CDL.
In the case of one such unqualified trucker — who made a U-turn in order to "avoid a weigh station" — he ended up "killing two motorcyclists" and has been indicted on manslaughter charges.
According to the article, "If convicted, [the driver] could face up to 20 years in prison and a $50,000 fine."
Ouch!
This is a warning to every trucking company to thoroughly investigate every potential hire and review all truckers' credentials regularly.
Our condolences go to the families of the motorcyclists who died.
8. According to a May 2, 2018, article, "Video safety and transportation intelligence company SmartDrive Systems published new insights on the compound effects of driver speeding."
There are numerous statistics listed in the article.
In a nutshell, "Drivers who speed are more likely to take other risks, be involved in near collisions and waste more fuel compared to their non-speeding colleagues."
A word to the wise is sufficient.   9. CCJ trucking brands asked drivers "why they think fleets have a hard time finding and keeping them," according to an April 26, 2018, article.
The top two reasons were:
– low pay; and
– "lack of respect".
Since the ELD mandate went into effect, I'm reading more and more articles like this one and this one about how driver pay is being increased.
That's good — and it's been a long time coming — but it isn't enough.
Truckers need to be respected as the professionals that they are.
10. Are you finding it harder to find truck parking now that the ELD mandate is in place?
"Most readers" of Overdrive Online reported that to be the case — and here is a related article.
However, choose your parking location carefully — and don't park on shoulders unless you have an absolute emergency.
You may or may not feel comforted that, according to a May 4, 2018, article, "The U.S. Department of Transportation's Federal Highway Administration has posted a notice indicating that it intends to conduct a new survey and assessment of truck parking facilities."
Feel free to let your voice be heard on this.
My husband Mike and I wish you — and all professional truck drivers — safe travels and lots of money saving opportunities on the road.
---
---
Return from TDMST Weekly Round-Up: 2018.05.05 to our TDMST Weekly Round-Up Trucking Commentary or our Truck Drivers Money Saving Tips home page.
---
Reference:
a. www.landlinemag.com/Story.aspx?StoryID=72253#.WuzbB3Yh2M8 (no longer online)
b. tandemthoughts.landlinemag.com/advocacy/pennsylvania-turnpikes-cronyism-illustrates-another-reason-hate-toll-roads/ (no longer online)