This is the TDMST Weekly Round-Up of news affecting professional truck drivers, written by Vicki Simons for the week ending April 7, 2018.
We welcome your comments, thoughts and feedback on the items of your choice below.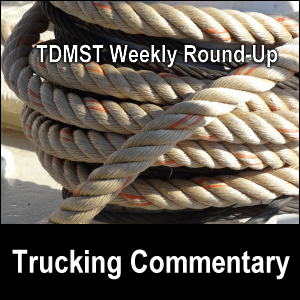 1. In an April 5, 2018, entitled Drivers need to get paid twice as much, says OOIDA president Todd Spencer, we read his quote:
"Pay for truck drivers has been falling for three decades, while the demand and the responsibility to the job are going exactly the opposite," he said. "It will always be difficult to find people to do jobs that are hard, that doesn't really pay much."
Considering
– the average trucker wage of $31,618 in 1980,
– the cost of inflation eroding the buying power of the dollar such that it would require $111,000 to match that pay today, and
– the paltry $41,000 that the average trucker earns today,
a trucker earns only about a third of what he/she should earn, especially since he/she works between 70-80 hours per week.
I wrote about this problem with trucker wages years ago:
– Inflation Calculator Shows Trucker Pay Fails Cost of Living Test
– 26 percent.
2. "As full enforcement of the electronic logging device (ELD) mandate began on April 1, an ongoing poll conducted by CarrierLists indicated that ELD compliance rates during the final week before the deadline spiked six points to 97%," stated an April 4, 2018, article.
Will those who proclaimed "ELD or Me" months ago stand by what they thought at first?
3. An April 2, 2018, article about how "Blockchain tech could put teeth in detention pay" stated:
"A blockchain system called a 'smart contract' between a shipper and carrier, for example, could utilize GPS and geofencing technology to document a truck's arrival time and exact position at a shipper or receiver for all parties to see, [Dan Pickett, chief data scientist with FreightWaves] said. To use such a system for detention pay would require precise language in the contract to address matters such as how close the truck is to the dock and whether the trailer doors are open, he said."
There are other potential benefits to using blockchain technology to protect truck drivers.
I look forward to reading more about this and how it is helping truckers get paid for all of their work.
4. The reason why the trucker ran his truck over and damaged a fire hose that supplied water for firefighters to put out a fire in Chattanooga, Tenn., was not explained in the April 5, 2018, article.
However, we do know that the trucker was charged with "reckless endangerment and crossing a fire hose."
Now you know.
5. If you drive a truck in which the trailer can be lifted to an angle, don't forget to lower it before you go back on the road.
As reported on April 5, 2018, a Canadian trucker forgot his trailer was elevated and smashed it into an overpass.
The event was caught on video.
6. Also, if you're driving a commercial motor vehicle, make sure that you stay on truck routes and never attempt to cross railroad tracks marked "No Trucks."
A trucker attempted to cross just such a set of tracks, got stuck, and jumped out of his truck seconds before an oncoming train smashed it.
7. On March 29, 2018, an article stated that "the Georgia Ports Authority broke ground on a new project in Garden City that will dramatically reduce the need for trucks state-wide."
Of particular note is the estimate of the 200,000 trucks that will be taken off the road annually.
Hmm…
8. If you were one of the 2,103 truckers who received a DOT medical certificate from "Dr. Kenneth G. Edwards in Phenix City, Ala.," you will need to retake your physical exam within 30 days of being notified.
Why?
According to the March 27, 2018, article, all of those medical certificates will be revoked by the FMCSA because the doctor was arrested on multiple charges "related to falsifying the results of Department of Transportation physicals."(a)
Wasn't the whole point of having a "National Registry of Certified Medical Examiners" to eliminate problems like this?
9. "FMCSA administrator Raymond Martinez said that the agency would be open to ideas from others on how to improve highway safety," stated a 3/2018 article.
A March 26, 2018, article stated that when he was at the Truckload Carriers Association, he said he wanted "productive conversations."
If that is true, why isn't the FMCSA listening to the truckers who bear the brunt of trucking regulations?
According to a March 26, 2018, article, Joe Delorenzo, director of the FMCSA's Office of Enforcement and Compliance, was unable to complete "most of his presentation" at the Mid-America Trucking Show as the session became dominated by the "1-2-3 punch of complaints of an inflexible hours rule logged via electronic logging devices, uncompensated and over-extended delays at shippers and receivers, and the much-less-than-ideal parking situation on the roadways."
A March 30, 2018, article asked, "What would fix the Hours of Service rules for commercial drivers?"
Speaking of that…
10. "Rep. Brian Babin, R-Texas, a member of the House Transportation and Infrastructure Committee, has introduced H.R. 5417 The Responsible and Effective Standards for Truckers (REST) Act, legislation that would modernize Hours of Service regulations for truck drivers," stated an April 3, 2018, article.(b)
Supposedly, "The REST Act would allow drivers to take one rest break per shift for up to three consecutive hours."
Is this a good idea?
Owner-operator Henry Albert has a different take on the legislation:
"In my opinion, this rule would create an environment in my local/regional line of [work] where the unspoken expectation from these abusive parties would be for me and my drivers to work the new 17-hour day for the same rate as the current 14-hour day, with the exception of a little bit of possible detention pay."
What are your thoughts, truckers? Is the REST Act a good idea or not?
11. "More than 500 communities around the country employ the use of red-light or speed cameras to nab drivers who disobey traffic rules, the Insurance Institute of Highway Safety reports," stated a March 21, 2018, article.(c)
What is irritating to me is the short "yellow light cycle" on many traffic lights.
If yellow light cycles are short to drivers of cars, I can only imagine how short they are for big rigs!
This situation is plenty of motivation for truckers to have an attorney firm on retainer through a type of pre-paid legal service.
On our site, we go over trucker legal help and trucker attorney qualifications.
My husband Mike and I wish you — and all professional truck drivers — safe travels and lots of money saving opportunities on the road.
---
---
Return from TDMST Weekly Round-Up: 2018.04.07 to our TDMST Weekly Round-Up Trucking Commentary or our Truck Drivers Money Saving Tips home page.
---
Reference:
a. www.landlinemag.com/Story.aspx?StoryID=72016#.Wr47_XYh3cs (no longer online)
b. www.thetrucker.com/News/Story/TexasRepBrianBabinintroducesbilltopause14hourclock (no longer online)
c. www.landlinemag.com/Story.aspx?StoryID=71974#.WrPE3nYh3cs (no longer online)