This is the TDMST Weekly Round-Up of news affecting professional truck drivers, written by Vicki Simons for the week ending June 22, 2019.
We welcome your comments, thoughts and feedback on the items of your choice below.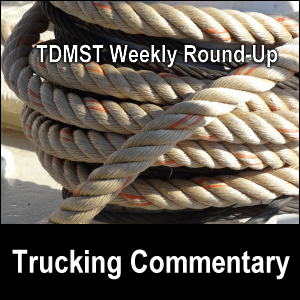 1. Regarding CVSA's Brake Safety Week 2019
The Commercial Vehicle Safety Alliance (CVSA) has announced that "Brake Safety Week is taking place September 15 – 21 throughout the U.S. and Canada", according to a June 18, 2019, article.
The special emphasis during the 2019 event will be on "brake hoses and tubing".
According to a June 19, 2019, article, "Out-of-adjustment brakes and other brake system violations represented 45 percent of all out-of-service vehicle violations during 2018's International Roadcheck. During last year's Brake Safety Week, law enforcement conducted more than 35,000 inspections and placed nearly 5,000 of those out-of-service."
More about this event was written here, here, here, here and here.
Yes, it can be very expensive to have one's truck be put out-of-service because of brake system violations — and getting them adjusted en route.
So, do what you need to do to keep your truck's brakes properly adjusted.
2. Regarding ELDs: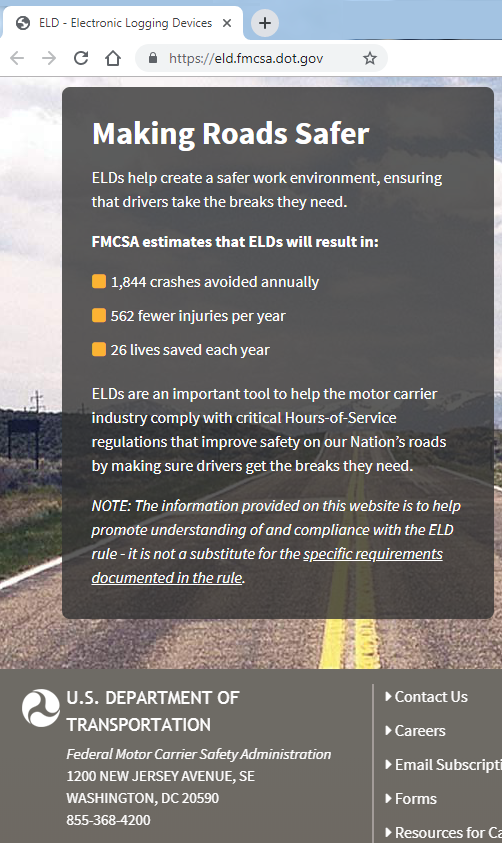 For the sake of history, I have pasted here a screenshot (taken 6/21/2019) from ELD.FMCSA.DOT.GOV that reads as follows:
Making Roads Safer

ELDs help create a safer work environment, ensuring that drivers take the breaks they need.

FMCSA estimates that ELDs will result in:

1,844 crashes avoided annually
562 fewer injuries per year
26 lives saved each year

ELDs are an important tool to help the motor carrier industry comply with critical Hours-of-Service regulations that improve safety on our Nation's roads by making sure drivers get the breaks they need.

NOTE: The information provided on this website is to help promote understanding of and compliance with the ELD rule – it is not a substitute for the specific requirements documented in the rule.
As you may remember, trucker protests took place regarding the mandate for ELDs (Electronic Logging Devices) on December 4, 2017, and we voiced our opposition as well.
The huge push for the ELD mandate was "safety."
How has this worked out?
According to a June 19, 2019, article:
NHTSA's preliminary data estimates that 36,750 people were killed in traffic crashes in 2018. The agency estimates truck-involved fatalities increased by 3%, while pedestrian and pedalcyclist fatalities increased by 4% and 10%, respectively."
Land Line Magazine stated:
Traffic fatalities were down overall for the second consecutive year in 2018 and the seventh consecutive quarter, according to the National Highway Traffic Safety Administration's early estimates. However, truck-involved fatalities went up during the first full year of the electronic logging mandate.

The ELD mandate went into effect on Dec. 18, 2017, in an attempt from regulators to increase truck safety. However, preliminary numbers suggest that ELDs did not have the intended effect.(a)
CDLLife.com stated:
The ELD Mandate was intended to increase highway safety — but new crash data shows that fatal truck-involved crashes are increasing.
More was written about this here and articles stress that the statistics are preliminary.
Meanwhile, we learn that Canada has published their own federal ELD mandate with a target enforcement date of June 2021 (about two years away)(b) — and here's what fleets should know about it.
3. Regarding autonomous trucks:
A video embedded in a June 14, 2019, article showed Volvo's "autonomous electric 'Vera' truck performing real world work at a port terminal."
The article further states:
Volvo says that Vera is "designed for repetitive assignments in logistics centers, factories and ports and that it is 'suited for short distances, transporting large volumes of goods with high precision.'"
4. Regarding trucks being a "solution":
A June 19, 2019, article made a very interesting contrast between trucks as products and trucks as a "solution".
We read:
If you have been paying attention to advertisements that commercial vehicle OEMs have been running for past 10 years, you must have noticed three letters that stand out in most ads – TCO (Total Cost of Ownership/Operation).

Almost every truck OEM now wants to prove to its end-users that its vehicles offer the lowest cost of ownership/operation. …
The article further states that the truck-as-a-solution "business model" is working because truck OEMs have finally shifted to seeing that vehicle buyers are clients whose problems need to be solved.
Truckers, have you found this to be the case, and if so, are you pleased with it?
5. Regarding "automatic routing":
A June 17, 2019, article describes how "machines [are used] to calculate optimal routes… and identify the best drivers in the area."
The article reveals the contrast between:
person-calculated routing (20 – 30 minutes) versus
machine-calculated routing (a few seconds).
One breath of fresh air was captured in this paragraph:
"Humans also remain an integral part of sorting out issues that arise during shipment. All the technology does is allow employees to pick up on a problem as soon as, or even before, it happens."
6. Regarding Todd Spencer's excellent quotes:
Here is mini-sampling of quotes from OOIDA President and CEO Todd Spencer — from his testimony to Congress on behalf OOIDA's members on Wednesday, June 12, in Washington, D.C.(c)
On driver pay

The economic model for paying drivers has been broken for a long time despite the rhetoric you might hear about boosting pay and bonuses. If driver pay had been pegged to the consumer price index in 1980, most of today's drivers would be bringing home six figures in wages. They don't make that, because their value is set by what they can be replaced for no matter how good or safe they may be, or even how many millions of safe miles they have driven. … Most over-the-road drivers are paid exclusively by the mile with nothing for their time.

On the regulations truckers must follow

Looking at what the data shows, there is a disconnect between compliance with the regulations and improved safety outcomes. Most of the regulations that are enforced that make up CSA (Compliance, Safety, Accountability scores) have nothing to do with safety, but that has been the focus.

On detention time

It is a monstrous problem that has actually cost trucking as much as $3 billion a year … The way it works out, it means that driver workweeks are always going to be 70-80 hours and sometimes longer. They are not always working all of those hours, but their time is being controlled by others. The biggest bandits on that deal are going to be shippers and receivers, and I should point out that some of them actually have the gall to charge drivers for late deliveries.
Do you agree or disagree with these statements?
Comment through the form below.
7. Regarding ELD data:
I read a shocking revelation regarding ELD data:
"Individuals are considered to own their data, yet marketers and other businesses routinely access it, sometimes with no permission granted. Those commercial interests are making megabucks off the data, yet data owners rarely get even minibucks. There's a growing awareness that data owners need to assert their rights of ownership, yet how to do so, or precisely what those rights entail, isn't always clear."
If you use an ELD in your truck and do not have a clear understanding of how its data is used, ask the ELD manufacturer.
8. Regarding a preventable trucking accident:
According to a June 16, 2019, article, the driver of a truck hauling a box trailer "parked his semi in the white striped gore area separating the I-94 mainline from the exit ramp to Burns Harbor" and turned on his truck's "emergency hazard lights moments before his rig was struck" by a truck whose driver became distracted when he "reached over to his passenger seat to get something."
According to this article, "Indiana State Police say the collision occurred at about 3:45 a.m.", which, of course, means that it was dark outside.
In my opinion:
the first trucker should never have parked his truck in the striped gore area; and
obviously, the second trucker should never have allowed himself to become distracted.
9. Regarding urge repeal of federal excise tax:
"A coalition of commercial truck dealers, trade association executives and other trucking industry stakeholders rallied on Capitol Hill on June 19, to urge congressional support for legislation repealing the federal excise tax, a 12% tax on the sale of heavy-duty trucks and trailers," stated a June 19, 2019, article.
If you are an owner-operator, do you agree or disagree with this repeal — and why?
Please comment below.
10. Regarding 3D printing of truck parts:
A June 17, 2019, article stated, "Remanufacturing traditionally involves removing material for restoration but processes like 3D printing and additive manufacturing are offering more ways to increase useful life in used parts."
In the coming years, I think that we're going to see more and more 3D printing of truck parts.
In the meanwhile, we encourage you to look for traditionally manufactured truck parts.
11. Regarding car drivers hitting big rigs:
I was vocal back in May 2019 about how I believe that it was the trooper's fault when he sideswiped a truck.
Well, another car driver struck a big rig, although the results were more dramatic.
In my opinion, it doesn't matter who is driving the car that crashes into a truck that is being lawfully driven; it is the car driver's fault for that.
12. Congratulations!
We applaud all of the winners of trucking championships that have recently taken place in:
Congratulations, one and all!
My husband Mike and I wish you — and all professional truck drivers — safe travels and lots of money saving opportunities on the road.
---
---
Return from TDMST Weekly Round-Up: 2019.06.22 to our TDMST Weekly Round-Up Trucking Commentary or our Truck Drivers Money Saving Tips home page.
---
Reference:
a. www.landlinemag.com/Story.aspx?StoryID=74405 (no longer online)
b. www.landlinemag.com/Story.aspx?StoryID=74389 (no longer online)
c. www.landlinemag.com/Story.aspx?StoryID=74387 (no longer online)