This is the TDMST Weekly Round-Up of news affecting professional truck drivers, written by Vicki Simons for the week ending July 7, 2018.
We welcome your comments, thoughts and feedback on the items of your choice below.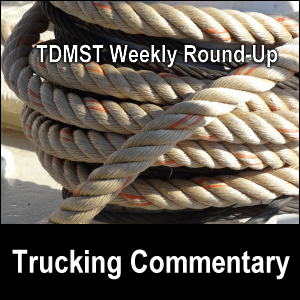 1. Is there a "trucker shortage" or "driver shortage"?
According to Owner-Operator Independent Drivers Association (OOIDA) President Todd Spencer, who appeared on Fox Business, there isn't one.
However, he explained in a short video that "the perceived driver shortage is really a problem of retention caused by low pay" to retain drivers.
According to a July 3, 2018, article, this was the "third time in the past few months" that Todd Spencer had "told the viewers of the Fox Business show Varney & Co. that the trucking industry's perceived driver shortage is a myth."(a)
One way that some entities in the trucking industry want to try to relieve the so-called "trucker shortage" is by lowering the age of those who are eligible to drive commercial motor vehicles.
I speculate that the "pilot interstate trucking program for 18 to 21 year olds" isn't going to dramatically improve the so-called trucker shortage either, at least in the long-term.
In fact, I believe that trucking companies that hire 18 – 21 year old male drivers will soon come to realize why male drivers under a certain age are charged more for personal car insurance. Just saying.
2. A July 3, 2018, article specifically stated that a trucker found "himself stuck in the sand on [a] North Carolina beach" due to following a GPS unit.
I don't understand how "the truck driver didn't realize that the roadway that he was on ended on the sandy Outer Banks beach."
Questions include:
– Did he not know he was near the beach and route himself accordingly?
– What kind of a GPS unit was it?
The article states: "It took a wrecker two hours to recover the stuck truck."
I wonder how much that towing bill cost!
3. The driver of the car that was recording the video embedded in a July 2, 2018, article did not take responsibility for flashing his headlights at the trucker who was signaling that he wanted to move into the left lane.
Be that as it may, this video footage is a good reminder of why some truckers are no longer relying on a flash of another vehicle's headlights — even the lights from another big truck — as a signal that it is safe to change lanes.
4. "Operation Safe Driver Week is slated for July 15 – 21", according to a June 28, 2018, article.
Law enforcement officers will be watching drivers of commercial motor vehicles and passenger vehicles for unsafe driving behaviors.
The article lists
– the number of warnings and citations by vehicle type and
– a categorization of the types of moving violations that were cited.
5. Have you noticed that fuel taxes in nine states have increased since July 1?
According to a July 2, 2018, article, fuel taxes have increased in South Carolina, Tennessee, Oklahoma, Indiana, Maryland, Vermont, Iowa, Nebraska and Connecticut.(b)
It is wise to pay attention to where one buys fuel.
6. A July 1, 2018, article about productivity described what may be called the "dream truck stop":
"… easy-off/easy-on highway access; amply sized parking lots, easily accessed spaces; plus offering a full-range of amenities and services, along with the greatest convenience and efficiencies. The goal is selecting truck stops that enable you to combine tasks. …"
www.roadking.com/trucks/name-of-game-is-productivity/ (no longer online)
Would that there were more truck stops like this, especially in or near major metropolitan areas!
7. The 2018 Great American Trucking Show (GATS) will be held August 23-25 "at the Kay Bailey Hutchison Convention Center in Dallas", according to a July 1, 2018, article.
See the article for what you'll encounter and how to pre-register for free.
www.roadking.com/news/plan-to-attend-gats-2018/ (no longer online)
8. A July 2, 2018, article stated, "Enthusiasm for Nikola Motors' fuel cell electric Class 8 trucks has pushed orders for all types of electric trucks and buses past the 15,000 mark through 2021."
The title of the article says that 2018 will be the "tipping point for commercial vehicle electrification."
If you are a professional truck driver who is driving a commercial motor vehicle that is powered by electricity, we would like to ask you some questions.
Please contact us.
9. According to a June 27, 2018, article, FMCSA administrator Ray Martinez stated that "Automated driving systems, or ADS, in commercial trucks has the 'potential to save thousands of lives' each year.
Numerous advantages were listed in the article, including the potential to reduce accidents, "reduce congestion, improve productivity and limit the costs associated with trucking crashes."
If you haven't already, start preparing now for what I expect will be the wave of the future.
While the transition to totally driverless trucks is estimated to be "many, many, many" years away, the article also stated, "Twenty-two states have passed legislation authorizing the operation of autonomous vehicles".
10. The Pennsylvania Turnpike Commission has elected to raise tolls for 11th year in a row, according to a July 5, 2018, article.
If the increase is approved, it will go into effect on January 6, 2019.
However, a July 3, 2018, article states, "The Owner-Operator Independent Drivers Association and the National Motorists Association have filed a lawsuit against the Pennsylvania Turnpike Commission regarding the tolls."(c)
11. Sadly, we read in a July 3, 2018, article:
"The Federal Motor Carrier Safety Administration has rejected a request for exemption from the electronic logging mandate requested by the Owner-Operator Independent Drivers Association."(d)
12. According to a July 3, 2018, article, the November 2018 statewide ballot in California will allow voters to decide whether or not they want to "keep vehicle tax and fee increases imposed a year ago".(e)
13. Previously, we wrote about Trailer Connection and Separation: Trucker Winter Driving Tips.
Well, a "new Holland ELI-te Fifth Wheel Coupling Assistant" — that is "a new, technology-enabled system that eases the coupling of a tractor and trailer, along with the use of air releases to enable quick disconnects" — has given the "lowly fifth wheel" a "technology boost", according to a July 3, 2018, article.
If you use a truck with one of these new fifth wheels, would you please submit a truck parts review?
14. A July 4, 2018, article states: "Total shipping costs are expected to rise an estimated 12% year-over-year in 2018, with another 5% increase expected in 2019."
I wonder how much of this increase in shipping costs has been foisted on shippers and consumers due to the Electronic Logging Device (ELD) mandate.
Hmm…
15. If you plan to attend the Walcott Truckers Jamboree during July 12-14, 2018, would you please let us know what part of the truck show was your favorite and why?
In fact, you may want to read through our trucking show tips before you go.
According to a July 2, 2018, article, "The Walcott Truckers Jamboree started in 1979 as a way to show appreciation for all that truck drivers do… [and this year,] the event will be enjoying its 39th anniversary."(f)
Enjoy!
My husband Mike and I wish you — and all professional truck drivers — safe travels and lots of money saving opportunities on the road.
---
---
Return from TDMST Weekly Round-Up: 2018.07.07 to our TDMST Weekly Round-Up Trucking Commentary or our Truck Drivers Money Saving Tips home page.
---
Reference:
a. www.landlinemag.com/Story.aspx?StoryID=72582 (no longer online)
b. www.landlinemag.com/Story.aspx?StoryID=72576 (no longer online)
c. www.landlinemag.com/Story.aspx?StoryID=72584 (no longer online)
d. www.landlinemag.com/Story.aspx?StoryID=72583 (no longer online)
e. www.landlinemag.com/Story.aspx?StoryID=72585 (no longer online)
f. www.landlinemag.com/Story.aspx?StoryID=72577 (no longer online)