This is the TDMST Weekly Round-Up of news affecting professional truck drivers, written by Vicki Simons for the week ending January 5, 2019.
We welcome your comments, thoughts and feedback on the items of your choice below.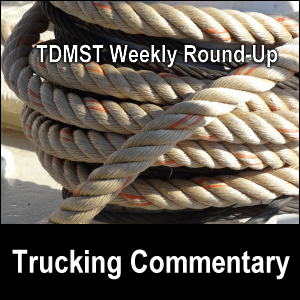 1. Happy New Year!
If you need some tips, you may wish to read our articles about:
2. Regarding the FMCSA's pre-emption of California's meal and rest break rule:
A lawsuit was expected and it has been filed.
According to a January 3, 2019, article, "In its lawsuit seeking to overturn the FMCSA's decision exempting truck drivers from California's rest and meal break rule, the Teamsters called the ruling a 'corporate giveaway.' "
The Teamsters' reaction came "Less than two weeks after the U.S. DOT" made the decision.
In response to the claim that one of the reasons for the pre-emption was "safety issues have likely resulted from the lack of adequate parking solutions", everyone knows that:
the lack of adequate parking affects 10-hour rest break parking, too, not just meal and rest break parking; and
the pre-emption doesn't solve the problem of inadequate truck parking whatsoever.
Note: The reason why the ATA has applauded pre-emption is so that their trucking company members do not have to pay truckers for meal and rest breaks (even though the truckers aren't required to take them).
askthetrucker.com/the-truth-about-meal-and-rest-breaks-for-intrastate-drivers/ (no longer online)
The Teamsters' "blistering" statement addressed the fact that "the announcement was 'made at 4:30 p.m. on Friday, Dec. 21, 2018, in what was clearly an effort to avoid public scrutiny of the corporate giveaway at the expense of working men and women.'"
In my opinion, the most important statement in that article was made by the American Association for Justice: "…And of course, there is no evidence that California's meal and rest break rules negatively impact safety."
Here, here!
"The [Teamsters] union, representing drivers in the case, says the DOT's decision 'is simply a giveaway to the trucking industry at the expense of driver safety.'", stated a January 3, 2019, article.
I hope that the federal appeals court will overturn this ruling by the FMCSA.
Furthermore, truckers need to be paid for all of their time, including "at least minimum wage for time spent off-duty and in their sleeper berths", as one federal judge said.
3. Regarding truck mirrors vs. camera monitor systems:
According to a December 28, 2018, article, the FMCSA has approved a "five year exemption [that] will allow any commercial vehicle to operate with Stoneridge's after-market MirrorEye Camera Monitor System (CMS) instead of the two rear-vision mirrors required by federal law."
Among the "host of benefits" that these camera monitor systems are said to provide are:
"greater field of view";
"elimination of blind spots";
"better fuel economy" because they are "more aerodynamic"; and
being able to "cut down on driver fatigue because it will require 'less head movement by drivers compared to the number of head [movements] needed to use conventional mirrors.'"
That last "benefit", in my opinion, is a stretch because I've never heard of any trucker becoming "fatigued" by having to scan his/her truck mirrors every 5-8 seconds for safety.
Be that as it may, my husband Mike and I have personally experienced the benefit of having a back-up camera in our personal vehicle.
Our car's back-up camera is only operational when our car is in reverse, but I see the potential benefit of having a camera monitoring system on a commercial motor vehicle.
The article linked above describes the CMS "as consisting 'of multiple digital cameras mounted on the exterior of the CMV and enclosed in an aerodynamic package that provides both environmental protection for the cameras and a mounting location for optimal visibility.'"
According to a related article, Mike Roeth, executive director of the North American Council for Freight Efficiency, was quoted as saying that rear view mirrors "are big and bulky, and getting rid of them is a good thing."
That second article also cited how the CMS featured "self-cleaning lenses, a heater to protect from ice and frost, and a special coating that resists moisture."
Huh!
Yet another article stated that the CMS:
"expands the field of view by an estimated 25 percent";
has a "trailer panning feature" that will "potentially [eliminate] right-hand turn collisions"; and
includes "features such as color night vision, low light sensitivity and light and glare reduction".
Supposedly, there are "three views" that these camera systems provide: "a wide angle, narrow angle and passenger-side 'look-down' camera".
My only concern is how a trucker will be able to monitor the feedback from all of these cameras simultaneously without being distracted from the main task of driving.
If you have one of these devices installed on your truck and you use it, please write and submit a truck parts review in which you address my concern.
4. Regarding winter driving:
Please be exceptionally careful about driving this winter, as numerous wrecks have been caused by bad weather.
On December 28, a "snow and freezing rain" situation lead to an ice forming on I-89 in Concord, New Hampshire, which lead to a "five truck pileup".
A warning about snow, high winds and "dangerous cold" was written on December 28, 2018, "for a portion of the Upper Plains and Rockies".
Gusting winds and high crosswinds can "threaten to overturn high-profile vehicles".
Please check weather reports before you go on the road.
If it is unsafe to drive, park until conditions improve.
5. Regarding one truck survey:
On December 28, 2018, OOIDA wrote:(a)
The Owner-Operator Independent Drivers Association is opposed to FMCSA's collection request regarding truck maintenance requirements, saying the proposal could lead to unnecessary rules and regulations that would place economic burdens on small-business truckers.
Be on the lookout for more on this.
6. Regarding truck tolls:
The doubling of toll rates in West Virginia has been delayed for another two weeks, according to Land Line Magazine;(b) and
According to a December 29, 2018, article, "Tolls on seven state-owned Bay Area bridges in California will increase Tuesday, Jan. 1."
7. Regarding trucker pay:
According to a January 3, 2019, article, "Pay increases help drive down trucker turnover in 2018 third quarter".
However, a January 3, 2019, article shared data from Overdrive's survey:
"The share of owner-operators expecting to tally more than $70,000 in net income for year 2018 was 27 percent smaller than the share that reported the same for 2017 net income"; and
"65 percent of respondents reported they were making less money since the ELD mandate came into play, despite the upturn in per-mile truckload rates on the spot market."
8. Regarding eating while driving:
A trucker who was eating a piece of candy choked on it, lost consciousness, and caused a crash on I-65 in Indiana.
A related article stated that this crash "stalled traffic on both directions of I-65".
Please don't eat while you're driving.
9. Regarding our anticipated site-wide revision:
Hurray!
I am pleased to announce that on New Year's Eve, I successfully completed a years-long project of revising all of the pages on Truck-Drivers-Money-Saving-Tips.com to a mobile responsive design.
I made other changes, too, and still other changes are being planned.
I hope you like the new look and feel!
My husband Mike and I wish you — and all professional truck drivers — safe travels and lots of money saving opportunities on the road.
---
---
Return from TDMST Weekly Round-Up: 2019.01.05 to our TDMST Weekly Round-Up Trucking Commentary or our Truck Drivers Money Saving Tips home page.
---
Reference:
a. www.landlinemag.com/Story.aspx?StoryID=73527 (no longer online)
b. www.landlinemag.com/Story.aspx?StoryID=73537 (no longer online)