This is the TDMST Weekly Round-Up of news affecting professional truck drivers, written by Vicki Simons for the week ending September 29, 2018.
We welcome your comments, thoughts and feedback on the items of your choice below.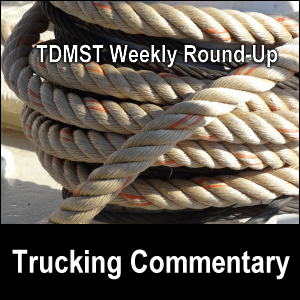 1. According to a September 12, 2018, article,
"The annual Commercial Vehicle Safety Alliance (CVSA) event recorded 67,502 truck and bus inspections in Canada and the U.S., with 7,181 on this side of the border. Of the total, 11,897 vehicles and 2,664 drivers recorded out-of-service conditions. … Brake adjustment and brake system violations combined to represent 44.7% of all out-of-service vehicle violations."
More details are written here, here, here(a), here, here, and here.
2. According to a September 17, 2018, article, there is "A Wrong and Right Way to Mount Truck Tires".
3. Is it worth it to allow your ELD data to be seen by your insurance company if it will potentially mean a discount on your truck insurance?
Read a September 18, 2018, article about how one insurance company that is doing that.
4. The U.S. Senate recently passed a bill about hair testing guidelines, according to a September 18, 2018, article.
Another article about this topic is here.(b)
I wrote in response this post on Facebook:
There are so many questions that need to be answered regarding hair sample testing and other biometric screening. Here are some:

For what chemical will hair be tested: cotinine, nicotine, opioids, or some other chemical (perhaps a narcotic or other illegal drug)?

How will the results of the tests be used: pre-employment screening, random drug testing, following an accident, or other?

Who will be subjected to the tests: only professional truck drivers, the motoring public following an accident, all applicants for a specific job, or other?

Where will the results be recorded and how long will they be kept?

What recourse does a "patient" have against a tampered sample or error in the results — and how will he/she even know the results?

Just asking…
5. There have been a number of recalls lately and we encourage you to have these items repaired or replaced if they affect your rig:
– 4,500 2017-2019 Freightliner and Western Star tractors (link);
– 300 Autocar Xspotter terminal tractors (link);
– 2,700 Bridgestone Americas commercial truck tires (link);
– 26,000 International trucks recalled for Cummins fuel line issue (c).
6. The FMCSA will hold a listening session on October 2 in Orlando, Florida, as part of its hours of service feedback tour (link).
OOIDA asked the FMCSA to "give drivers more control with [their] Hours of Service" (d).
One driver spoke out and so did others.
Have you submitted your comments yet?
7. Even though there have been reports that Congress removed the "driver breaks provision from [the] FAA bill" (link, link and link), it is still up to the Senate to do the same.
So, please continue to make calls to your U.S. Senators to say "NO!" to the Denham/Fischer/other anti-trucker wages amendments.
8. Our deepest sympathy goes to the family of the 8-year-old girl who was killed by a semi truck while crossing the road in order to board a school bus near Joplin, Missouri.
According to a September 27, 2018, article, the fatality was a "hit and run crash" and the truck driver hit the girl "just before 7 a.m." (meaning that it occurred before sunrise).
Did the trucker not see the girl?
Additionally,
– if the school bus was stopped to pick up a passenger; and
– if the bus's lights were blinking properly;
– unless the location was at a divided highway where opposing traffic may not have to stop,
– why was the truck still rolling?
I look forward to reading the results of the investigation.
9. Be on your guard against those who are rolling or throwing bowling balls into the paths of vehicles.
10. The "former Pilot Flying J president Mark Hazelwood was sentenced to 150 months in prison for a diesel fuel rebate scheme designed to dupe small business truckers" (link, (e)).
I look forward to reading that full restitution has been made.
11. Tired of hearing about truck-only tolls (or toll increases)?
Well, now "Democratic candidate for Governor of Connecticut Ned Lamont is pitching a plan to use truck-only tolls to fund improvements to the state's transportation systems" (link).
OOIDA criticizes punitive & discriminatory toll on truckers".
You may also appreciate this related article from Land Line Magazine.(f)
12. In advance of the 2018 General Election and on the topics of trucking and road funding issues, be aware of:
– where candidates stand; and
– what questions will be on the ballot (g).
13. Hurray!
The "California governor [signed the] OOIDA-backed bill to deter 'mistreatment' of truckers" (h).
14. Love coffee?
Then check out the various truck stops where free coffee will be served "in conjunction with National Coffee Day, which is Saturday, Sept. 29" (link).
15. Our congratulations go to:
– Deb LaBree, who was given "a check for $10,000 from Shell Rotella in honor of Truck Driver Appreciation Week" (i); and
– Landstar owner-operator Susan Coffer, who "won a new Kenworth T680 in the company's Deliver To Win Truck Giveaway contest" (link).
Think it's too late to win anything?
"One lucky company driver will be $25,000 richer if they are chosen the driver of the year in a search by the Truckload Carriers Association" (link).
My husband Mike and I wish you — and all professional truck drivers — safe travels and lots of money saving opportunities on the road.
---
---
Return from TDMST Weekly Round-Up: 2018.09.29 to our TDMST Weekly Round-Up Trucking Commentary or our Truck Drivers Money Saving Tips home page.
---
Reference:
a. landlinemag.com/Story.aspx?StoryID=73003 (no longer online)
b. landlinemag.com/Story.aspx?StoryID=73012 (no longer online)
c. landlinemag.com/Story.aspx?StoryID=73045 (no longer online)
d. landlinemag.com/Story.aspx?StoryID=73034 (no longer online)
e. landlinemag.com/Story.aspx?StoryID=73042 (no longer online)
f. tandemthoughts.landlinemag.com/advocacy/truck-toll-hikes-infuriating-admire-todd-spencers-restraint/ (no longer online)
g. landlinemag.com/Story.aspx?StoryID=73044 (no longer online)
h. landlinemag.com/Story.aspx?StoryID=73035 (no longer online)
i. landlinemag.com/Story.aspx?StoryID=73038 (no longer online)