This is the TDMST Weekly Round-Up of news affecting professional truck drivers, written by Vicki Simons for the week ending August 27, 2022.
We welcome your comments, thoughts and feedback on the items of your choice below.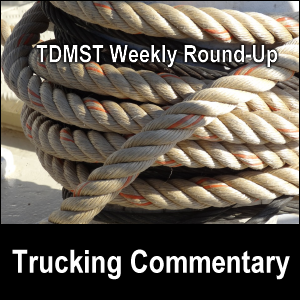 1. Regarding economy and pay:
Economy
These are some of the most recent articles about the economy from the perspective of the trucking industry:
---
Pay
We do not endorse any of the companies listed in this section.
Before you hire on with any trucking company, be sure to do your due diligence.
2. Regarding accidents, fatalities, alcohol, and smuggling:
Accidents
In last week's TDMST Weekly Round-Up, I expressed an opinion about the number of accidents on the roads as being related to "the jab."
According to an August 24, 2022, article (with obvious edits):
Motor vehicle accidents surging in tandem with the rollout of C*VID-!9 vaxxines — with news accounts linking the crashes to known adverse events such as seizures and mysterious "medical episodes."
Do you — or do you not — concur with this assessment?
Please comment through the form below.
Meanwhile, please learn what you can from the articles linked below so that you don't get into the same kind of set-up.
---
Fatalities
We extend our deepest sympathies to the families of those who passed away.
Please also learn from these articles.
---
Alcohol
Never ever attempt to drink alcohol and then drive a truck commercially (or any vehicle, for that matter).
Wait to drive until you are completely sober.
---
Smuggling
Never ever treat human beings — made in the image of God — as if they were cattle or cargo.
3. Regarding fuel, fuel – hydrogen, fuel – ICE, fuel efficiency, and fuel price:
Fuel
The first article in the section just above is similar to another one just below, regarding which I wrote this post (bold faced type added) on Facebook on August 25, 2022:
—–
What could *possibly* go wrong?
Concerning this article…
California to ban new gas vehicles by 2035 in push for EVs
https://www.axios.com/2022/08/24/california-gas-vehicle-ban-electric-vehicles-evs
… I simply searched for
"average commute time in California"
and immediately found resources:
California Average Commute Time by County
https://www.indexmundi.com/facts/united-states/quick-facts/california/average-commute-time
(Undated)
"Value for California (Minutes): 29.3"
Which States Have the Longest Commutes?
https://getjerry.com/insights/which-states-have-longest-commutes
(Dated Apr. 2022)
"According to data compiled by Jerry, the five states with the longest average commutes are Maryland, New York, California, New Jersey, and Washington, D.C."
Commutes in this city are the longest in the US—and it's not NYC or San Francisco
https://www.cnbc.com/2019/02/06/commutes-in-this-california-city-are-the-longest-in-the-us.html
(Dated Feb. 2019)
"The winner is Palmdale, California, which is part of North Los Angeles County, where 35 percent of the population commutes over two hours round-trip each day."
How many electric vehicles will run out of charge or "juice" just on the daily commute — not to mention other types of travel?
Feedback?
—–
---
Fuel – hydrogen
---
Fuel – ICE (Internal Combustion Engine)
Per my comment in the "Fuel" section above, I think that this is a foolhardy move — and one that will eventually backfire.
Just saying.
---
Fuel efficiency
---
Fuel price
4. Regarding autonomous vehicles, electric vehicles, and emissions:
An August 22, 2022, article entitled "Viewpoint: The year of labor — knowing your worth" stated:
We all know trade doesn't work without people, from the worker who makes the products to those who move the coveted cargo.

In recent months, we have seen the men and women responsible for the transport of goods mobilize and push back on wage offers. They realize their worth and their pivotal role in the world of capitalism….
This is just one reason why I disagree with "autonomous" commercial motor vehicles.
Autonomous vehicles
I totally oppose autonomous, driverless, or self-driving commercial motor vehicles on the same roads as the motoring public, but list these articles so that you can stay current with the subject.
Meanwhile, I am surprised — or perhaps "shocked" is a better word — that Pilot and Flying J truck stops plan to use self-driving trucks.
Will the quality of the service at these truck stops — that are visited by humans go down?
---
Electric vehicles
---
Emissions
Quoting from the first article listed in the section just above:
"Twenty-three percent of current cargo volumes are handled by trucks that have 2007 through 2009 engines, which will be required at the end of this year to turn over to at least a 2014 truck model year standard here in (the ports of Los Angeles and Long Beach)," Matt Schrap, CEO of the Harbor Trucking Association, reportedly said. "Of total trucks in service, it's just around 5,000 vehicles that are registered to do business here, and those active vehicles, right around 3,500 to 3,600. Suffice to say, removing a quarter of the capacity from the system could have profound impacts on our ability to get business done and move those boxes up the dock."
While I appreciate that the state of California wants to limit emissions, I also bear in mind another statistic, this one from a June 25, 2022, article:
2022 data for state-to-state moves shows that of California moves, for every 37 moves in there are 100 out. (Only New Jersey is seeing greater outflow.)
So, instead of having to meet California's perhaps overly restrictive demands, truckers may simply just move to a more truck-friendly state and leave Californians to their own destiny, consequence, or fallout of their own making.
5. Regarding parking, parking – punished, and dash trash:
Parking
While I appreciate the "shopping malls" and "stadiums" ideas that the writer of the article below suggested, there's one that I keep mentioning over and over again:
Build truck stops adjacent to already established industrial parks!
---
Parking – punished
The city of New York City has started cracking down on professional truck drivers!
---
Dash trash
When I wrote the page on our site entitled:
Dash Trash: What a Trashy Looking Truck Says and Does,
I was referring to the trash on top of the dash that can be seen through the windshield.
Well, the situation described in the articles listed in this section refers to trash under the dash that can lead to a trucker not being able to operate the pedals on the floor!
Can you imagine the conversation between the sloppy trucker with his driver manager — after the truck was involved in an accident — because the trash impeded the trucker's ability to step on the brake pedal and thus stop the truck?
"Sorry, Boss, but I was too lazy to go get a trash bag and pick up after myself…"
Good grief!
6. Regarding technology and testing:
Technology
---
Testing
Just curious:
Why is there such a push for testing a trucker's hair?
Can one find trace amounts of all of the major drugs in tested hair?
7. Regarding inspections, legal, and limiters:
Inspections
If you keep yourself and your truck in perpetual readiness for an inspection, you'll never be caught off-guard.
---
Legal
The first article in this section is about restroom access for truckers.
You may wish to see the pages on our site having to do with a review of a portable toilet and reasons to consider having a portable toilet in one's truck.
---
Limiters
I oppose speed limiters on commercial motor vehicles!
8. Regarding roads and routing:
Roads
---
Routing
If one uses truck routes according to a truckers' atlas, problems like the one described in the article below would never happen.
9. Regarding shut down, theft, tolls, weather, and wildlife:
Shut down
These articles are sad, but I think that more trucking companies will be following in their wake.
---
Theft
---
Tolls
---
Weather
---
Wildlife
10. Regarding business and Inflation Reduction Act:
Business
---
Inflation Reduction Act
11. Regarding maintenance:
12. Regarding recognition and awards:
Recognition
We recognize truckers who helped out their fellow human being(s) in a time of need.
---
Awards
We congratulate truckers who have met a milestone in their trucking careers.
My husband Mike and I wish you — and all professional truck drivers — safe travels and lots of money saving opportunities on the road.
---
---


Return from TDMST Weekly Round-Up: 2022.08.27 to our TDMST Weekly Round-Up Trucking Commentary or our Truck Drivers Money Saving Tips home page.
---