This is the TDMST Weekly Round-Up of news affecting professional truck drivers, written by Vicki Simons for the week ending October 20, 2018.
We welcome your comments, thoughts and feedback on the items of your choice below.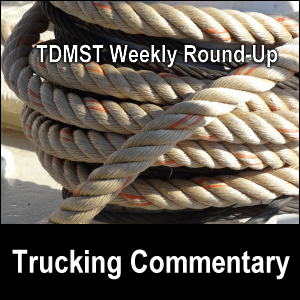 1. As Allen Smith of AskTheTrucker.com has been saying for many months, the ATA is doing everything it can to prevent truckers from being paid for anything other than on a cents-per-mile basis. In other words, no detention pay, etc.
The ATA has repeatedly attempted to get the Denham and/or Fischer Amendments passed into law through the F4A bill, but have thankfully been thwarted.
Now, they have petitioned the FMCSA directly!
Thankfully, the FMCSA is taking comments on this topic with a title that obscures the real purpose of what they want to do:
Petitions for Determination of Preemption: California Meal and Rest Break Rules
Read and listen to these resources from Allen Smith to understand the importance of commenting on this topic:
– FMCSA Meal And Rest Break Petition 2018;
– Blog Talk Radio program: Trucking Open Forum- Feature topic- FMCSA Preemption Petition by ATA.
One of the things that Allen and Donna Smith addressed in their radio program this past Saturday was that the California Meal and Rest Break legislation has a much larger scope than just truckers.
The state has a right to protect its workers!
Submit your comments on this topic here before October 29, 2018.
As an encouragement to submit your own comments, an October 16, 2018, article stated: "Appellate court rules federal law does not override Illinois wage laws".(a)
2. Some truck accidents are preventable and some are not.
– The accident shown in the video embedded in an October 18, 2018, article — where a car driver cut off an 18-wheeler — could only have been prevented by the car driver.
– A trucker who was "overdriving his headlights and was going too fast for blizzard conditions with deep snow on a dark road" ended up sliding into a fallen tree and was charged with a preventable accident.
– One trucker was charged with "failure to secure his load" after he drove up a steep street and the load of [2 lb.] "metal balls fell out of the truck and bounced down the roadway, damaging six vehicles."
3. The ELD mandate was supposed to "level the playing field" when it came to the number of hours that professional truck drivers could drive by forcing everyone onto an electronic system that could not be manipulated on paper.
However, since December 2017, we have seen a rash of:
– requests for exemptions from:
– four trucking companies;
– a group of organizations representing cattle farmers and honey bee producers; and
– livestock haulers; and
– suspensions of the Hours of Service regulations due to bad weather events, including:
– Hurricane Florence,
– Hurricane Michael, and
– now the flooding in central Texas (link, link, link).
This proves that "one size does NOT fit all"!
4. The recalls continue. See if you're impacted:
– DTNA recalls almost 20K Freightliner, Western Star trucks;
– Volvo issues warning about emissions systems;
– Almost 20,000 Freightliners recalled for steering defect that could cause a crash;
– Volvo becomes fourth truck manufacturer recalling trucks for Cummins engine issue;(b) and
– Volvo investigating degradation of emissions control systems.
5. A Texas trooper delivered an "unmissable message" to truckers about distracted driving.
6. Are professional drivers even paying attention to signs any more?
One trucker supposedly "missed the warning signs" prohibiting "trucks over 39 feet in length" from traveling on a section of Highway 175 that was under construction and his whole rig overturned!
Captured in a hold-your-breath video, the driver of a "too-heavy-bus" crossed a 1949 suspension bridge rated at only 10 tons.
7. This is a reminder to double-check your route.
One bridge collapsed in Texas, according to an October 16, 2018, article.
8. The "FDA seeks comments about potential of removing marijuana from Schedule I drugs", says one article.(c)
9. An October 18, 2018, article listed "7 Things You Need to Know About Upcoming CSA Changes".
10. There are "three reasons why [large fleets] haven't moved forward with electrified vehicles."
The top barrier is "the higher cost of purchasing the vehicles".
Well, that's interesting since many regulations are forcing truckers to upgrade their trucks. Hmm…
An October 15, 2018, article addresses "truck electrification" costs and savings.
11. The American Transportation Research Institute (ATRI) recently published the cost of congestion on the trucking industry — but only on the U.S. National Highway System.
Here are some highlights:
– congestion accounts for "nearly $74.5 billion in operational costs in 2016";
– "more than 91% of the total congestion costs [occurred in] metropolitan areas"; and
– Texas and Florida led the pack, where the "top 10 states combined [accounted] for 51.8% of the congestion costs nationwide".
A second article stated: "Nearly 87% of congestion costs occurred on just 17.2% of the NHS segment miles" and that "Congestion costs trucking industry 1.2 billion hours". Ouch!
A third article stated: "Traffic jams on U.S. highways keep the equivalent of 425,533 truck drivers sitting idle for a year".
Interestingly, that third article quotes Chris Spear, chief executive of the ATA, as saying that sitting in traffic is not the driver's fault.
So why is the ATA attempting to limit the ways that truckers can be compensated on the job? Hmm…
This is why I published a post on Facebook saying that delays due to congestion are one reason "why paying drivers per mile is patently unfair."
My husband Mike and I wish you — and all professional truck drivers — safe travels and lots of money saving opportunities on the road.
---
---
Return from TDMST Weekly Round-Up: 2018.10.20 to our TDMST Weekly Round-Up Trucking Commentary or our Truck Drivers Money Saving Tips home page.
---
Reference:
a. landlinemag.com/Story.aspx?StoryID=73140 (no longer online)
b. landlinemag.com/Story.aspx?StoryID=73146 (no longer online)
c. landlinemag.com/Story.aspx?StoryID=73145 (no longer online)