This is the TDMST Weekly Round-Up of news affecting professional truck drivers, written by Vicki Simons for the week ending January 19, 2019.
We welcome your comments, thoughts and feedback on the items of your choice below.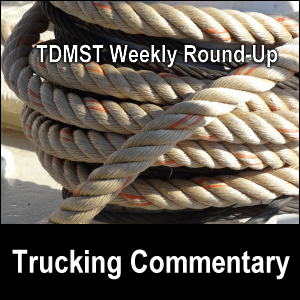 1. Regarding truckers' victory in court:
According to a January 16, 2019, article, "The Supreme Court on Tuesday ruled unanimously that independent trucker contractors can't be forced into arbitration."
The case being decided was New Prime Inc. v. Oliveira.
A staff attorney at the National Employment Law Project, stated that "Mandatory arbitration 'really suppresses claims; it forces people into this private forum that is often less fair, and studies show it's harder to win there, which means it's less likely a lawyer will take the case'."
Other articles covering this topic are here, here, here, here(a), here and here.
askthetrucker.com/u-s-supreme-court-decides-transportation-independent-contractors-exempt-from-forced-arbitration-under-federal-arbitration-act/ (no longer online)
2. Regarding robots in warehouses:
According to a January 17, 2019, article, "Ryder says it has identified specific new and emerging technologies as new benchmarks of an effective smart warehouse, capable of delivering for its customers."
The article states the increase of productivity for each of the following technologies at their "smart warehouses":
robotics,
drones,
sensors, and
wearables.
Will operations at all large warehouses — including grocery distribution facilities — one day be greatly speeded up through the use of technology, so as to reduce detention time at shippers and receivers?
3. Regarding truck tolls:
The Owner-Operator Independent Drivers Association (OOIDA) has launched a class action lawsuit, challenging "the 35% increase in tolls imposed on drivers of heavy vehicles traveling the Indiana Toll Road, implemented on Oct. 5, 2018", according to a January 14, 2019, article.
In addition to OOIDA's claim that the tolls are excessive, their lawsuit addresses the state's intention to use toll money for things unrelated to the toll road.
My favorite quote from the article is from OOIDA's president, Todd Spencer: "Truckers are not rolling piggy banks."
More on this is here, here(b), here and here.
4. Regarding truck oil:
For owner-operators and independent truckers who are in charge of their own trucks' maintenance, there's an interesting January 11, 2019, article about truck oil changes, extended oil drain intervals, oil lifecycles, oil filters, oil analyses, and related info.
5. Regarding big truck data:
Hmm… The following paragraph appears in an article about mining data from telematics, ELDs and the like:
Drivers who follow at a safe distance, slow down, and brake smoothly save fuel and maintenance costs over time, making them a better long-term investment for a fleet over a driver who is quick but inefficient.
That kind of made me wonder if some fleets are looking to get rid of "quick but inefficient drivers" instead of helping them to improve their behaviors.
The article also indicated that some fleet data (supposedly anonymous) is being sold and represent "real privacy concerns".
6. Regarding consumer trust in autonomous vehicles:
A January 16, 2019, article stated, "About half of U.S. consumers say they don't believe autonomous vehicles will be safe, which increased slightly from last year's 47%, according to the 2019 Deloitte Global Automotive Consumer Study."
How will this affect the development and use of autonomous trucks, I wonder?
7. Regarding insurance and the cost of large truck crashes:
An article about truck fleet insurance costs stated:
According to the [FMCSA], the average cost of a "large truck" crash involving a fatality is $3.6 million. A crash with injuries costs almost $200,000 per crash, and the average cost of all large truck crashes is about $91,000 per crash.
The article covers more about truck maintenance, truck operation, internal safety audits or risk-management analysis, safe drivers, and "Usage Based Insurance" (UBI), which monitors driver behavior while driving.
According to the National Association of Insurance Commissioners (NAIC), "The level of data collected generally reflects the telematics technology employed and the policyholders' willingness to share data. The insurance company then assesses the data and charges insurance premiums accordingly."
If you drive a large truck that has a Usage Based Insurance policy, would you please write and submit a service review to let us know what you do and don't like about it?
8. Regarding winter weather:
There's some bad winter weather predicted this weekend, so please prepare yourself for downtime if it is unsafe to travel.
If you need a reminder of how serious bad weather can affect traffic:
the following was reported on January 12, 2019: "Snowstorm leads to nearly 900 accidents and 1,800 stranded motorists in Missouri";
the following was reported on January 14, 2019: "A winter storm is causing serious travel trouble for truckers in California as winds rolled over several big rigs and snow shut down the Grapevine"; and
the following was reported on January 16, 2019: "Dozens of people were injured in a 19 vehicle crash on Cajon Pass in Southern California".
9. Regarding the government shutdown:
"The partial shutdown of the U.S. government could delay the publication of a proposed rule to reform hours of service regulations, according to a U.S. DOT official", states a January 16, 2019, article.
How is the government shutdown (partial, though it may be) affecting your loads and income?
Please reply below.
10. Regarding other technology news:
According to a January 14, 2019, article, "Schneider has begun to roll out Samsung Galaxy tablets to its [individual] drivers to give them access to critical work information while in the field".One trucker stated, "I'll admit, I was hesitant at first, but it's been a great portable tool that lets me streamline my work so I can get back on the road."Another article about this is here.
A January 14, 2019, article addressed "Smart trailers" that are able to "monitor cargo, maintenance status".
A white paper has been written by Omnitracs that addresses squeezing "more juice" out of one's Electronic Logging Device.
11. Regarding the health advice provided:
There is a better way to avoid becoming sick than the first "tip" listed in a January 15, 2019, article.
The best way is to keep your immune system boosted.
See our Health and Wellness page for more info.
12. Congratulations!
Our heartiest congratulations go to the:
3 finalists for "Company Driver of the Year" and
3 finalists for "Owner-Operator of the Year",
as were named in a January 15, 2019, article.
"The [grand prize] winners each receive $25,000 and the runners up get $2,500 each."
We look forward to learning who the grand prize winners will be (to be announced on March 11).
My husband Mike and I wish you — and all professional truck drivers — safe travels and lots of money saving opportunities on the road.
---
---
Return from TDMST Weekly Round-Up: 2019.01.19 to our TDMST Weekly Round-Up Trucking Commentary or our Truck Drivers Money Saving Tips home page.
---
Reference:
a. www.landlinemag.com/Story.aspx?StoryID=73601 (no longer online)
b. www.landlinemag.com/Story.aspx?StoryID=73579 (no longer online)