This is the TDMST Weekly Round-Up of news affecting professional truck drivers, written by Vicki Simons for the week ending April 27, 2019.
We welcome your comments, thoughts and feedback on the items of your choice below.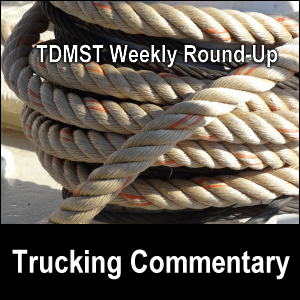 1. Regarding failure to stop leading to fatalities:
An April 26, 2019, article stated that a trucker faces "multiple charges of vehicular homicide" following his failure to stop for slowed traffic on a downhill grade in Denver, which led to a 28-vehicle pileup.
This article states that 4 people have died so far as a result of the crash.
This event was also reported here.
The reason for the crash is under investigation.
Of the following reasons why a truck cannot be stopped in time to avoid a collision, the first 6 are entirely preventable:
failure to keep brakes in good condition;
failure to keep brakes properly adjusted;
carrying too much weight for the brakes to handle;
distracted driving;
not maintaining safe following distance;
driving too fast, including

on downhill grades or
in poor visibility situations (such as in snow, fog and smoke);

being cut off by another vehicle;
mechanical failure of otherwise properly adjusted brakes; and
(futuristically speaking) when an autonomous vehicle overrides a driver's or remote control operator's brake usage.
2. Regarding underride guards:
On April 24, 2019, Allen Smith of AskTheTrucker.com wrote an article entitled, "Recent crash test demo and GAO study strengthens Underride debate".
askthetrucker.com/recent-crash-test-demo-and-gao-study-strengthens-underride-debate/ (no longer online)
Here's a quote from the article: "On Saturday April 27th at 6PM et we will be having an interview and open discussion concerning Underrides."
More about this topic is covered here.
3. Regarding fleet operational costs:
"The American Transportation Research Institute is asking for-hire trucking companies to provide operational cost information from 2018 for its annual Operational Costs of Trucking report", stated an April 24, 2019, article.
The final paragraph in the article stated, "In 2017, carriers' per-mile costs rose 9.9 cents a mile compared to 2016, with increased spending on driver wages and benefits accounting for more than half of that increase — 5.2 cents."
Other articles about this are here(a) and here.
4. Regarding the importance of truck-moved freight:
An April 23, 2019, article stated that "Truck tonnage [was] up year over year despite recent dips."
Meanwhile, it was reported that "Conditions for trucking companies continue to worsen according to a new report by FTR, a leading trucking industry analyst."
Hmm…
5. Regarding 3D printing:
"3D printing is a production method using advanced computer technology in which the composition of a material is altered then reshaped and molded to create a three-dimensional object", stated an April 22, 2019, article.
Furthermore, "Distributors are going to be expected to sell 3D-printed [truck] parts in the future."
Have you ever utilized a 3D-printed part in your truck?
If so, please write a truck parts review.
6. Regarding low clearance wedging:
A trucker "hauling a large spool" wedged his rig under an overpass in Houston, Texas, on April 25, according to this article.
Two questions:
Why is it that truckers hauling loads that vary in height are not measuring load height every time and making sure that they don't run their rigs under low clearances?
Why is it that shippers are not routing truckers so as to miss places where rigs are likely to get stuck?
7. Regarding greedy truckers:
According to an April 25, 2019, article, "Operation Weight Watchers" is a "commercial vehicle enforcement campaign" which state and local police in and around Okeechobee County, Florida, "designed to catch truck drivers who they say are intentionally breaking the law in order to earn more money."
The truckers taking loads to the landfill are paid on the basis of "tonnage delivered", so they are purposely
putting on as much weight as possible and
rushing to take as many loads as possible to the dump.
While it behooves every trucker to maximize his or her payload, remember that the legal weight for a standard Commercial Motor Vehicle (CMV) without an overweight permit in the USA is still 80,000 pounds.
All motorists — including drivers of CMVs — need to obey all traffic and transportation laws.
Some legitimate "serious safety concerns" have been expressed about these truckers
speeding,
violating other laws, and/or
not being able to stop when their rigs weigh up or even exceeding 100,000 pounds.
What is money compared to living life with a clear conscience?
What will you do if
your truck is overweight,
you can't stop your truck in time to avoid a crash, and
you end up killing someone or causing a life-altering accident?
These modified words by Rick Blaine from the movie Casablanca* may apply:
"If you break the law to earn money, you'll regret it. Maybe not today, maybe not tomorrow, but soon and for the rest of your life.
8. Regarding a trucker's lawsuit regarding CBD oil:
After trucker Douglas Horn was injured in a vehicle crash in February 2012, he purchased and started using "an industrial hemp product called Dixie X".
He was later fired for testing positive for marijuana after ingesting the CBD oil that the manufacturer claimed had "0.00 THC".(b)
THC is an acronym for tetrahydrocannabinol, which is the "main psychoactive property in marijuana."
Six motions of Horn's lawsuit have been decided and he can continue the lawsuit on his other claims.
As CBD oil grows in popularity, perhaps this lawsuit will clarify the tests that products must undergo before manufacturers may legitimately claim that their CBD products are THC-free.
9. Regarding off-loading procedures:
According to an April 24, 2019, article, a trucker was crushed to death at a construction site in Winston-Salem, North Carolina, "after a piece of soundproof wall fell on top of him".
This fatality was also covered here.
I encourage all truckers who haul materials that are off-loaded at a receiver's location, to make sure they understand and abide by safe off-loading procedures.
10. Regarding snow on vehicle roofs:
An April 25, 2019, article states that laws have already been put in place in 10 states regarding "snow and ice removal from atop cars and trucks" — and that Delaware may soon join their ranks.(c)
11. Regarding cargo theft:
"Cargo theft trends have begun to shift through the first quarter of 2019 with thieves taking different approaches to stealing cargo", states an April 22, 2019, article.
Watch out for opportunities for
pilferages of loaded trailers and
"fictitious pickup activity".
12. Regarding ELDs:
"The results of a new poll reveal electronic logging devices (ELDs) may not be delivering the time-saving benefits proponents predicted", states an April 26, 2019, article.
Meanwhile, "The Canadian Trucking Alliance (CTA) believes it's in the home stretch in a bid to see electronic logging devices (ELDs) mandated in Canada — and expects a final rule to be published this summer."
13. Regarding hydrogen vs. battery-powered trucks
A number of articles this week have been about trucks being:
14. Congratulations!
We applaud all truckers whom the Colorado Motor Carriers Association recognized as "its safest members during its annual Safety Awards Banquet".
My husband Mike and I wish you — and all professional truck drivers — safe travels and lots of money saving opportunities on the road.
* The following is served by Amazon.com, with whom we have an affiliate relationship:
---
---
Return from TDMST Weekly Round-Up: 2019.04.27 to our TDMST Weekly Round-Up Trucking Commentary or our Truck Drivers Money Saving Tips home page.
---
Reference:
a. www.landlinemag.com/Story.aspx?StoryID=74122 (no longer online)
b. www.landlinemag.com/Story.aspx?StoryID=74119 (no longer online)
c. www.landlinemag.com/Story.aspx?StoryID=74124 (no longer online)