This is the TDMST Weekly Round-Up of news affecting professional truck drivers, written by Vicki Simons for the week ending August 3, 2019.
We welcome your comments, thoughts and feedback on the items of your choice below.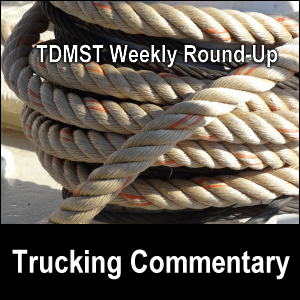 1. Regarding increased fines for trucking violations:
Watch out for a bigger hit to truckers' wallets!
According to a July 31, 2019, article, "The U.S. DOT announced Tuesday it has increased fines across the board for violations of federal trucking regulations."
This article lists in text the size of the violations, which range from $320 to a whopping $191,316!
Another article about this was published here.
2. Regarding autonomous vehicle regulations comment period:
The comment period for the advance notice of proposed rulemaking that seeks comments about regulations regarding autonomous trucks has been extended by the FMCSA to Wednesday, August 28, according to articles here and here.
This article stated that there are 10 key areas concerning autonomous trucks that are included.
If you feel strongly about how autonomous trucks should be regulated, please submit your comments before the deadline.
3. Regarding crash preventability:
A number of articles this week reveal that the FMCSA is debuting a "permanent crash preventability determination program" (link, link, link, link).
According to a July 31, 2019, article:
Beginning in August 2017, FMCSA says it reviewed more than 5,600 crashes submitted by truck and bus companies to determine if a crash could have been prevented by the motor carrier.

Approximately 94 percent have been found to be not preventable by the motor carrier or commercial driver, FMCSA says.
According to this article:
The FMCSA is also proposing the removal of not preventable crashes from the Safety Measurement System Crash Indicator Behavior Analysis Safety Improvement Category (BASIC), and expanding the types of crashes that can be evaluated from eight to fifteen.
One may also submit comments on the Notice of Proposed Rulemaking regarding this while the comment period is open.
4. Regarding preventing rolling truck accidents:
While it is commendable that truckers attempt to repair their own trucks, one needs to always practice safety.
A July 31, 2019, article reveals that a trucker who was "attempting to make roadside repairs to his truck" on the shoulder of Interstate 5 in Tacoma, Washington, was "struck by the vehicle and sustained fatal injuries."
Our condolences go to the trucker's family.
The article does not state the kind of strike that the trucker sustained; however, it does state that "the vehicle… started moving again".
This suggests that either the parking brakes were not applied or tire chocks were not put in place before the trucker started to make repairs.
Please always remember to prevent accidents from rolling trucks.
5. Regarding medical emergencies and crashes:
Does it seem as though the number of "medical emergencies" that have been experienced by professional truck drivers — leading to crashes — has increased over the years?
A truck crash that occurred along I-75 in Florida in January 2019 — "which resulted in the deaths of seven people" — was said to have been caused by a "medical emergency" experienced by the trucker.
I have not watched it, but the dash cam video of the crash was released. [Viewer discretion is advised.]
Lawsuits are "flying" against the trucking company for which the trucker drove.
I would like to know what is causing these medical emergencies and how they can be prevented.
6. Regarding higher insurance coverage:
A July 30, 2019, article stated, "The Owner-Operator Independent Drivers Association said Monday it adamantly opposes recently-introduced legislation that would drastically increase insurance costs for the nation's small-business truckers."
We would like to hear about truckers' insurance premiums.
Please comment below.
7. Regarding slow drivers in the left lane:
In the state of Minnesota, slow pokes who
hog the left lane,
block faster traffic from passing, and
create a "road hazard"
"risk being pulled over and ticketed," according to a July 29, 2019, article.
Violations of the "left lane law" face a fine and surcharges totalling $125.
8. Regarding crashes: low clearance, lost wheel, and a water bottle:
I was unable to confirm the height of a low clearance where a "can opener" truck crash happened recently in Manville, NJ.However, it appeared from the video that the clearance might have been 12'3″ (which, if true, is 1'3″ shorter than a 13'6″ truck can pass under).Remember to check your truckers atlas for low clearances for commercial motor vehicles and safely route your truck around them.Do NOT rely on GPS units or Google Maps for routing a truck.
No matter what size of commercial motor vehicle you drive, always do thorough pre-trip inspections, so that you don't lose things like wheels off your rig.One dump truck driver lost a wheel off his truck and it caused "a violent collision with a jeep."Other articles about this were published here and here.Feel free to download our Pre-Trip Inspection Combo, which is available upon subscription through our Free Downloads page.
A 5-vehicle crash that left two children in critical condition was set off by a white pickup truck driver who claimed (and evidently police said) that "a water bottle became lodged under his brake and gas pedals".Do not allow trash to pile up on your dash or in your floorboards.
9. Regarding "driver shortage":
Here are a couple of questions regarding the American Trucking Associations (ATA) reporting of the "driver shortage":
a. If there was really a shortage of truck drivers, wouldn't wages be increasing a great deal to attract new blood to the industry?
b. Since the ATA has been addressing autonomous trucks since at least 2016(a), doesn't it seem rather hypocritical to want truckers to move freight today when they will be replaced by technology in the not too distant future?
Another article about the "latest report on driver shortage" listed 7 takeaways.
And a July 29, 2019, article states that a "significant correction" is coming for the "Class 8 truck market" and the cited report "suggests the U.S. economy will decelerate from… 2018".
Hmm…
10. Regarding DIY fixes to trucks and truck part replacements:
When you make truck repairs yourself, be aware that some may not pass muster.
A July 29, 2019, article addresses how "remanufacturers would like to be brought into the product design process to give input on design changes that could eliminate challenges when it ends up at the remanufacturing center" for replacement of truck parts.This could be great news for those who are entering the 3-D printing truck parts market.
11. Regarding saying goodbye to a pay increase:
Well, Swift drivers, your trucking company has been ordered to pay $15.5 million in damages for recruiting truckers from another trucking company.
According to Wikipedia, "With over 23,000 trucks, [Swift Transportation] is the largest common carrier in the United States."
So, let's assume for a brief moment that there is one trucker for each of those 23,000 trucks.
$15,500,000 / 23,000 = $673+ each.
Ouch!
12. Regarding drone delivery service:
Recall that back in April 2019, the FAA approved Google's drone delivery.
Now, UPS has announced a "new drone subsidiary, UPS Flight Forward, Inc." that will be used to "target markets faster" and " has applied to the Federal Aviation Administration for full drone delivery certification".
Furthermore, we read: "Starting next year, UPS will be offering customers pick-up and delivery services seven days per week."
I think that they believe in the concept, "Innovate or die."
My husband Mike and I wish you — and all professional truck drivers — safe travels and lots of money saving opportunities on the road.
---
---
Return from TDMST Weekly Round-Up: 2019.08.03 to our TDMST Weekly Round-Up Trucking Commentary or our Truck Drivers Money Saving Tips home page.
---
References:
a. www.trucking.org/article/ATA-President-Outlines-Vision-for-Trucking,-Federation (no longer online)