When folks look at your truck, is the first thing they see the dash trash — the stuff you have piled on your dashboard?
Take an honest look: Is it trashy or neat, cluttered or tidy, dirty or clean?
We will be the first to say that the exterior appearance of a truck may not indicate a truck driver's values.
This is especially true for company drivers and if their trucking company's policy is not to pay for truck washes.
But if a truck is dirty on the outside and what can be seen on the inside confirms a less-than-wholesome appearance, that driver has no one to blame but himself.
Others can see for themselves what you think about yourself when they look at your dash and at anything viewable through the foot-level passenger side window.
Dash Trash: Examples of Cluttered Looking Truck Dashes
Take this driver's truck for example…
Oh, yuck!
The driver of this truck has let his dash get completely trashy.
Kudos for eating an apple, but the rest is awful.
We wonder how he treats the customers' freight or paperwork.
Or this driver's truck…
Ever hear of the phrase "actions speak louder than words"?
The dash trash in this truck reveals more about the driver than he realizes.
Dash Trash: Does This Really Matter?
Land Line Magazine reported on April 17, 2009, that the state of Minnesota developed a "Fatigued Driving Evaluation Checklist" that was also being used by some weigh station officials in Indiana.
Among the questions asked were these(1):
– Is your truck's exterior dirty?
– Is your wastebasket full?
The article stated about the Minnesota system:
It's a series of questions about the condition of the truck, the sleeper, the cab and the driver – a list that officers claim can determine whether a trucker is or is not fatigued.

In fact, that is the very conclusion they came to after they talked with Steve – that despite his 10 hours' rest, and despite his feeling very alert, that he was unfit to operate the truck … that he was too tired to drive.

With an up-to-date logbook showing plenty of hours to drive, Steve House was put out of service for 10 hours.
[Note: One of the trucking companies for which Mike worked had a policy that he understood meant that any of their drivers who were put out of service were also out of a job! The FMCSA has rules regarding drivers being declared out of service: Part 395.13: Drivers declared out of service. ]
While a judge ruled that the Minnesota fatigue program violated the Fourth Amendment to the Constitution, one media source reported that the overturned fatigued driver checklist used in Minnesota had inspectors looking on the inside: (1b)
"The checklist included questions about driver appearance; truck appearance inside and out and overall driving behaviors." (2)
What if the truck pictured here had gone through Minnesota at the time the program was in place?
What would a DOT officer have thought about the clearly visible dash trash?
Is this truck or the driver worth a closer look?
Dash Trash: Is Truck Appearance Important?
Another article states: "Clean trucks don't attract the attention of the DOT as much as a dirty one does. If they need to write a ticket they will choose a dirty truck before a clean one, as a clean trucks shows (in most cases) the driver cares about his equipment enough to take care of it."
Yet another article captures a driver's encounter with a Georgia DOT officer who "stated that when inspecting trucks, a dirty truck and a dirty windshield is usually the first to be inspected. Oil on wheels, the use of tarp straps to hold parts on, this usually means there is something broken or missing. And if a driver is running so hard as not to wash his or her windows, they are not current on their log books."(3)
A post in a trucking forum stated, "a dirty truck is a target for DOT inspection."(4)
HeavyDutyTrucking.com once reported, "Last but not least, don't get stopped in the first place. Clean, obviously well-maintained equipment is far less likely to get pulled over than a dirty truck. And well-trained professional drivers seldom attract attention."(5)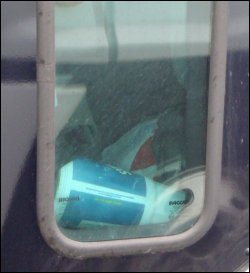 It is unfortunate that some professional drivers use the space in front of the passenger seat as a dump.
In this truck, the dump is viewable through the foot-level passenger side window.
What might this say about the way he keeps the rest of his truck?
Dash Trash: Contrasting Organization and Tidiness
Yes, you only have a certain amount of non-driving time each day and you don't want to spend all of your time cleaning.
We understand that.
But the public in general does not view the trucking industry very highly.
You can either reinforce their negative view of all of us or help to reverse that view.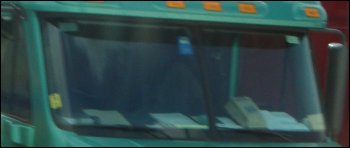 There is a lot of stuff on the dash of this truck, but it is in nice neat piles.
Even so, your truck needs to be able to run its defroster.
Can this truck's defroster work even with neat piles?
Dash Trash: Truck Windshields and the Law
The Federal Motor Carrier Safety Administration has rules that indirectly address this situation:
What about just not having anything on the dash at all?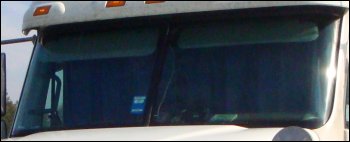 At last! A clean and neat truck dash!
Here's another very tidy and well kept truck, on the outside and inside.
Dash Trash: Magnets for Inspection?
Imagine that two tractor trailers roll through a weigh station.
One DOT officer is particularly testy and is looking for any potential violation.
What could an unkempt truck appearance lead up to?
Jeff Jensen wrote on April 30, 2007 in The Roadside Inspection, "Few things will arouse the interest or suspicion of an inspector more than a rude, disrespectful driver with a defensive or combative attitude operating a dirty vehicle."
The Mercertown Blog post on January 26, 2010 – "STAYING UNDER THE CSA 2010 RADAR" reported: "On a sunny day, the dirty truck always gets looked at first."
OK, up until now, it can safely be assumed that a "dirty" truck may have referred to the outside of the vehicle.
Consider though that the dirt on the outside may prompt a look through the windshield and then a closer look inside.
Dash Trash: A Hindered View
Another reason for keeping the dashboard of your truck clear of dash trash is so that it does not hinder your view.
According to an August 31, 2011, article,(6)
A third of van men and lorry drivers have admitted almost crashing up to 30 times in the past year because of dashboard clutter in their vehicles, according to a new survey issued in Britain by Autoglass.

The poll found that 33 per cent of van men and 34 per cent of truck drivers had had between 11 to 30 near misses because their view had been obstructed.

Perhaps that large white object on the dash is there only temporarily, but it can certainly block part of the driver's view while driving.
It's also a "flag" about orderliness.
---

Money saving tip: Any time you're pulled over for a truck inspection by law enforcement, you run the risk of getting a ticket, fine or other penalty.
No professional truck driver these days can afford anything negative since points assessed under CSA can be detrimental to your trucking career.
It is best not to do anything that makes your truck especially attractive for an inspection in the first place.
It is best to set up a way to keep your paperwork — such as your log book, bills of lading, assignment notebook and the like — neat and organized.
We recommend setting up a system of record keeping for such things as receipts, so that you can keep track of spending for your budget.
There is an old housekeeping technique abbreviated to "CAYG" which stands for "Clean As You Go."
While you may not be able to clean up everything right at the time you "make a mess" in your truck, we think you would consider doing 5 minutes of organizing and cleaning a day preferable to doing 35 minutes of cleaning at the end of a week.
Certainly, you will need to keep up with your log book (or e-logs) much more often than that.
Deeper or more intense cleaning (such as with a hand-held vacuum cleaner) may be able to be done less often.
Strive to keep your dash free of dash trash. Not only will it keep the appearance of your truck nicer but you won't have problems with visibility or running your defroster.
You may wish to keep a disposable plastic bag nearby to hold your trash until it is ready to be thrown away.
Mike used to hang one on the armrest of the passenger seat within arm's length of the driver's seat.
---
Return from Dash Trash: What a Trashy Looking Truck Says and Does to our Truck Operations page or our Truck Drivers Money Saving Tips home page.
---
References
1. www.landlinenow.com/2009/04/checklist-fatigue-part-ii-critics-say_13.shtml (no longer online)
1b. www.landlinemag.com/Story.aspx?StoryID=22010 (no longer online)
2. www.wday.com/event/article/id/43786/ (no longer online)
3. www.teamrunsmart.com/?campaign=DTNA_SliceOfLife (no longer online)
4. www.truckingboards.com/forum/con-way-freight/24445-truck-wash-4/ (no longer online)
5. www.heavydutytrucking.com/2001/06/092a0106.asp (no longer online)
6. www.galwayindependent.com/motoring/motoring/dashboard-rubbish-puts-van-drivers-at-risk-20110831/ (no longer online)