This is the TDMST Weekly Round-Up of news affecting professional truck drivers, written by Vicki Simons for the week ending January 26, 2019.
We welcome your comments, thoughts and feedback on the items of your choice below.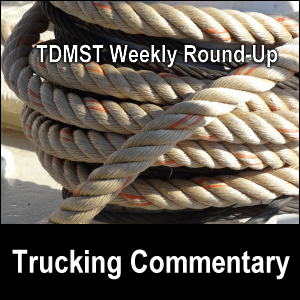 1. Regarding tolls:
"Identical bills were introduced in the Virginia House and Senate that would establish tolls on I-81 through the state", reads the opening sentence of a January 24, 2019, article.
Assuming the bill is passed into law as-is, I-81 tolls:
would be established for the 325-mile stretch of Interstate 81 in Virginia;
would "[lean] more heavily on truck tolls [than car tolls];
could be reduced for passenger cars; and
would cost truckers a maximum of $55.25 (capped at 17 cents-per-mile).
Trucking groups have threatened litigation.
And as if that isn't bad enough, another plan in the state of Virginia would "monitor and punish those drivers who try to avoid the toll roads".
A news release from one Senator addressed the "electronic measures to ensure that there are no incentives for heavy trucks to exit the Interstate and reenter after a toll".
Another article about this video-monitoring system is here.(a)
That sounds a lot like Big Brother to me!
2. Regarding legal settlements:
Two trucker-related settlements were in the news this week:
"The California Labor Commissioner recently awarded nearly $6 million to 24 drivers who sued their carriers claiming they were misclassified as contractors", states a January 22, 2019, article; and
"Western Express has agreed to pay thousands of drivers a total of nearly $4 million in a settlement for a class action lawsuit… [which] accuses the company of intentionally failing to compensate drivers for hours worked", according to a January 18, 2019, article.(b)
3. Regarding driver pay following the change to the per diem law:
Comments are being taken on this page regarding the question: "Has your fleet adjusted driver pay to account for per diem law change?"
Another poll on this topic is here.
4. Regarding solving the "trucker shortage" with higher pay:
In an effort to hire "nearly 1000 new drivers this year", Walmart has "cracked the code to hiring and retaining… new truck drivers" by announcing that starting in February, driver pay will increase to "a total of nearly 89 cents per mile".
That will bump pay up to $87,500 per year average pay.
Other articles about this pay increase are here and here.
5. Regarding disincentivizing trucker ticket revenue:
Hurray!
Knox County and five other counties in Tennessee will no longer get to benefit from revenue generated by ticketing truckers at weigh stations there.
According to a January 23, 2019, article, Knox County "operates the nation's second busiest scale house" and had been generating $250,000 in revenue by issuing "more that 1600 citations to overweight trucks".
What I gathered from the article was that revenue from trucker tickets had been used to employ those who wrote tickets for truckers.
This self-perpetuating problem needed to be stopped — and I'm glad it was!
Bear in mind that revenue from tickets written at the scale houses will still go to the state.
Lesson: Don't risk getting an overweight fine by hauling an overweight truck anywhere.
6. Regarding truckers defending themselves:
"Texas Senator John Cornyn introduced S. 69, also known as the Constitutional Concealed Carry Reciprocity Act", stated a January 22, 2019, article."The bill would not establish national concealed carry standards but would allow 'individuals with concealed carry privileges in their home state to conceal carry in any other states that also allow concealed carry'", the article stated.Another article about this topic is here.Will the passage of this bill be a good thing for truckers?
"A growing number of Mexican truckers are armoring up their big rigs in order to keep their cargo safe from hijackers", states a January 20, 2019, article.The article further says, "more and more insurance companies are refusing to cover high profile loads like electronics and designer clothing unless the trucks are equipped to withstand armed cargo theft."Even though it may cost about USD $27,000 each to "armor up", do you think that all commercial motor vehicles should be coated with steel, be outfitted with bulletproof glass, and have "retractable steps" installed at the factory?
7. Regarding visibility, following distance and driving when it is unsafe:
A video shows how a truck driver didn't slow down when he encountered "driving snow" — aka "whiteout conditions" — and ended up not being able to stop in time to avoid hitting other vehicles on the road.This was a preventable accident.If you encounter anything that partially (or totally) blocks your vision while driving, slow down.If you slow down much below the posted speed limit, also turn on your flashers to increase the chances of your rig being seen by others.
Separately, attorney Paul O. Taylor stated, "Under the employee protection provision of the Surface Transportation Assistance Act, you have the right to refuse to operate a commercial vehicle if it would be unsafe to drive. U.S. Department of Transportation regulations state that 'if conditions become sufficiently dangerous, the operation of the commercial motor vehicle shall be discontinued and shall not be resumed' until it's safe to drive."
8. Regarding truckers being ticketed for violating a truck ban:
Even though the winter storm that rolled through Pennsylvania recently wasn't as bad as had been expected, "police say that they issued hundreds of citations to truck drivers who violated the commercial vehicle travel ban", according to a January 21, 2019, article.
Even though the CMV ban was lifted on some roadways, it remained in place for others — and the fine for over 100 truckers was "up to $300 in addition to court costs".
Ouch!
Please be aware of any and all bans due to adverse travel conditions along your route (one of which was also recently posted in Indiana and New York).
Don't assume that just because the snow isn't falling or accumulating as fast as was predicted that it's OK to roll.
9. Regarding potential transportation funding options:
Five southern states — Alabama, Kentucky, Louisiana, Mississippi, and South Carolina — are considering fuel tax increases and other funding options, according to a January 23, 2019, article.(c)
Meanwhile, legislators in eight Midwestern states are also working to "address transportation funding needs", according to a January 21, 2019, article.(d)
10. Regarding winter driving safety:
There's a great round-up of tips and a toolkit described here.
11. Regarding a proposed nationwide trucker shutdown:
"Truckers who are part of a Facebook group are calling for a nationwide shutdown by drivers April 12, and reaction by other operators has been mixed", states a January 23, 2019, article.
While I certainly empathize with truckers over the issues that they list in the "Truckers Declaration for the 2019 Shutdown", numerous trucker comments indicated overall that the event will have little if any effect for the reasons they stated.
Previously, we covered the following staged trucker events on our site:
And from what I saw, the "ELD or Me" protest in 2017 didn't go too far either.
12. Regarding robot delivery:
Watch Amazon regarding their "new robot delivery service pilot program" and a "new seven-day-a-week delivery network", both of which were covered in a January 24, 2019, article.
13. Regarding AOBRDs and ELDs:
Those who adopted automatic onboard recording devices (AOBRDs) will have to switch to electronic logging devices (ELDs) to "remain in compliance", stated a January 20, 2019, article.
Read the article to learn the differences between the two devices.
14. Regarding the recipient of a safe driving award:
Our heartiest congratulations go to Cindy Lynn Lackland, whose "perfect [35-year] driving record recently earned her recognition from the Owner-Operators Independent Drivers Association, which awarded her its Safe Driving Award".
My husband Mike and I wish you — and all professional truck drivers — safe travels and lots of money saving opportunities on the road.
---
---
Return from TDMST Weekly Round-Up: 2019.01.26 to our TDMST Weekly Round-Up Trucking Commentary or our Truck Drivers Money Saving Tips home page.
---
Reference:
a. www.landlinemag.com/Story.aspx?StoryID=73630 (no longer online)
b. www.landlinemag.com/Story.aspx?StoryID=73618 (no longer online)
c. www.landlinemag.com/Story.aspx?StoryID=73649 (no longer online)
d. www.landlinemag.com/Story.aspx?StoryID=73631 (no longer online)