This is the TDMST Weekly Round-Up of news affecting professional truck drivers, written by Vicki Simons for the week ending February 8, 2020.
We welcome your comments, thoughts and feedback on the items of your choice below.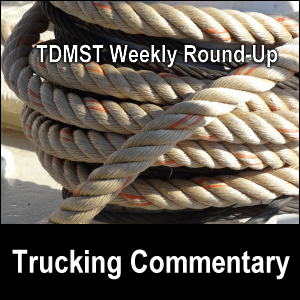 1. Regarding the potential impact of coronavirus on trucking:
An embedded video in a February 8, 2020, article reveals the impact of "quarantine/lockdown orders from Beijing for more than a week" due to the coronavirus outbreak in the city of Wuhan in China.
blacklistednews.com/article/76196/eerie-drone-footage-of-wuhan-reveals-chinas-real-ghost/ (no longer online)
With almost no one moving around, the area looks like a "ghost city".
This article stated, "As the coronavirus spreads across the globe, more and more countries are closing their ports of entry to trade from China. Supply chains are being disrupted, oil prices are in flux, and an outbreak originating in China will have an impact on trucking here in the United States."
Numerous articles have been written about the potential impact of coronavirus on the trucking industry in the USA, including:
Let's hope that people will engage in natural means of fending off this virus.
2. Regarding WEX fuel card outage:
Thousands of truckers and carriers could not purchase fuel because a "data limit" breach caused a "widespread fuel card outage" on the WEX network, according to articles written here, here, here and here.
The scope of this outage was huge, because over 15,000 North America truck stops accept EFS cards.
This article stated: "The Owner Operator Independent Drivers Association's (OOIDA) Trucker's Advantage fuel card, which is powered by Fleet One, is also impacted by the outage, a representative confirmed.".
A WEX representative said, "If you have to pay cash [for fuel during the WEX fuel card outage], keep your receipt so you can get reimbursed."
The fuel network apologized for the problems experienced by an "unknown limit" and said that "Measures have been put in place to avoid this unforeseen issue from happening in the future."
3. Regarding info for owner-operators:
In Overdrive's "Cybersecurity 101" article, "Chris Wolfe, CEO of PowerFleet, explains the basic cybersecurity risks owner-operators face — and why they should take steps to protect themselves."
---
From a February 6, 2020, article, we read that "Owner-operators [are seeking] dedicated federal funds for parking".
---
You may also like to read: "Why net revenue per truck per week is a key metric".
---
Thinking of becoming an owner-operator?
Check out
4. Regarding truck operations:
In Every Trucker Needs to Know These 3 Things About Dispatching, the statement was made: "Ninety-five percent of all communication that occurs between truckers and their trucking company goes through dispatch."
It has been Mike's and my experience that 95% of all communication goes through a fleet manager or driver manager, not a dispatcher, per se.
But then again, different trucking companies break up roles between people with different titles differently.
---
This article is of use to owner-operators and company drivers alike who drive diesel-powered tractors:
Keep your Diesel Fuel from Freezing this Winter.
---
Read also about Snow-free vehicle mandate nears approval in Pennsylvania.
5. Regarding politics in trucking:
Articles have been written about various bills that would limit or otherwise affect independent contractors within trucking::
---
Both the American Trucking Associations (ATA) and the Owner-Operator Independent Drivers Association (OOIDA) testified before the Senate Commerce Subcommittee on Transportation and Safety, as was reported here, here, and here.
OOIDA stated that the committee "could make a positive difference" by doing such things as:
repealing the ELD mandate;
dedicating funds for "new truck parking capacity";
"fixing crumbling infrastructure", and
abandoning "meaningless, unproven and unsafe proposals" (which were listed).
More on this subject was written here and here.
---
A February 4, 2020, article states: "The Federal Motor Carrier Safety Administration's decision to delay for two years its rule establishing training standards for entry-level truck drivers appeared today in the Federal Register and is now open for comment".
You may find the comment form here on Regulations.gov.
6. Regarding artificial intelligence and automation:
A February 4, 2020, article states: "Artificial intelligence is critical in today's workflow solutions".
---
A February 6, 2020, article quoted Nuro, a U.S. robotics company, as saying:
"The R2 is the first autonomous vehicle to be granted an exemption by the DOT, a milestone decision for industry regulation and a future of improved safety, mobility, and commerce."
Another article on this subject was entitled, "No Steering Wheel, No Driver, No Problem: Feds Approve First Ever Truly Driverless Vehicle".
We'll see what happens.
---
A February 2, 2020, article stated: "In what is being called a "first-of-a-kind partnership," self-driving truck and technology company, Waymo, is joining forces with the United Parcel Service (UPS)."
In my opinion, there will never be a machine that can completely replace human truck drivers.
7. Regarding enforcement blitz, big fines, and tolls:
A February 6, 2020, article stated, "Police from several jurisdictions staged an enforcement blitz aimed at commercial vehicles in Pennsylvania Tuesday, Feb. 4 and ticketed 27 drivers and arrested one."
Always be prepared for an inspection — at any time.
---
The plan to advance truck-only tolls in the state of Connecticut has been delayed, according to a February 3, 2020, article.
More on this was written here.
8. Regarding technology:
We read that "Transport Canada has begun testing the use of electronic documents for dangerous goods shipments" and that "electronic documents offer a number of potential benefits".
Have you ever used e-documents in trucking — and if so, what was your experience?
Please comment below.
---
A February 3, 2020, article stated:
As the trucking industry starts a new decade, it faces technological transformation, economic pressures, and shifting workforce dynamics. While businesses of all sizes are feeling the ground shake from under them, instead of feeling uncertain about the future, they should grab the opportunities that arise with rapid evolution.
The article's author listed "three resolutions for the trucking industry that every stakeholder should consider".
---
A February 1, 2020, article covers the topic of safety technology and focuses on the Freightliner® Cascadia® heavy-duty truck with Detroit Assurance® 5.0, which also can have additional optional safety features.
Question: Do you completely trust all of these features in a truck?
Please comment below.
---
A February 3, 2020, article addresses how you can check your CSA score.
9. Regarding truck repair:
About the Right to Repair, we read:
…the National Automotive Service Task Force has what Managing Director Holly Wolfe calls 'a hyperlink forum' that allows fleet maintenance people and others who repair vehicles to come to one place to find specific information for the vehicles they're working on.
Have you ever needed this and found it to be valuable?
Please comment below.
---
Does your truck have DTC codes (Diagnostic Trouble Codes)?
10. Regarding truck crashes:
Multiple tractor trailers were flipped onto their sides on Saturday, February 1, along I-25 near Bordeaux due to wind gusts of up to 78 mph.
Monitor weather conditions and wait out danger in a place where you can safely and legally park.
Even so, be aware that parked rigs can still be overturned in high winds.
---
Our deepest condolences go to the family of a Texas truck driver who died after the driver of a passenger vehicle failed to yield the right of way and "turned into the path" of the truck.
Articles about this were written here, here and here.
To the people within the trucking industry — and political circles — who claim that every trucking accident can be prevented by the trucker, this accident is evidence that that is not true.
Truckers can do everything reasonable to prevent a collision, but in the end, there are other motorists on the road whose actions can cause a lot of problems.
11. Regarding New York height and weight violations:
While I covered this topic briefly last week, we read:
New York State plans to get tougher on truckers whose loads violate height and weight restrictions by increasing fines and threatening possible suspension of vehicle registrations. However, the state's trucking organization believes the proposed fines are "punitive" and hopes to see them reduced before they become law.
The reason for this proposed list of fines is because of the content of a a report about the "significant deterioration" of the Brooklyn Queens Expressway (BQE).
James Lamb, president of the Small Business in Transportation Coalition (SBTC), wrote a letter to New York City mayor Bill de Blasio, "warning him of potentially 'catastrophic' consequences for NYC if he follows through on his 'misguided and blatantly unfair' order."
Lamb wrote, in part: "While the SBTC does not condone illegal operation of overweight trucks and counsels its members to operate lawfully, we also believe that $7,000 fines for overweight violations are an excessive mechanism to deal with truckers' violations, many of whom, are small business owners."
The full list of the proposed overweight and overheight violations appears in this article.
While I certainly understand and appreciate James's sentiments, more needs to be done to make sure that truckers are operating legally at all times.
Given what I have read over the years — and as much as it pains me to say it — I contend that some truckers have been:
either purposely carrying too much weight (to maximize their payloads, to maximize their paychecks);
or not using the correct tools (such as a truckers atlas) to make sure their commercial motor vehicles stay on approved truck routes.
With the correct deterrents in place, these issues should dry up.
12. Congratulations!
A February 7, 2020, article title said, "Empty Walmart shelves are a sobering reminder of how much we depend on truckers".
If you are a goods delivery expert (professional truck driver), thank you for all of your hard work — all year long!
My husband Mike and I wish you — and all professional truck drivers — safe travels and lots of money saving opportunities on the road.
---
---
Return from TDMST Weekly Round-Up: 2020.02.08 to our TDMST Weekly Round-Up Trucking Commentary or our Truck Drivers Money Saving Tips home page.
---