This is the TDMST Weekly Round-Up of news affecting professional truck drivers, written by Vicki Simons for the week ending March 21, 2020.
We welcome your comments, thoughts and feedback on the items of your choice below.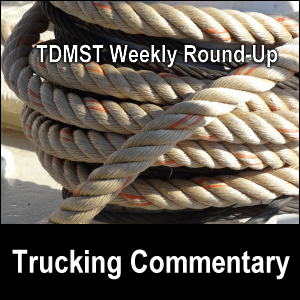 Special Edition: Coronavirus (COVID-19)
It seems that the entire United States of America — and some other countries around the world — have been brought to their knees by the coronavirus known as COVID-19.
The USA supposedly has the best scientific and medical minds in the world.
So, as an analytically-minded person, I have wondered why a virus (a micro-organism) cannot be controlled and killed.
Then again, I have read that high doses of Vitamin C and heat of 133°F can destroy this pathogen.
I am very proud of the way that professional truck drivers have risen to the task of driving trucks and hauling freight under some very harsh conditions lately.
Below are some articles — in sections — about coronavirus (COVID-19).
Practice good hygiene and protection
To help minimize the spread of anything dirty or pathogenic, please practice good hygiene.
One article says that truckers are more vulnerable to coronavirus than most.
A March 21, 2020, article says that drivers are "on their own" if they have to self-isolate from coronavirus or COVID-19.
Beware of "bogus" test kits for coronavirus (COVID-19).
Here are two official documents on protection:
How to Protect Yourself by The Centers for Disease Control and Prevention; (a) and
The President's Coronavirus Guidelines for America: 15 Days to Slow the Spread.(b)
And regarding protection, a March 20, 2020, article reports that that the Small Business in Transportation Coalition (SBTC) wants "urgent action… to ease restrictive state and local gun laws amid the unprecedented statewide orders arising from the COVID-19 pandemic."
Rest areas and restroom access
In the panic to supposedly limit the spread of COVID-19, some states saw fit to close their rest areas or other places where truckers need to park; but thankfully, most if not all of those that had been open are now open again.
Among the groups and organizations that called for re-openings of rest areas and truck stops are:
OOIDA and SBTC;
the Canadian Trucking Alliance (CTA) and American Trucking Associations (ATA) (link); and
the FMCSA.
The American Logistics Aid Network (ALAN) told shippers and receivers to let truckers to use their restroom facilities.
I still maintain that truckers who have sleeper berths in their trucks need to be allowed to have a portable toilet in their trucks — for the 10 reasons we have listed.
Pandemic Hypocrisy
It wasn't so long ago that all trucks that were newer than a certain model year were forced to install ELDs — supposedly in order to help keep truckers and the motoring public safe.
Now with the coronavirus (COVID-19) scare, the FMCSA issued an emergency declaration to suspend the Hours of Service regulations in all 50 states of the USA, so that certain supplies can get through.
Furthermore, to assist with "emergency relief," some states have suspended truck weight limits.
And that all important Drug and Alcohol Clearinghouse? Yeah, there was the potential for that to be suspended, too.
If these things were all that important before the pandemic, why aren't they important now?
Hmm…
Maybe they're not as important as the federal regulators think they are.
But more importantly, I believe that truckers know best how to get freight safely from one point to another without being micromanaged.
Just saying.
Restaurants closed to dine-in customers
Many states have issued orders for restaurants to serve only take-out (or carry-out), delivery and drive-through meals.
Of course, many drive-through places are inaccessible to big rigs.
I personally know someone who delivers food through the DoorDash app and does an excellent job.
So, if you're hungry and you don't mind spending a little bit more to have a meal delivered to you, that is an option.
For the most updated list of state restrictions on restaurants, I suggest scanning through the list at the Nation's Restaurant News.
Tolls and Roads
Although the situation may have changed since a March 18, 2020, article was written, at the time, the PA Turnpike was not accepting cash or credit.
Other states with tolling systems in place may experience different challenges.
The border between the USA and Canada has been closed to "nonessential" traffic — as has the border between the USA and Mexico.
As of March 21, 2020, four states — California, Illinois, New Jersey and New York — have issued "stay-at-home executive orders" for "nonessential workers" due to COVID-19.
Truckload rates and trucking changes
A March 17, 2020, article states, "COVID-19 is causing the mother of all supply chain disruptions" and that the uncertainty is spurring truckload rates.
Another article addresses 8 unexpected ways that Coronavirus could change trucking.
Relief packages and small business loans:
In both the USA and Canada, so-called "relief packages", "emergency aid" or "paid leave" has been promised from the respective government.
May I remind you that no government earns money; it can only get money from its taxpayers.
So while you may be receiving money on the front end, you will be paying for it again on the back end.
Shippers, receivers, and business
Among the essential products and services that are currently being sold and transported are food and medical supplies.
Because many "non-essential" businesses have been shut down, a lot of things are not moving right now.
I see this as dire for the American economy — particularly long term.
A March 19, 2020, article says that the trucking industry is bracing for a recession because of coronavirus (COVID-19) and trailer orders are down.
One article says that truckers are reporting long lines at shippers and that loads are drying up, but a poll on OverdriveOnline.com shows things to be different (at least among those who voted).
Some manufacturing plants have closed down or laid off workers, including:
Fleets have also been asked how their business has been impacted.
Panic buying
President Trump urged Americans not to engage in "panic buying, but that is exactly what has happened, especially with toilet paper.
Never in my life have I seen such a clamor for toilet paper, with people even resorting to stealing toilet paper from rest stops!
You might do well to bring your own toilet paper with you (just in case).
COVID-19 resources:
Of the dozens and dozens of articles that I've looked at in preparation for this trucking commentary, here are the ones I think are most important:
Good notes
Ending on some good notes:
Of course, Mike and I appreciate you all year long — no matter what is going on.
Stay healthy and well!
My husband Mike and I wish you — and all professional truck drivers — safe travels and lots of money saving opportunities on the road.
---
---
Return from TDMST Weekly Round-Up: 2020.03.21 to our TDMST Weekly Round-Up Trucking Commentary or our Truck Drivers Money Saving Tips home page.
---
References:
a. www.cdc.gov/coronavirus/2019-ncov/prepare/prevention/ (no longer online)
b. www.whitehouse.gov/wp-content/uploads/2020/03/03.16.20_coronavirus-guidance_8.5x11_315PM.pdf (no longer online)