This is the TDMST Weekly Round-Up of news affecting professional truck drivers, written by Vicki Simons for the week ending March 28, 2020.
We welcome your comments, thoughts and feedback on the items of your choice below.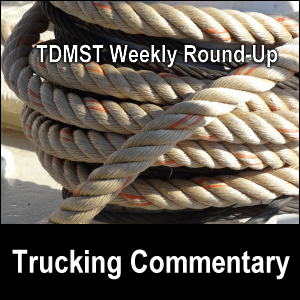 1. Regarding the need to brace yourself, trucker:
Yes, trucking is "essential."
Even Elaine Chao, the Secretary of the United States Department of Transportation (DOT), stated that truck drivers have given "heroic action during this difficult time."
Even so, we read:
"Truckers are being widely hailed as heroes in the fight against the Covid-19 pandemic, for keeping store shelves stocked and goods moving, but lack of access to food and facilities is making their jobs even more challenging."
And the demand for a lot of things in light of the coronavirus (COVID-19) "pandemic" is likely to fade.
Rick Todd, president of the South Carolina Trucking Association, shared his opinion, that the demand for services "could exhaust itself" and lead to a drop-off where fleets don't have "enough business to stay open and keep people employed."
upstatetoday.com/2020/03/trucking-industry-faces-uncertain-future-after-nationwide-stocking-spree/ (no longer online)
He described an "economic stall that might be coming right after this super-busy period."
A March 26, 2020, article stated that the COVID-19 crisis is going to take a toll on trucking, with there being a "whiplash effect from restocking and reduced demand":
"FTR has recently reduced its economic forecast, predicting U.S. real GDP will drop 11% in the second quarter";
Eric Starks, CEO of industry forecaster FTR, warned that "the GDP goods transport sector — or freight in the system — could fall by 24% in the second quarter"; and
"FTR doesn't expect to see a noticeable rebound until the fourth quarter, and freight won't return to the peak levels seen in 2019 until mid-2021."
This sentiment was also echoed in a March 27, 2020, article, which stated:
"A total of 3.3 million people recently filed unemployment claims for the first time, compared to the Great Recession, when the U.S. unemployment claims peaked around 500,000"; and
Even though refrigerated loads should finish the year slightly up compared to last year, "Flatbed, bulk, and dump segments will be hit hardest, with loadings expected to decrease from 6-9%, barring an infrastructure bill that would kickstart construction."
A March 24, 2020, article quoted Jeff Kauffman, managing director for Loop Capital Markets and head of Tahoe Ventures, a transportation consulting company, as saying that:
we're in a recession that could result in "15% or 20% unemployment for a short period of time"; and
"we're right on the precipice" of a "very, very sudden decline."
The same article stated: "Goldman Sachs on Friday said it expects GDP to plunge by a record-setting 24% in the second quarter of 2020 because of the pandemic."
You may read more about the looming freight downturn and potential rise by mid-2021.
What options do truckers have?
Yes, you can market yourself as a valuable trucker, but what if there simply isn't enough freight to haul?
Start building a second income now.
Like this on Facebook.
2. Regarding rest area and other restroom closures:
Some truckers have chided me over the years about my unwavering stand about OTR and regional truckers who have sleeper berths in their trucks carrying a portable toilet with them — even for the 10 reasons that I listed.
Since the whole coronavirus (COVID-19) situation blew up and truckers began to be denied access to rest areas and restrooms in some places, no one is chiding me anymore.
If you don't have the time or wherewithal to wait for a portable toilet to be shipped to you from Amazon.com (with whom we have an affiliate relationship), you may be able to find one at a local Camping World or other RV store (assuming one is open for business).
Mike and I once called ahead to a Camping World that was en route for us and had them hold a portable toilet until we got there.
3. Regarding Roadcheck being delayed:
For the first time in 32 years, Roadcheck has been postponed.
While this event "was originally set for May 5-7", be aware that:
"other roadside safety inspections and traffic enforcement continue every day";
Operation Safe Driver Week is still scheduled to run from July 12-18; and
Brake Safety Week is still scheduled to run from Aug. 23-29.
As of March 25, no new date had been set.
More about this was written here, here, here and here.
4. Regarding ATRI to study COVID-19 impact on trucking:
A March 27, 2020, article stated, "A new study being conducted by the American Transportation Research Institute is aimed at understanding the impacts the COVID-19 coronavirus pandemic is having on trucking operations."
More on this was written here, here and here.
5. Regarding trucking company closure:
According to a March 23, 2020, article, "A family-owned trucking company in Oklahoma [Beaver Express Services] is closing its doors after more than 77 years in business."
More on this was written here and here.
This makes us very sad, but we expect that we'll be reading of more smaller trucking closures in the days to come.
6. Regarding the CARES Act:
According to a March 26, 2020, article:
The Coronavirus Aid, Relief and Economic Security (CARES) Act was released late Wednesday night and was unanimously approved by the Senate. This $2.2 trillion piece of bipartisan legislation would deliver critical relief to Americans and small businesses reeling from the impact of COVID-19.
More about this was written here and here.
Based on what I've been reading, look for:
the USA's debt to greatly increase,
the buying power of the dollar to shrink even further,
some people to have a hard time being re-employed,
some small businesses (despite the financial "help") not be able to regain their footing;
freedoms and liberties to be restricted;
5G to be forced upon us (which I adamantly oppose);
vaccinations to be mandated (which I adamantly oppose); and
currency to be digitized (which I adamantly oppose).
Real ID (which I have adamantly opposed since 2007) has been delayed for a year.
7. Regarding speeding up during COVID-19:
A March 24, 2020, article stated that ATRI reported that "in many cases [trucks are moving] faster than usual — to respond to the demands placed on the industry by the COVID-19 pandemic" and there are at least two possible reasons for this:
"the dramatic reduction in commuter traffic"; and
"continuous 24/7 truck operations that generate higher average truck speeds across nearly all hours of the day."
More on this topic was written here, here and here.
No matter at what speed you drive your truck, practice safety.
8. Regarding filing your taxes:
Land Line Magazine gave the advice for truckers to "Go ahead and file your taxes now," despite any extension for which you may qualify.
9. Regarding truckers protecting themselves:
According to a March 27, 2020, article:
Trucking trade group the Small Business in Transportation Coalition (SBTC) has written to U.S. Secretary of Transportation Elaine Chao to ask for relief from the federal government from restrictions against carrying firearms across state lines.
The article goes on to say:
There is no federal law that prevents truck drivers from carrying firearms, but there is a patchwork of state and local regulations that can complicate or even prevent a driver from carrying a gun, especially when operating interstate. Additionally, many motor carriers have policies that would prevent their drivers from carrying a firearm.
The article has a link leading to information about "conceal and carry reciprocity between states."
We have an article about self-defense on our website.
10. Regarding diesel prices:
According to a March 25, 2020, article: "The average price for a gallon of on-highway diesel across the U.S. fell to $2.659 per gallon this week, the lowest national average since the week ending Aug. 28, 2017."
11. Regarding thumbs-down and thumbs-up:
We give a great big thumbs-down to those who are oppressing truckers, including:
We give a great big thanks and thumbs-up to everyone who has done anything to help truckers during this time of crisis, including:
restaurants that have provided drive-through options for truckers;
those who have volunteered to get meals for truckers;
truck stops with paid truck parking that are offering free parking (at least for now);
hotels that are offering rooms to truckers either for free or greatly discounted prices; and
everyone who has turned out to #ThankATrucker.
My husband Mike and I wish you — and all professional truck drivers — safe travels and lots of money saving opportunities on the road.
---
---
Return from TDMST Weekly Round-Up: 2020.03.28 to our TDMST Weekly Round-Up Trucking Commentary or our Truck Drivers Money Saving Tips home page.
---