This is the TDMST Weekly Round-Up of news affecting professional truck drivers, written by Vicki Simons for the week ending April 11, 2020.
We welcome your comments, thoughts and feedback on the items of your choice below.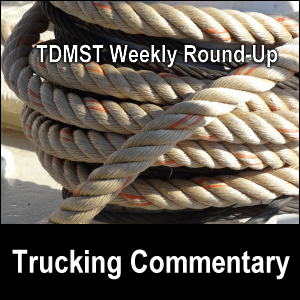 1. Remember those who fed truckers — or worked to prevent food delivery:
Given the facts that:
many restaurant dine-in options have disappeared based on coronavirus (COVID-19) shutdown orders;
many fast food restaurants do not have semi tractor trailer ordering options; and
many truckers do not have food provisions with them in their trucks;
it has become increasingly frustrating for those truckers who regularly depend on external, prepared food sources to get it.
That is why some have cheered those providing meals to truckers, including:
That's part of the good news.
According to an April 9, 2020, article:
On April 3, the Federal Highway Administration issued a notice that allows states to have privately-owned food trucks to set up in rest areas along interstate highways, a practice normally not allowed by federal law. The exception ends when the national emergency declaration ends.
More on this was written here, here, and here.
That's more of the good news.
However, some folks are either unhappy about this or have been attempting to stop it, as has been reported here, and here.
Please remember those who put profit over people and didn't want for truckers to have food options during this stressful time.
2. Regarding face masks, self-isolation, and more for truckers:
Here are some rules that you need to know:
As part of a larger photo gallery, this photo humorously shows the lengths to which the face mask situation has gotten for truckers.
If you need the resources, you can make your own face mask.
3. Regarding the impact of coronavirus (COVID-19) on truckers and trucking:
4. Regarding conflicting signals:
An article published around April 10 had a number of really bad pieces of news (emphasis added):
Trucking trade organization American Trucking Association executives are warning that "the second quarter is going to be terrible." They are warning that fleets will be forced to lay off drivers. Yet at the same time, many of the same megacarriers represented by the ATA are trying to make sure that new CDL drivers keep flooding into the industry. Their proposed solutions include allowing CDL students to drive without first obtaining even a permit.
What doesn't make sense to me is this:
"A coalition made up of trucking schools and motor carriers is asking for emergency action to get new truck drivers behind the wheel during the COVID-19 crisis."
If there isn't enough freight to move now, why try to get new truck drivers driving big rigs?
Is it the case that they want less experienced truckers on the road so that they can pay them less?
Hmm…
5. Regarding COVID-19 information:
You may wish to look at: Trucking Through Coronavirus.
6. Regarding trucking regulations and COVID-19:
An April 6, 2020, article opens with this: "The Owner-Operator Independent Drivers Association (OOIDA) has written U.S. Congress reminding them of key issues facing the trucking industry that must be addressed once the Covid-19 crisis passes."
But the question is: When will the COVID-19 crisis pass?
I must remind our readers that it isn't the virus, but rather elected officials who have caused the shutdown.
Just as I wrote back in 2013 regarding the new at-that-time Hours of Service regulations, this is a matter of control.
An April 9, 2020, article stated: "The Federal Motor Carrier Safety Administration has extended its Emergency Declaration providing hours-of-service and other regulatory relief to commercial vehicle drivers transporting emergency relief in response to the nationwide COVID-19 outbreak another five weeks, through May 15."
This information was also described here, here, here, here, here, here and here.
7. Regarding truckers' "hero pay" proposal and hand outs:
An April 7, 2020, article states:
Senate Democratic Leader Chuck Schumer (D-NY) wants truck drivers and other frontline workers to receive $25,000 in what he is calling "heroes pay" for their roles in the [COVID-19] coronavirus outbreak. His request comes as Congress tackles a second COVID-19 economic rescue package.
More on this was written here and here.
While this sounds like a great idea on its surface — and while truckers truly are heroes, coronavirus or not! — consider for a moment the following:
First, government has no money other than what it takes from the taxpayers — either on the front end or the back end.
Second, the U.S. government is trillions of dollars in debt right now.
Third, the "CARES Act" — which makes it sound like the government really "cares" about Americans — is based upon money that was (or is being) created out of thin air.
Fourth, like more and more slices being cut out of an existing pie, the more money the government creates out of thin air, the less value all of the money will have.
Fifth, the buying power of the dollar has been falling ever since the Federal Reserve was created in 1913.
Sixth, any "hero pay" that you receive could be considered a "buy off" in some respect.
Seventh, since when has Senator Schumer valued truckers until now?
Meanwhile, the American Association of State Highway and Transportation Officials (AASHTO) has its hand out to Congress for an "immediate emergency injection of $49.95 billion to offset an estimated 30% loss in state transportation revenues over the next 18 months."
Eighteen months?
What do they know that we don't?
8. Regarding CDL training:
In Ontario, Canada, truck driving schools have had to close down, which is bringing 3 times the problems:
for prospective truckers who were going through training,
for instructors who were laid off, and
for the trucking schools themselves.
More on the trucking school situation was written here.
Meanwhile, Land Line reported: "The FMCSA is granting a waiver that will allow states to use third-party CDL test examiners while state driver licensing agencies are closed, the agency announced on Thursday, April 9."
9. Regarding truck parking:
The states of Georgia, Missouri, and Virginia are now allowing truckers to park at weigh stations.
Rest areas that have been closed for more than a decade in Arizona have been reopened for truckers only.
In my opinion, truckers should have been allowed to park at these places all along!
10. Regarding "COVID-19 help" and CARES Act:
As I wrote last week, I give my strongest possible caution about taking a CARES Act loan for your trucking business.
However, for those who need more info or want to forge ahead, here are more resources:
11. Regarding towing and booting companies:
We read from an April 8, 2020, article:
"The North Carolina Attorney General has opened an investigation into towing companies accused of predatory booting and towing of truckers carrying essential supplies during the pandemic."
Anyone can report scams or price gouging going on within North Carolina.
12. Regarding food and beverages wasted:
This is one thing I don't understand: the coronavirus hasn't killed off millions upon millions of people, so why have people's eating and drinking habits changed now that they're home?
According to news reports here and here, America's dairy farmers have been forced to dump "thousands and thousands of gallons of milk" because of sharply dropped demand because of "shelter in place orders" in many states.
Why are people not drinking milk and eating other dairy products as once they did?
Hmm…
13. Regarding looking ahead positively:
My husband Mike and I wish you — and all professional truck drivers — safe travels and lots of money saving opportunities on the road.
---
---
Return from TDMST Weekly Round-Up: 2020.04.11 to our TDMST Weekly Round-Up Trucking Commentary or our Truck Drivers Money Saving Tips home page.
---