This is the TDMST Weekly Round-Up of news affecting professional truck drivers, written by Vicki Simons for the week ending January 18, 2020.
We welcome your comments, thoughts and feedback on the items of your choice below.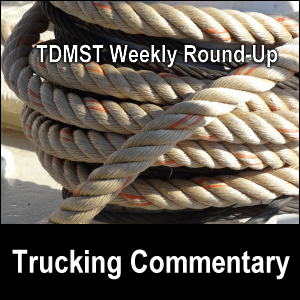 1. Regarding travel in Virginia:
The Creator gave each creature a means of being able to defend itself that I describe as: fight, flight, or freeze.
People have the ability to defend themselves with weapons.
To understand the reasons why the Founding Fathers of the USA put the Second Amendment to the U.S. Constitution in place, you may wish to read this article.
As a reminder, the Second Amendment reads:
"A well regulated Militia, being necessary to the security of a free State, the right of the people to keep and bear Arms, shall not be infringed."
However, the newly elected state officials in Virginia have made it clear that they want to restrict gun use or even confiscate guns through one or more bills passed into law!
Clearly, this is unconstitutional and as a result, many counties and jurisdictions in Virginia have declared themselves to be Second Amendment sanctuaries, meaning that they will not enforce unconstitutional gun laws.
A rally is planned for Monday, January 20, 2020, in Virginia's capital to let state officials know that unconstitutional gun laws will not be tolerated.
I have read about the possibility of a staged false flag event potentially taking place on Monday that could push for gun control, restrictions, confiscation, etc.
I encourage you to exercise extreme caution when traveling in, to, or through Virginia in the next few days.
Some people are predicting that a second civil war could erupt.
Self-defense is both a natural law and totally biblical (read Genesis 14).
You need to do what you legally can to protect yourself as a trucker at all times.
Be aware that some shippers and receivers forbid firearms of any kind on their property.
And it is illegal to have a firearm in many jurisdictions.
Please review your company's policies regarding self-defense, some angles of which we have covered here.
2. Regarding judge's decision on California's AB5:
According to a January 16, 2020, article:
A federal district court on Thursday issued a ruling that prevents California from enforcing its new A.B. 5 law on motor carriers and owner-operators, meaning that the trucking industry is exempt from the law until a lawsuit brought by the California Trucking Association (CTA) can be tried.
Other articles about this situation were written here, here, here, and here.
3. Regarding dash cam videos (what a week!):
Dash cam footage shows how a semi truck slid across 3 lanes, narrowly missed a car, and still crashed.
One article quotes Maine State Trooper Jesse Duda, who urged all drivers to "slow down in adverse weather conditions, and if possible, stay off the roads in bad weather."
---
There was a close call or near miss that could easily have ended in an accident, as shown in the video embedded in this January 13, 2020, article. Please drive safely!
---
In the saddest situation I've ever heard of where a cab-facing dash cam was definitely worth it, the man who killed a trucker in his truck was filmed and the suspect is in custody.
More about this murder being caught on the dash cam was written here, here, here, and here.
Our condolences go to the trucker's family.
4. Regarding autonomous trucks and AV policy:
A January 13, 2020, article states:
On Monday, Jan. 13, ATRI released a report titled 'Redefining the Role of Government Activities in Automated Trucking' [in which the organization highlighted] actions, or the lack thereof, the government has taken to get automated trucks on the road.
A January 16, 2020, article stated:
Dozens of local, state and federal statutes drafted in an attempt to create a framework for the safe testing of autonomous trucks, according to a report released in January by the American Transportation Research Institute, ultimately impede the creation of a universal autonomous truck network.
In my opinion, the gaps will have to be filled in before autonomous trucks can get widespread approval.
---
Interestingly, ATRI's report was issued after the January 8 release by the U.S. DOT of "Ensuring American Leadership in Automated Vehicle Technologies: Automated Vehicles 4.0," (aka "AV 4.0"), which "expands on previous versions of autonomous vehicle guidelines."
---
Meanwhile, we read, "A Missouri lawmaker recently proposed legislation that would require the presence of a qualified, licensed driver inside all autonomous vehicles in the state."
More on the Missouri bill was written here.
5. Regarding truck crash causation study:
Following the release of info about a 30-year high of truckers dying on the job in the year following the mandate of ELDs, we now learn that the FMCSA wants to start a new "crash causation study".
Supposedly, this kind of study has not been done for nearly 20 years.
However, I find this absurd and so does the Owner-Operators Independent Drivers Association (OOIDA).
More about this was written here, here, here, here, here, and here.
Public comments are being accepted on this.
6. Regarding owner-operator helps:
Want to become an owner-operator?
Here are "7 Things to know if you want to be an owner-operator"
---
Becoming an owner-operator is a big step: Need-to-know info
---
What are the "7 Ways to reduce expenses as a new owner-operator"?
---
Want the list of best ways to save on fuel costs as an owner operator?
---
What are the "4 questions to ask before buying a used truck"?
7. Regarding Drug and Alcohol Clearinghouse:
It is ridiculous that the FMCSA put in place a must-register system, but when drivers tried to register, many of them could not because the website crashed!
A January 9, 2020, article stated:
A swell of new users and registrants in recent days has caused frustrating connectivity issues for many fleets and drivers trying to use the U.S. DOT's CDL Drug & Alcohol Clearinghouse — a now required step for when carriers hire drivers.
---
Meanwhile one article covers "6 Things You Need to Know About the New Drug and Alcohol Clearinghouse".
8. Regarding truck issues:
When Indiana State Police recently inspected a truck and found it to be 96,300 pounds overweight without a permit, they issued an "overweight violation… [of] just under $14,000"!
---
"Authorities in Tennessee say that a truck driver lost his life today after a train crashed into his truck," stated a January 16, 2020, article.
The truck stalled or got stuck on the tracks for reasons that are not covered even in a local news article
This accident was also covered here.
Don't cross railroad tracks that not meant for trucks to cross.
Our condolences go to the trucker's family.
---
A January 10, 2020, article reported about the fifth anniversary of a 193-vehicle pileup of 76 semi trucks and 117 passenger vehicles "during winter weather conditions on January 9, 2015, on I-94 near Galesburg, Michigan".
Please remember to drive according to conditions.
---
A January 8, 2020, video showed how a semi truck was traveling south on Interstate 5, going down the famous Grapevine, when the brakes became overheated, braking power was lost, and the trucker used the runaway ramp to stop.
Please review safe mountain descending procedures to avoid brake fade and failure.
---
A January 9, 2020, article states: "New Hampshire State Police (NHSP) issued a warning to truckers to remove all ice and snow from their rigs — or face the possibility of a ticket."
The article further states: "Fines for violating Jessica's law range from $250 to $500 for the first offense and $500 to $1000 for each subsequent offense."
We have written before about this seemingly impossible winter truck problem.
---
The state of Connecticut appears to be inching closer to truck-only tolls.
Supposedly, the public supports this idea.
More on the $200 million Connecticut toll plan was written here.
---
A January 11, 2020, article cited WREG in Memphis as reporting that at least seven "tractor-trailers overturned early Saturday morning in Arkansas due to heavy winds from severe weather passing through the area".
When winds are high, it may be best to just stay parked rather than risk being overturned on the road.
---
We read that on January 15, the FMCSA "has granted a new exemption that will allow for high definition camera monitoring systems to be used in commercial vehicles (CMV) as an alternative to traditional rear-vision mirrors."
---
The family of a woman who was killed by a "runaway big rig tire" has filed a wrongful death lawsuit against both the trucker and his trucking company.
We address wheel separation accidents on a page where we ask for reviews of a certain kind of product designed to keep wheels on the truck.
9. Regarding trucker issues:
After spending nearly a month being incarcerated, Aneudy Gonzalez had the indictment against him dropped by a district court judge when it was determined through lab testing that the hemp he was transporting in a U-Haul truck had less than 3% THC.
A lawsuit is likely to follow for reasons described in the article.
10. Regarding ELDs:
A January 15, 2020 article answered:
ELD personal conveyance 101: What you should know.
---
KeepTruckin.com has published:
How to use ELD data to maximize your fleet's profits.
---
Long-term thinking must have been absent from those responsible for programming the PeopleNet ELDs.
Apparently, "the devices were reportedly manufactured with only the years 2007-2019 as options for the current date", so when 2020 rolled around, the devices kicked back to 2007 and all of the drivers using those devices had to start using paper logs!
Oops!
---
Another article covered "5 Ways ELDs Can Enhance Your Operation".
Do you agree?
Please comment below.
11. Regarding GPS:
A January 14, 2020, article stated:
This week, U.S. Senators Richard Blumenthal, Charles E. Schumer, and Edward J. Markey penned a letter to Google, Apple, and Waze demanding that the manufacturers update their non-truck-specific GPS applications to include commercial vehicle routing information in order to keep truckers off of restricted roads in Connecticut, New York, and Massachusetts.
As a reminder, I named November 8 "Low Clearance Awareness Day" back in 2016.
I offered a certain reward to the first trucker who could prove that his/her Commercial Motor Vehicle-specific GPS unit had directed him/her to a low clearance of less than 13'6″ in the lanes of travel.
To date, no one has submitted the first speck of data about this.
I suspect that trucking companies are not issuing restrictions about which GPS units truckers can use, and that the truckers who have been involved in low clearance accidents are using a GPS unit designed for cars, not large trucks.
Please learn how to use a Motor Carriers Atlas (aka truckers atlas) to navigate around low clearances.
---
Meanwhile, we read that in response to a Virginia state lawmaker filing "a bill to mandate large vehicles be outfitted with a truck-specific GPS system"… "OOIDA President and CEO Todd Spencer says that an 'overwhelming majority of CMVs currently have some sort of GPS device'" and that "'GPS devices are only as good as the information uploaded to them.'"
Here, here!
12. Regarding the economy, trucker income, and trucker wants:
A January 16, 2020, article addresses how truckers can haul "no-freeze freight" in a refrigerated trailer to potentially earn more money in the winter.
---
"That lack of growth in freight demand, combined with an already weak truck utilization rate, create an outlook for a 'decidedly lackluster' 2020, said Avery Vise, FTR's vice president of trucking" in a January 15, 2020, article.
---
However, owner-operator are trending "optimistic" for 2020.
---
A January 16, 2020, article reported, "A Texas trucking company was ordered to pay nearly $175,000 it owed to drivers in back wages after a U.S. Department of Labor (DOL) investigation found it had misclassified them."
---
A January 11, 2020, article reads:
More than half the truck drivers in a recent survey see their work as only a job with which to pay the bills, almost a third said they would like to get out of the industry, and the majority believe new trucking technology will be used to monitor and control them.
More on this was written here.
13. Regarding electric trucks:
In response to an article about when electric trucks will enter production, I have this question:
Will it ever be practical for an electric truck to carry its own electrical generation device so that it doesn't need to be "plugged in" to recharge?
Hmm…
14. Congratulations!
Our heartiest congratulations go to the final contenders of the Truckload Carriers Association's Driver of the Year Contest, for both:
2019 Owner-Operator of the Year; and
2019 Company Driver of the Year.
According to a January 9, 2020 article: "The winner of each contest, who will receive $25,000, will be announced March 3 at TCA's annual meeting in Kissimmee, Florida."
More about this contest was written here.
I look forward to learning who gets which prizes.
My husband Mike and I wish you — and all professional truck drivers — safe travels and lots of money saving opportunities on the road.
---
---
Return from TDMST Weekly Round-Up: 2020.01.18 to our TDMST Weekly Round-Up Trucking Commentary or our Truck Drivers Money Saving Tips home page.
---