This is the TDMST Weekly Round-Up of news affecting professional truck drivers, written by Vicki Simons for the week ending May 30, 2020.
We welcome your comments, thoughts and feedback on the items of your choice below.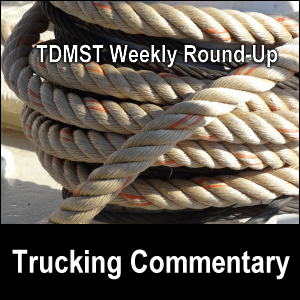 1. Regarding the ongoing broker transparency saga:
A May 22, 2020, article stated:
The head of the largest association representing third party logistics (3PL) companies [Bob Voltmann, CEO of TIA] is not backing down to those pushing for full rate transparency in the shipper/broker/carrier relationship and revealing why he believes they should be careful what they wish for.

Critics argue brokers are seeking to hide transaction records in order to conceal profit margins of as much as 60 percent, despite the fact brokers are required to comply with the now famous 49 CFR 371.3 provision.

[Voltmann stated,] "Most shipper contracts today have strict confidentiality rules in them. So, the reason the broker asks the carrier to waive that is because if they don't waive that right they can't move that shipper's freight."
---
In this article, we read:
…49 CFR 371.3 allows carriers or drivers to request all information on the load they just hauled, including how much the broker was paid by the shipper. With that information, a trucker or carrier could see how much of the fee is being kept by the middleman instead of being paid to the driver. It would also prevent the double-brokering of loads.

Brokers get around this little-known provision by including in contracts that the carrier agrees to waive the rights provided by 371.3. …
Jim Mullen, Acting Administrator of the FMCSA, was quoted as saying, "We don't have a specific complaint that a broker failed to abide by 371.3, in a situation in which the motor carrier hadn't waived, contractually, the ability to get that financial data that the regulation encompasses"
---
OK, so that leads me to ask if what Mullen says is true, and if so, when is a motor carrier or independent trucker or owner-operator going to NOT contractually waive the ability to get that information?
---
"TruckersReport decided to poll truckers to find out how they feel" and the results as of the time the article had been written were: "1,367 truckers (93.7%) told us that they think that brokers should be required to automatically disclose how much they get paid for a load. No request needed. No rights waived. Only 68 users (4.7%) disagreed."
---
OOIDA wrote concerning Bob Voltmann, CEO of TIA, "He said that drivers didn't know enough about the market to handle their trucking businesses without brokers." Zing!
---
We also read that the FMCSA "was reportedly instructed by the White House this week to better enforce regulations requiring freight rate transparency."
---
Furthermore, we read: "The Small Business in Transportation Coalition (SBTC) is appealing a recent denial of its request by the United States Department of Transportation (USDOT) Office of Inspector General (OIG) to investigate large brokerage firms."
---
Meanwhile, "Amazon confirmed this month that it's taking its freight brokerage nationwide, roughly 18 months after it launched a pilot program in five Northeastern states."
---
More about broker transparency was written here and here.
2. Regarding the numbers:
According to a May 26, 2020, article about how "25% fewer truckers arrived last week," the Canada Border Services Agency (CBSA) has stated, "Overall, volumes were down 90% for those crossing via land… compared with the same time a year ago."
Furthermore, "Last week, Canada and the U.S. agreed to keep the border closed to all non-essential travel until June 21."
---
A May 27, 2020, article states, "fleet managers (as well as the rest of the nation) are chomping at the bit to get back to work. But what does that look like in a world where trucks have been sitting idle for 90 days or more?"
Ninety days or more of sitting idle. Ouch!
---
Through June 21, 2020, no cash payments "will be accepted for any vehicles conducting essential travel via the eastbound Blue Water Bridge that links Port Huron [Michigan] and Point Edward, Ontario, Canada," according to a May 22, 2020, article.
---
An online poll asked: "Have you changed trailer type/niche since the beginning of 2020?"
---
A May 26, 2020, article addressed:
how some owner-operators are seeking flexible truck and trailer payments,
how a segment of them have been successful while others have not been, and
even how some lenders are in a bind.
---
"Truckers for YRC Worldwide are finding themselves stuck between a rock and a hard place after the freight giant has suspended insurance benefits indefinitely," stated a May 22, 2020, article.
---
A May 28, 2020, article contains unemployment numbers and other economic information.
---
DAT reports: "Freight markets [are] slowly coming back to life."
---
According to a May 29, 2020, article, "2.1 million [out of 15.5 million masks] have been earmarked for workers in the highway and motor carrier industry."
You need to know that wearing a face mask reduces your intake of oxygen and increases your intake of expelled carbon dioxide when you breathe!
A May 16, 2020, article states, "Dr. Russell Blaylock warns that not only do face masks fail to protect the healthy from getting sick, but they also create serious health risks to the wearer. The bottom line is that if you are not sick, you should not wear a face mask."
Let the mask wearer beware!
---
If you're an owner-operator, you may appreciate the concise info written about "Strengthening supplier relationships."
Another article listed what one should look for in partners if a trucker or fleet "[outsources] some or all of your maintenance and repair."
---
Looking on the positive side, we read: "one noted trucking economist is willing to predict the U.S. economy's recovery will be more robust and occur more quickly than many might think."
3. Regarding trucker pay increase in 2019:
In response to the claim from the American Trucking Associations that trucker pay increased $6,000 in 2019, TruckersNews.com published a poll on May 22 that asked what truckers say.
As of the time that poll results are being reported (May 29):
My pay stayed the same: 36.92%
My pay actually went down: 35.64%
My pay went up, but not enough to make a difference: 12.56%
My pay went up markedly: 7.44%
My pay went up somewhat: 7.44%
So, according to polling results over the last week, 72.56% of those polled reported that their pay either stayed the same as what it had been or actually went down!
This makes me wonder where the ATA got its information.
Hmm…
4. Regarding Hours of Service regulations:
Based on having read of legal challenges to other Hours of Service regulation changes in the past, I wondered if there would be one associated with the change announced by the FMCSA earlier this month.
Possibly!
According to a May 22, 2020, article, the International Brotherhood of Teamsters and Citizens for Reliable and Safe Highways (CRASH) and the Teamsters are "mulling the prospect of mounting a legal challenge against the rule."
More about the FMCSA's new Hours of Service rules going into effect was written here.
5. Regarding New Jersey toll road price hike:
According to an article published on May 28, 2020, "the New Jersey Turnpike Authority unanimously approved a plan to increase tolls":
"36% on the New Jersey Turnpike"; and
"27% on the Garden State Parkway."
"Specifically for truckers, a trip along the turnpike that now costs $56.85 will soon cost $77.30," stated an article that also said that the SBTC is disappointed with the toll hike.
The article also states, "Critics of the toll hikes say that authorities are using the cover of COVID-19 to push through the increases with little input from the public."
More about this price hike was written here.
6. Regarding low clearance truck accident:
On the morning of May 26, 2020, "a tractor-trailer rig scraped the top of the tube and became wedged… in Norfolk's downtown tunnel, which links Norfolk to Portsmouth, Virginia."
Multiple other crashes happened afterwards and people were take to the hospital.
More on this preventable truck accident was written here.
Always, always, always check your route for low clearances and do not take roads where your truck cannot fit!
7. Regarding truckers on drugs:
A May 25, 2020, article quoted Dr. Alex Underwood as saying:
… with over 20,000 prescription drugs approved for marketing, there are many meds the Federal Motor Carrier Safety Administration considers potentially, if not automatically, disqualifying.
Refer to the article to find out which drugs are automatically disqualifying according to the FMCSA, even if they are approved for use in certain states.
8. Regarding distracted driving in Indiana:
A May 21, 2020, article stated: "Starting July 1, 2020, a new [Indiana state] law will go into effect that will prohibit the driver of a motor vehicle from holding or operating a cell phone or other similar electronic devices [except CB radios and those calling 911] while the vehicle is in motion."
Even though the article addresses which devices are prohibited under this law, it does not describe the penalty for driving while distracted is under the new law.
9. Regarding cargo theft and hacking:
A report from supply chain security company Sensitech stated that "Cargo thefts were up by 49% in the first quarter of 2020 but down 9% in average loss value compared with the same time period from last year."
Use best practices for keeping your load secure.
---
A May 28, 2020, article stated: "According to cybersecurity agency Mimecast, transportation was one of the three most targeted sectors by cyberattackers during the first 100 days of the pandemic, and the firm said there's a greater than 95% chance that cyberattacks will increase after the event."
I anticipate that autonomous trucks will become a hacker's dream come true.
10. Regarding not relying on technology too much:
The sheriff in Giles County, Virginia is displeased that some truckers are refusing to heed the road closure signs put in place by the state DOT because of heavy flooding and a mudslide — and that their refusal is causing even more problems!
He stated: "I think some of these truckers will follow a GPS over the edge of a damn cliff if it told them 'recalculating … turn right.' They need to turn off their apps and pay attention to signs in a situation like this."
You are not a robot, so do not turn off your brain when you are driving a truck.
Always watch for both permanent and temporary signs — and heed what they are instructing drivers to do.
11. Regarding "no contact" truck weighing:
It's a dream come true for those truckers who in the past have had to:
weigh their rigs on truck scales,
walk to the truck stop to pay for and pick up their scale tickets,
adjust their truck settings where necessary, and
repeat the process as many times as it takes to make things legal.
According to a May 29, 2020, article, "CAT Scale was embracing a contactless alternative to weighing a loaded truck even before the threat of COVID-19 … [with their] Weigh My Truck app…."
The article further states, "CAT Scale's smartphone app — Weigh My Truck — allows drivers to weigh and pay from their smartphone or tablet without ever having to leave their truck."
That's great!
12. How would you handle this?
From time to time, I ask questions about how truckers would handle difficult situations on the road?
Such is the case with a report and video of a pickup truck driver who in Richland County, South Carolina, brake checked a big truck so that he could smash it with a pipe.
If you were the trucker in this situation, how would you handle it?
Please comment through the form below.
13. Congratulations!
Our congratulations go to the trucker and all involved in the "perfect 90 degree turn" of a 613,000 pound oversized load near Holdrege, Nebraska.
That video was a pleasure to watch!
---
We also extend our congratulations to Harold Hyde — a Nashville, Tennessee, pickup and delivery driver with Old Dominion Freight Line Inc. — who was recognized with the esteemed 2020 John Yowell OD Family Spirit Award "for his remarkable courage, heroism and selfless dedication to others."
Thank you for demonstrating all of these character qualities, Harold!
My husband Mike and I wish you — and all professional truck drivers — safe travels and lots of money saving opportunities on the road.
---
---
Return from TDMST Weekly Round-Up: 2020.05.30 to our TDMST Weekly Round-Up Trucking Commentary or our Truck Drivers Money Saving Tips home page.
---