This is the TDMST Weekly Round-Up of news affecting professional truck drivers, written by Vicki Simons for the week ending August 15, 2020.
We welcome your comments, thoughts and feedback on the items of your choice below.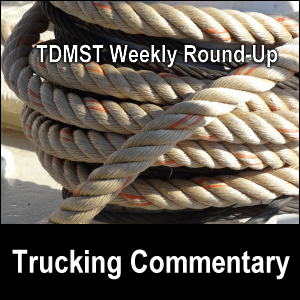 1. Regarding police, protests, planned protest in Chicago:
I continue to be astounded regarding the number of protests, riots, effective road closures, and calls for defunding local police departments have been going on around the country.
When my husband Mike and I drove together as a professional truck driving team in the 1990's, we heard over and over again, "No load is worth your life."
And that statement is still true today!
If your trucking company asks you to travel to or through a place where there is either no or very limited police presence, please realize that you may be putting yourself in harm's way and risking injury to yourself and damage to your truck, trailer and cargo.
One such article this week is:
Seattle Becomes the Latest City to Defund its Police Despite Warnings From Truckers
---
Please be ultra-careful about traveling in the Chicago, Illinois, area this weekend, per these articles:
---
Other articles about protests and violence done toward truckers include:
---
Many of us have been wondering why U.S. federal agencies in charge of transportation (USDOT) and motor carrier safety (FMCSA) have refused to see to it that roads are free of protesters and truckers are protected from violence.
According to an August 13, 2020, article — USDOT Says it Does Not Have a Duty to Enforce Law Protecting Truckers — we read:
The United States Department of Transportation (USDOT) is in U.S. District Court arguing it does not have a duty, but rather "absolute discretion," whether to investigate, arrest or prosecute individuals suspected of violating federal laws.

The USDOT is locked in a legal battle with the Small Business in Transportation Coalition (SBTC) after the SBTC filed suit last month against Secretary Elaine Chao.
In response to this article, I commented in a Facebook group:
Quote from article:
—–
Further, the SBTC asserts Sec. Chao has a "clear duty to act" pursuant to 49 U.S.C. § 301 which states: "The Secretary of Transportation shall – (1) under the direction of the President, exercise leadership in transportation matters, including those matters affecting national defense and those matters involving national or regional emergencies."
—–
Is she waiting for Trump to *tell* her to act?
Even if she has no "duty" to act, why doesn't she use some of that "absolute discretion" to which she refers?
Seems like she's splitting hairs.
The only question is "why."
Has she been ordered not to act — or paid off?
If so, by whom?
Hmm…
---
Late on Friday afternoon, August 14, 2020, I received this news:
How very interesting!
Will we see more shake-ups on the federal level?
2. Regarding insurance and damage:
In one of the truckers Facebook groups to which I belong, I saw this entry from Paul Roberts, owner at Motorcycle And Car Shippers LLC:
Found this in my cargo policy.

Might pertain to losses in a riot or protest.

Something to consider
And he posted this image.
I took the liberty of having the image transcribed:
NMA464.pdf

WAR AND CIVIL WAR EXCLUSION CLAUSE

(Approved by Lloyd's Underwriters' Fire and Non-Marine Association.)

Notwithstanding anything to the contrary contained herein , this Policy does not cover Loss or Damage directly or indirectly occasioned by , happening through or in consequence of war , invasion , acts of foreign enemies , hostilities (whether war be declared or not) , civil war , rebellion , revolution , insurrection , military or usurped power or confiscation or nationalisation or requisition or destruction of or damage to property by or under the order of any government or public or local authority.

1/1/38 N.M.A. 464
I also came across this infographic:
Daily Infographic: Who is responsible for freight damage?
So be on your guard!
3. Regarding inspections:
Even though there are "blitzes" of inspections from time to time, remember that trucks can be inspected at any time, even on side roads and temporary weigh stations with portable scales.
4. Regarding HOS, "truck-hiker" and underride guards:
Here are some of the most recent articles about the Hours of Service regulations:
---
The FMCSA has extended another waiver to the Hours of Service regulation, but only for some kinds of loads:
---
This is the second article like it that I've seen in the last few months, where someone jumped on the back of a trailer and took a ride:
Man hangs onto truck traveling at highway speed in Colorado
Unless you have a camera installed on the back of your trailer that shows the back of the trailer, how would you protect yourself from this?
---
[Mocking] In the name of safety (of course!), here's what may be coming down the pike:
FMCSA Says Rear Underride Guard Inspections Will Soon Be Mandatory
If you're tired of being required to add this and add that to your truck — just to protect other motorists from not keeping their own vehicles under control — contact your federal elected officials to voice your opinion.
With all of the changes that have happened in recent years, we have seen no significant decline in traffic deaths, except due to unconstitutional lockdowns, quarantines, and the like.
5. Regarding operations, KPIs, and staged accidents:
These are some assorted articles:
6. Regarding taxes:
These articles concern taxes:
7. Regarding violations, drugs, smuggling:
Remember that Drug and Alcohol Clearinghouse?
Well, an August 10, 2020, article states:
FMCSA Says Drug and Alcohol Violations Surpass 30,000 So Far in 2020
8. Regarding electric and zero-emission trucks:
Here are the most recent articles:
In your opinion, what are the pros and cons of an all-electric truck?
Please comment below.
9. Regarding accidents:
There have been many, many reports about accidents and problematic driving in the news lately.
Regarding the article — Driver injured as their truck hits 3 fire trucks on I-85 — I made the following comment on Facebook:
The top tweet in the article is time stamped 6:40 AM.
If that is accurate, the accident happened prior to that time, most likely meaning that it occurred before sunrise (while it was dark).
I'm speculating that the trucker may
– either have been drowsy at that time
– or simply relied too much on cruise control, possibly having gotten distracted.
This is very sad.
This article is about the same accident:
Semi truck collides with three fire trucks, driver hurt
---
Can you spot the preventable accidents?
---
All of these articles are about the same preventable accident — and the sentence that the trucker received for the fatalities he caused:
---
Here is some helpful information:
How to protect yourself legally after a crash
10. Regarding the economy:
Recent articles about the economy and trucking include:
11. Regarding tolls:
Many toll roads are or are going cashless, now including Maryland.
Maryland tolls go cashless permanently
---
If you're trying to avoid a recent toll raise on a West Virginia interstate, don't just blindly follow your GPS in Beckley, because you might end up getting a ticket!
GPS lead truck drivers astray once again
12. Regarding fake texts and data hacking:
There have been reports of fake COVID-19 texts being sent to truckers:
Protect your personally identifiable information at all costs!
---
Hackers are looking for your data:
Remote workers and the thieves who want their data
13. Regarding fire:
Fires can shut down roads, so stay alert!
14. Congratulations, awards, and trucker appreciation:
Congratulations to these two truckers:
Great going!
Here are some assorted articles with good news:
My husband Mike and I wish you — and all professional truck drivers — safe travels and lots of money saving opportunities on the road.
---
---
Return from TDMST Weekly Round-Up: 2020.08.15 to our TDMST Weekly Round-Up Trucking Commentary or our Truck Drivers Money Saving Tips home page.
---