This is the TDMST Weekly Round-Up of news affecting professional truck drivers, written by Vicki Simons for the week ending June 19, 2021.
We welcome your comments, thoughts and feedback on the items of your choice below.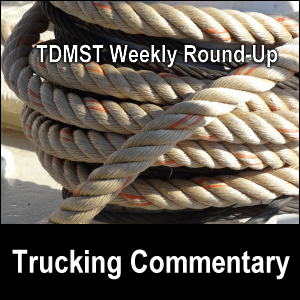 1. Regarding automatic brakes, inspections, and parts:
Automatic brakes
One of the things that really bothers me about "automatic brakes" is the fact that some people think that technology is foolproof and "knows" better than humans do what is needed in particular situations.
Here's an interesting question:
Instead of putting "automatic brakes" on large trucks, why not simply put some kind of warning sound and lights on the truck to let the human know when to apply them?
Or is it the case that the time that it takes for a human to respond is too late?
What happens, though, in wet or slick conditions?
Will automatic braking lead to jackknifing situations?
At what decrease in miles per hour (or kilometers per hour) — over what time frame — will "automatic brakes" slow down a big truck?
Could automatic brakes ever lead the driver onboard to have whiplash or spinal issues?
Could the pressure by any stretch of the imagination be considered "hard braking" or lead to the shifting of a load?
If the idea of having more regulations on commercial motor vehicles bothers you, please contact your federal elected officials: House and Senate.
---
Inspections
Always be ready for a truck inspection — at any time.
---
Parts
2. Regarding economy, employment, pay, and tolls:
Economy
These articles show different aspects of the economy from the trucking industry perspective.
---
Employment
There is a lot at stake regarding trucking jobs and recruiting lines.
---
Pay
---
Tolls
3. Regarding electric vehicles, Lordstown, autonomous vehicles, emissions, and carbon:
Electric vehicles
Don't forget that in order to run an electric vehicle, it has to have a minimum charge and thus a way to be charged.
---
Lordstown
---
Autonomous vehicles
I totally oppose autonomous, self-driving, or driverless trucks — and am sharing these articles to help you keep up with the topic:
---
Emissions
Be watching out for more and more talk about the environment and emissions.
---
Carbon
4. Regarding fuel, fuel cell, fuel consumption, fuel efficiency, and idling:
Fuel
Please seek to get the very best fuel economy you can get.
---
Fuel cell
---
Fuel consumption
---
Fuel efficiency
---
Idling
5. Regarding ports, trade, and containers:
Ports
---
Trade
Respect the border and those securing the borders.
---
Containers
6. Regarding accidents, staged accidents, and drugs:
Accidents
Please learn what you can from these accidents and seek never to be set up in one.
---
Staged accidents
Those who prayed for vindication got an answer to their prayers.
---
Drugs
Never ever agree to haul illegal drugs for pay!
7. Regarding technology, drones, congestion, and parking:
Technology
Please do not allow yourself to be distracted by technology while you drive.
Use automation in your truck whenever it is safe and reasonable to do so, but do not put too much trust in mechanical devices.
---
Drones
---
Congestion
What's your best tip for avoiding congestion?
---
Parking
Since truck parking is not one of the enumerated powers listed in the Constitution of the United States, this part of life is left up to the states or the people.
If you use an app to help you find truck parking, would you please let us know — through the form below — which one is your favorite or which gives you the most accurate information?
Thanks.
8. Regarding AB5, fulfillment, and lease:
AB5
If you live or work in California and AB5 affects you negatively, please speak out!
---
Fulfillment
Please treat others better than you would want to be treated and watch out for any opportunities for people to take advantage of you behind your back.
---
Lease
9. Regarding health, issues, and sleep apnea:
Health
---
Issues
---
Sleep apnea
10. Regarding lawsuits, records, theft, and tires:
Lawsuits
---
Records
---
Theft
---
Tires
11. Regarding weather:
12. Regarding award:
Congratulations to all truckers who have been recognized by their trucking companies — or other organizations — for trucking skill, company longevity, or being a kind and helpful human being.
My husband Mike and I wish you — and all professional truck drivers — safe travels and lots of money saving opportunities on the road.
---
---
Return from TDMST Weekly Round-Up: 2021.06.19 to our TDMST Weekly Round-Up Trucking Commentary or our Truck Drivers Money Saving Tips home page.
---