This is the TDMST Weekly Round-Up of news affecting professional truck drivers, written by Vicki Simons for the week ending August 31, 2019.
We welcome your comments, thoughts and feedback on the items of your choice below.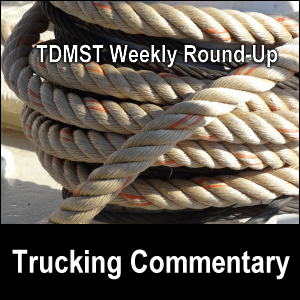 1. Regarding hurricane preparedness:
Hurricane Dorian is aiming for the east coast of Florida and could impact not only trucking operations but also shipping operations.
Articles about the storm, storm preparedness, and how Hours of Service regulations have been suspended in many states ahead of the storm have been written here, here, here, here, here, here, here, here, here, here, here, here, here, here and here.
Be on your guard about driving in risky travel conditions, including:
high winds (increasing the chances of overturning high profile vehicles) and
flooding (don't drive in high waters, even with a truck).
If you are traveling into stormy areas, keep your fuel tanks full and be aware that fuel delivery may be interrupted.
Stay prepared with plenty of drinking water, non-perishable food, an emergency kit, a first aid kit, and an emergency fund.
If you regularly take medications or health supplements, you may wish to stock up ahead of the storm.
If you don't have a flashlight and extra, charged batteries, now is the time to get them.
Keep your cell phone charged.
Truckers who have one or more pets traveling with them in their trucks need to plan ahead for their needs, too.
We have found that having a battery-connected inverter in-truck has helped us in many ways.
Certain tools may come in handy during or following a storm.
Since power may be unavailable for periods of time in certain storm-struck areas, creative truckers can make alternative arrangements for staying clean in their trucks.
Stay abreast of the most recent weather conditions, whether through local radio, weather radio, weather apps, or other trusted sources.
Do not be afraid to park in a safe and legal space to wait out bad weather.
Keep your family (home support team) and driver manager/dispatcher aware of your plans and location.
2. Regarding Labor Day holiday and potential for theft
If the statistics of thefts that have taken place on "the six previous Labor Day weekend periods" is any indication, be on your guard against leaving loads unattended this coming Labor Day weekend.
The article further states: "Truckers can protect their trucks and cargo by avoiding leaving equipment unattended in high-theft metropolitan areas and by using secured lots with high-visibility lighting, secure fences and staffed security services, CargoNet says."
Another article says that cargo thefts over Labor Day weekend are expected to "spike" — and this could be doubly true in places where the hurricane is expected to strike.
This article states, "Truck stops, highway rest areas and distribution centers are frequent targets for cargo thieves especially during holiday periods. For that reason, any location where cargo would either intentionally (or unintentionally) stop — even for brief periods — should be as secure as possible."
3. Regarding Hours of Service:
The proposed HOS regulation changeThe comment period regarding the proposed change to the Hours of Service regulation has opened. See links to other articles about this here, here, here, here and here.During public listening sessions at GATS, the 30-minute break and split sleeper berth parts of the proposed HOS rules change were commented on, as described here, here and here.An August 23, 2019, article stated that "drivers brought up a number of concerns about the real-world application of changes to HOS. Among the topics discussed were driver coercion, increased freedom with the split-sleeper berth provision, female driver harassment, and safety scores."Although it was stated that "the American Trucking Associations (ATA), Truckload Carriers Association (TCA), and the Owner Operator Independent Drivers Association (OOIDA) were quick to cheer the FMCSA's proposed HOS reforms", others are criticizing them.Furthermore, the ATA and CVSA have requested extensions on the HOS comment period, as is described here, here, here and here.

More about who is saying what about the proposed HOS regulations change has been written here and here.

I encourage you to study the proposed changes and comment here.

Exemption from 30-minute breakWe read that "Transco's grocery division [has received an] exemption from [the] 30-minute break regs".This exemption was also written about here and here.
4. Regarding autonomous trucks:
A public protest against autonomous trucks — because of the potential to devastate "millions of jobs" — took place in Jefferson City, Missouri, on August 21.
Another article about the proposed protest was written here.
5. Regarding UCR fees:
According to an August 26, 2019, article, "The Federal Motor Carrier Safety Administration is proposing a decrease in Unified Carrier Registration fees for trucking companies, brokers and freight forwarders in 2020 and beyond."
6. Regarding first requiring the database, then charging a fee to use it:
Some time back, the FMCSA announced a new Drug and Alcohol Clearinghouse rule.
Now we read that "trucking companies will be required to pay the Federal Motor Carrier Safety Administration (FMCSA) a fee prior to hiring each driver — in addition to a once per year fee for already employed drivers".
The article says, "Though the fee is small, it could add up to big payouts to the FMCSA over time, given that there were about 3.5 million truck drivers working in the U.S.in 2018 coupled with the fact that the industry has chronically high turnover, according to ATA data."
More about that was written here.
Naturally, I have questions:
How much will the FMCSA collect as a result of this system?
For what will this money be used?
Will there ever come a time when the fee is not charged — and if so, what would change?
7. Regarding crossing railroad tracks in a truck:
Don't try to make a U-turn on a set of railroad tracks!
If it were not for a group of local folks, the truck pulled free might have been struck by an oncoming train!
8. Regarding statistics from 2019 International Roadcheck:
"CVSA inspectors placed more than 12,000 trucks out of service during International Roadcheck in June", according to an August 30, 2019, article and another written here.
Top out of service violations were listed as:
braking systems,
tires and wheels,
brake adjustment, and
cargo securement.
An article written here lists the top vehicle out-of-service conditions.
Furthermore, some truckers themselves were put out-of-service for the reasons described here.
More on this was written here.
9. Regarding trucking companies shutting down:
Numerous trucking companies have shut down in 2019, among the most recent being HVH Transportation, which was listed as #231 on CCJ's Top 250 fleets.
More about HVH Transportation's shut down, which left more than 300 truckers stranded, was written here.
In a manner similar to being prepared for a hurricane, always stay prepared in case the trucking company for which you're driving suddenly closes.
10. Regarding coercion to drive when you're unfit to do so:
According to an August 30, 2019, article:
"A truck driver who was arrested after he was reported driving recklessly says that he was forced by his supervisor to drive [after he had told the dispatcher that he had taken] sleeping medication".
More about this situation was written here.
If you are unfit to drive for whatever reason, refuse to drive a truck no matter how much you are pushed to do so.
You are the trucker and you are in charge of driving your truck (not your dispatcher or driver manager).
What is on the line if you drive while under the influence of drugs — or other substances that can impair your cognitive function — are:
your CDL,
your trucking career,
your life, and
the lives of the motoring public around you.
11. Regarding the cost of traffic congestion:
According to an August 23, 2019, article, "Texas A&M Transportation Institute recently published its 2019 Urban Mobility report…" and estimated that "the amount of time Americans waste sitting in traffic each year… [costs] $166 billion."
Ouch!
One way to help avoid getting stuck in congestion is to drive — if possible — at times when roads aren't congested (or congested as much).
12. Regarding cell phone use while driving:
Although the article doesn't say whether or not the trucker was holding it in his hand at the time of the accident, he is facing "decades in prison" for causing an 11-vehicle crash that killed a businessman and a young boy while using a phone.
Be aware that using a hand-held phone while driving a commercial motor vehicle is against the law and punishable with a stiff fine.
Never allow yourself to become distracted by anything when you drive, including a mobile phone with a headset connection.
13. Regarding preparing now for the winter driving season:
It's not even September yet, but at least one recent article addressed the 2019-2020 winter forecast from "The Farmer's Almanac" as being a "Polar Coaster".
Part of your pre-winter preparations regards:
14. Congratulations!
Our heartiest congratulations go to:
Dwight Arnold of Clarksville, Tennessee, the winner of the 2019 Trucking's Top Rookie Award, as named at the Great American Trucking Show — and who won a cash prize of $10,000, $1,000 from his company, and assorted other prizes, according to articles here and here; and
Daniel Walton, who was named as "a finalist for the 2019 Mike O'Connell Award for Trucking's Top Rookie", according to an August 20, 2019, article.
Way to go, guys!
My husband Mike and I wish you — and all professional truck drivers — safe travels and lots of money saving opportunities on the road.
---
---
Return from TDMST Weekly Round-Up: 2019.08.31 to our TDMST Weekly Round-Up Trucking Commentary or our Truck Drivers Money Saving Tips home page.
---