This is the TDMST Weekly Round-Up of news affecting professional truck drivers, written by Vicki Simons for the week ending June 23, 2018.
We welcome your comments, thoughts and feedback on the items of your choice below.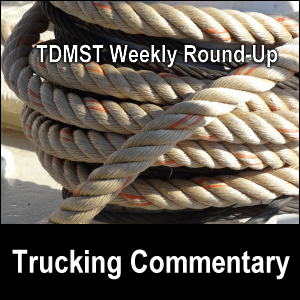 1. Recently, numerous articles (a couple of them with accompanying videos) have shown problems with using shoulders or emergency lanes improperly:
– A June 20, 2018, article featured dash cam coverage of a trucker who was exiting a highway when a 4-wheeled van "came up the ramp emergency lane and brake checked" him. Because there was so little room, the truck collided with the van and then the van fled the scene.
Thank goodness that this trucker had a dash cam! I am personally grateful that the license tag of the van could be seen in the video and I hope that the trucker takes appropriate steps from there.
– A video from YouTube user "California Roadcam" was embedded in a June 18, 2018, article and shows a trucker who forced his way into traffic by using a very aggressive driving tactic, passing (speeding) on the right, and using what was a merge lane that turned into an emergency lane.
In our opinions, this trucker is nothing more than a bully and needs to have his behavior dealt with by his trucking company.
– The resulting wreckage from a two-truck crash in Indiana, as described in a June 15, 2018, article shows what can happen when drivers don't "move over for disabled vehicles."
An Indiana State police officer described how one tractor trailer had broken down on the shoulder of I-65 and how another tractor trailer slammed into the back of it. "The force ripped the trailer completely off the chassis."
Ouch!
– A June 21, 2018, article described that a "lawsuit was brought by the family of a motorist who struck [at highway speed] a parked CRST Expedited truck, killing the car's driver."
The problem in this case was whether or not the truck was "a proximate cause of this accident" due the fact that it was "parked in the emergency lane [with] hazard lights [on]" when "the accident occurred about a mile past an off ramp leading to a truck stop, and less than a mile from the next exit."
According to Wikipedia, "In the law, a proximate cause is an event sufficiently related to an injury that the courts deem the event to be the cause of that injury. There are two types of causation in the law: cause-in-fact, and proximate (or legal) cause."
Granted, drivers should pull over on shoulders or emergency lanes only in an emergency. All drivers need to be aware of the solid white line that separates the travel lane from the emergency lane. Furthermore, all drivers need to be aware of traffic ahead of them and what vehicles have pulled over on the shoulder, so that they can "move over".
– On June 11, 2018, an article said that the state of Missouri has a new law that is to take effect on August 28. It includes numerous transportation components, including one about where truck inspections can be conducted.(a)
One state Senator "has said the stops should be performed in a safe location instead of right next to passing traffic."
2. A June 16, 2018, article stated, "Operation Safe Driver Week, an annual enforcement blitz by the Commercial Vehicle Safety Alliance, is set this year for July 15-21."
Read the article for "Driving behaviors that will be targeted during the week".
3. According to numerous articles — including this one dated June 18, 2018 — the Commercial Vehicle Safety Alliance (CVSA) has scheduled Brake Safety Week to "take place throughout the U.S. and Canada from September 16 – 22."
According to a June 19, 2018, article, CVSA wrote the following in a news release:
"Properly functioning brake systems are crucial to safe commercial motor vehicle operation. Brakes must be routinely inspected and carefully and consistently maintained so they operate and perform to the manufacturer's specifications throughout the life of the vehicle. Improperly installed or poorly maintained brake systems can reduce braking efficiency, posing serious risk to public safety on our roadways."(b)
A June 18, 2018, article stated what happens during Brake Safety Week: "CVSA-certified enforcement personnel will conduct roadside inspections of commercial vehicles, identifying and removing vehicles with critical brake violations from roadways and calling attention to the dangers of faulty brake systems."
According to the article, 14% of 7,698 vehicles inspected during the 2017 event were put out-of-service for brake-related violations.
A June 18, 2018, article quoted CVSA, which said that "most of the inspections performed during the weeklong blitz will be full Level I inspections, the most comprehensive inspection."
Naturally, one wants to make sure that one's truck's brakes are correctly adjusted year-round, not just during Brake Safety Week.
Read here about the contrast of before and after expenses associated with brake adjustment for one trucker.
4. "The Florida Highway Patrol will be conducting a campaign to put a stop to aggressive driving behaviors in both commercial vehicle drivers and passenger vehicle drivers," states a June 15, 2018, article.
The "Ticketing Aggressive Cars and Truck (TACT) campaign" is scheduled to last through June 28.
5. LandLine Magazine reported on June 19, 2018, that the Rhode Island state Senate "has voted to advance to the House a bill to prohibit indemnification clauses in trucking contracts. The clauses are set up to protect shippers or hold them harmless from anything that happens with a shipment."(c)
To give some context, the article states: "Mike Matousek, OOIDA's manager of government affairs, has said the protection is a reasonable and fair solution to address rules that essentially provide shippers and receivers with immunity from any damage caused by their negligence while a trucker is on their property."
And to give some further context, "45 states have acted to forbid unfair provisions from contracts."
So this is a good move, in my opinion.
6. A June 19, 2018, article stated: "The authors of the annual bellwether State of Logistics Report have titled the 2018 edition 'Steep Grade Ahead,' as they see the logistics industry 'rapidly changing to meet growing demand and costs.'"
7. We hope that the issues reported about whistleblower protections are quickly resolved.
8. If you're planning to attend the Great American Trucking Show, you may register here.
truckshow.com/register-now (no longer online)
9. Being past June 21, we are now officially in the summer season in the northern hemisphere.
Please pay attention to your health and wellness and that of your truck.
My husband Mike and I wish you — and all professional truck drivers — safe travels and lots of money saving opportunities on the road.
---
---
Return from TDMST Weekly Round-Up: 2018.06.23 to our TDMST Weekly Round-Up Trucking Commentary or our Truck Drivers Money Saving Tips home page.
---
Reference:
a. www.landlinemag.com/Story.aspx?StoryID=72465 (no longer online)
b. www.landlinemag.com/Story.aspx?StoryID=72512 (no longer online)
c. www.landlinemag.com/Story.aspx?StoryID=72510 (no longer online)