This is the TDMST Weekly Round-Up of news affecting professional truck drivers, written by Vicki Simons for the week ending January 16, 2021.
We welcome your comments, thoughts and feedback on the items of your choice below.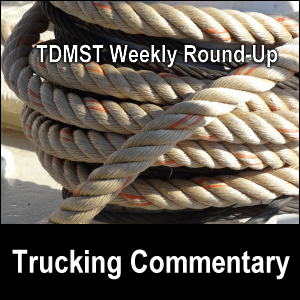 1. Regarding FMCSA panel:
If memory serves me correctly, the FMCSA has made a "tip of the hat" toward truckers in the past.
However, any input by those actually working as truckers in the real world has been dismissed.
We'll see whether or not anything substantive for truckers is really accomplished with this new panel.
It is important that — instead of just relying on this group of truckers to make a difference — you regularly contact your elected officials on the U.S. level (U.S. House and U.S. Senate) and share what will really help truckers.
2. Regarding accidents:
Please learn what you can from these accidents and strive not to repeat any errors in judgment leading up to them.
3. Regarding AV, autonomous vehicles, technology, ELDs and electric:
AV
---
Autonomous vehicles
I oppose self-driving or driverless or autonomous vehicles and am sharing these articles as a courtesy.
---
Technology
---
ELDs
---
Electric
4. Regarding Clearinghouse fines:
Notice the SIZE of the fines!
5. Regarding truck operations, fuel, holidays, inspections, speed/speeding, and recalls:
Truck operations
---
Fuel
---
Holidays
---
Inspections
---
Speed/Speeding
---
Recalls
6. Regarding hitchhiker on trailer, vision, sleep apnea, and deadliest occupation:
Hitchhiker on trailer
---
Vision
When God created the human body, He gave us two eyes for a reason: to discern depth.
In my concerted opinion, humans need two fully working eyes in order to drive professionally and this move to allow would-be truckers who have vision problems is badly flawed.
---
Sleep apnea
For your convenience, you may wish to read the Sleep Labs post on our site.
---
Deadliest occupation
Please do everything in your power not to be caught in a fatal accident!
7. Regarding weather and wind:
Weather
---
Wind
Other than not driving in very windy areas — or always making sure you have a heavy load on your trailer — how do you protect yourself and your rig in high winds?
8. Regarding proposed split sleeper berth break:
After all of the hullabaloo regarding the most recent change to the Hours of Service regulations, why is the FMCSA now looking at split sleeper berth breaks?
9. Regarding fraud, violence, and theft:
Please do what you can to protect yourself, your belongings, your rig, and the cargo on-board.
Fraud
---
Violence
---
Theft
10. Regarding economy, rates, capacity, employment, pay, and predictions:
Economy
---
Rates
---
Capacity
---
Employment
---
Pay
---
Predictions
11. Regarding rest breaks:
Do you see this ruling as positive or negative?
12. Congratulations!
Award
---
Helping one another, like family
I am encouraged when people love their neighbors as they love themselves — and I hope you are, too!
Some acts of kindness are worth far more than money.
My husband Mike and I wish you — and all professional truck drivers — safe travels and lots of money saving opportunities on the road.
---
---
Return from TDMST Weekly Round-Up: 2021.01.16 to our TDMST Weekly Round-Up Trucking Commentary or our Truck Drivers Money Saving Tips home page.
---