This is the TDMST Weekly Round-Up of news affecting professional truck drivers, written by Vicki Simons for the week ending December 28, 2019.
We welcome your comments, thoughts and feedback on the items of your choice below.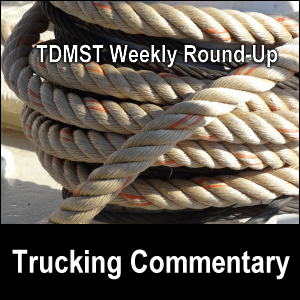 1. Regarding potential supply chain disruptions:
According to a December 17, 2019, news release, the Small Business in Transportation Coalition has warned 3 levels of government — federal, state and local — that staying the "current course" politically will "entail significant hardships for the American People".
Several political and trucking situations were listed, including:
Impeachment proceedings in the U.S. House of Representatives;
The "gun control versus gun rights controversy" that is brewing in the state of Virginia; and
the "Electronic Logging Device Capacity Crisis".
Regarding the situation in Virginia, the new release stated:
If a large scale conflict ensues, [SBTC Executive Director James Lamb] says he is concerned about typical war time tactics of disrupting the other side's supply chain and his group will be warning through its 25,000 member "Trucker Lives Matter" Facebook group and other social media to avoid delivering to the state to protect truckers' lives.
In my opinion, you need to be prepared in a number of ways before potential violence and disruptions break out:
If you are a company driver, ask your driver manager or someone higher up in your trucking company what they recommend you do to stay safe on the road if situations like this arise — and then post that recommendation on social media (or through the form below).
Thanks.
2. Regarding avoiding counterfeit truck parts:
A December 23, 2019, article lists Six Ways To Avoid Counterfeit Parts.
One bullet point states:
Don't be cheap: Every fleet is trying to save money, but when it comes to parts, be leery of buying something that is well below the price you normally pay. Every supplier offers parts specials and there are internet pricing specials, but those still typically fall into a range. It's a good idea to stay away from a part that is offered to you outside the normal price range.
We have affiliated with a truck parts inventory supplier whom we trust, the links to parts being arranged by make and model of truck.
3. Regarding top lists for 2019:
Toward the end of every year, some news outlets publish their list of "most read" or "most viewed" content.
For your convenience, here is a list of some of them:
4. Regarding black ice and icy roads:
A December 22, 2019, article stated, "Investigators say icy and foggy conditions along the Queens Creek Bridge [on I-64 in Virginia] likely contributed to the chain reaction crash [resulting in a 69-vehicle pileup and 51 people transported to area hospitals]."
More about this "apocalyptic" pileup was written here.
Separately, two videos — here and here — show how black ice can send semis off the road with no warning.
5. Regarding tolls:
An effort to implement tolls on I-80 in Wyoming has advanced.
6. Regarding random drug testing rate increase:
Numerous articles this week have reported that the FMCSA has announced that "the minimum annual rate for random drug testing for drivers" will increase from 25% to 50%, starting January 1, 2020.
You may read more about this:
With double the number of drug tests being done, will double the number of drug users be found?
I surely hope not!
7. Regarding a preventable truck accident in fog:
Numerous websites reported on a trucking accident that was — in my opinion — completely preventable.
This article stated, "The crash occurred [on eastbound U.S. 84] Friday morning as dense fog covered the area near Slanton, about 120 miles south of Amarillo."
This article states that "an SUV driver changed lanes in front of [an eastbound semi truck driver] and struck him", leading to the rollover accident and two people being hospitalized.
However, you can tell from the video (embedded in this article) that even if the SUV driver hadn't changed lanes right in front of the trucker, that the truck was going so fast that he would not have had enough stopping distance to avoid hitting the stopped traffic on the road.
When there is fog, slow down!
Don't overdrive your ability to see and stop.
As we mention on our Safe Driving page,
"Professional truck drivers who practice safe driving know that stopping distance is also affected by weather…";
"Professional truck drivers need to drive for conditions…"; and
"Fog, wind, blowing sand, blowing snow and bright sunshine can all present challenges to driving."
Always maintain a safe following distance.
8. Regarding autonomous trucks and "final mile":
I found it surprising to read that "Autonomous trucking startup Starsky Robotics is in talks with potential buyers, including some with its rivals, after failing to raise new funding to stay afloat".
---
Meanwhile, a recent article defined "final mile" as it concerns "transportation, supply chain, manufacturing, and retailing".
As autonomous trucks become more prevalent, I anticipate that more and more truckers will be involved in "final mile" work.
9. Regarding AB5 in California and getting your trucking authority there:
DAT reported that "California's new AB5 law, which curtails the use of owner-operators leasing on with a trucking company, leaves those drivers with [the] three… choices" listed in the article.
dat.com/blog/post/life-after-ab5-getting-your-trucking-authority-in-california (no longer online)
10. Regarding "trucker shortage":
A December 27, 2019, article reported that the OOIDA Foundation found that "freight rates fell in 2019 due to too many trucks".
Hmm…
Now, if there is a so-called "trucker shortage," how can there be "too many trucks" at the same time?
11. Regarding ELDs and GPS:
A recent article asked a most perceptive question:
ELDs generate thousands of data points, but who owns that data, and how concerned should carriers be that the data will be used against them?
I oppose mandated, across-the-board use of ELDs, but I note that ELD data was instrumental in helping ATRI determine the horrendously high amount of detention that truckers are actually experiencing.
You may want to read the ATRI news release and my comments to the FMCSA about detention.
---
As if an ELD mandate wasn't bad enough, it was reported that "A Virginia lawmaker recently introduced a bill that would require truck drivers to install and use a commercial GPS device."
While I agree that the number of low clearance truck accidents have increased — sometimes due to CMV-driver use of non-CMV GPS units — it should be left up to truckers and their trucking companies to decide what technology to use for navigation.
Meanwhile, I strongly recommend that truckers get and learn how to use a Motor Carrier truckers atlas.
12. Regarding goal setting for 2020 and beyond:
You may find these articles helpful at this time of year:
13. Congratulations!
We congratulate all of the truckers mentioned or referred to in the December 27, 2019, article entitled 2019 was a year filled with award-winning truck drivers.
To each and everyone who practices safe driving, thank you!
14. Regarding the new year and new decade:
This is my last TDMST Weekly Round-Up trucking commentary for 2019 and this decade!
Thanks for reading any or all of my trucking commentaries this year.
I wish all truckers a safe and prosperous future.
Also, I look forward to helping you meet your needs in 2020 and beyond!
My husband Mike and I wish you — and all professional truck drivers — safe travels and lots of money saving opportunities on the road.
---
---
Return from TDMST Weekly Round-Up: 2019.12.28 to our TDMST Weekly Round-Up Trucking Commentary or our Truck Drivers Money Saving Tips home page.
---