This is the TDMST Weekly Round-Up of news affecting professional truck drivers, written by Vicki Simons for the week ending June 5, 2021.
We welcome your comments, thoughts and feedback on the items of your choice below.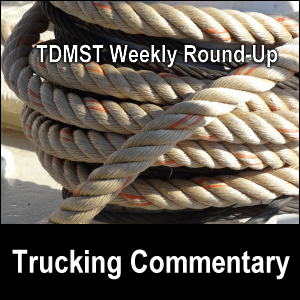 1. Regarding beef processor cyberattack:
In response to a post of this article on Facebook on June 1, 2021:
Cyberattack Hits Major Meat Processor and Parent Company of Large Trucking Fleet,
I wrote the following comment on June 2:
"I no more believe this 'narrative" than I believed it about Colonial Pipeline.
I think this was planned by insiders in order to spook people and make them panic, which is right where the elites want us.
Do not give them that power over you!"
Even so, the following is a list of articles from trucking industry sources about a so-called beef processor cyberattack.
Those things having been said, here are a couple of articles worth your time to read:
2. Regarding accidents, death, and ATRI:
Accidents
For each of the articles listed below, I have provided some commentary:
---
Death
---
ATRI
3. Regarding AB5, lawsuits, employment, and future:
AB5
---
Lawsuits
---
Employment
---
Future
4. Regarding politics, infrastructure, insurance, and regulations:
If you don't like what has been proposed on the federal level — as has been listed in this section — please get in touch with your federal elected officials to let them know!
Taxing businesses for this is not a good idea, in my opinion.
Politics
---
Infrastructure
---
Insurance
---
Regulations
5. Regarding electric vehicles, emissions, fuel, and green:
Electric vehicles
---
Emissions
---
Fuel
---
Green
I plan to do more research on this topic in the days to come.
Meanwhile, here is one article about "green" trucking and then one perspective on the "Green New Deal."
6. Regarding roads, bridges, capacity, LTL, and last mile:
Roads
---
Bridges
---
Capacity
I'm going to modify the definition of "capacity" as is written on the website of DAT.com to be the following:
Capacity: "In the trucking industry, the availability of space in trucks that can be hired or utilized to haul freight."
The reason why I say "space in trucks" is because Trucks With Room to Spare utilizes available space that isn't filled up, to help deliver needed products.
---
LTL
---
Last mile
7. Regarding routing, saving, shipping, technology, and China:
Routing
When you're driving a commercial motor vehicle, please always use approved truck routes unless you've got a permit!
Do not rely on non-CMV-specific GPS units for routing.
We recommend using a good, old-fashioned truckers atlas.
---
Saving
---
Shipping
---
Technology
---
China
8. Regarding tires, tolls, recall, and parking:
Tires
---
Tolls
---
Recall
---
Parking
9. Regarding trucking, smuggling, and inspections:
Trucking
---
Smuggling
Never offer to smuggle people or illegal goods — ever!
---
Inspections
10. Regarding consumers, gig, postage, and economy:
Consumers
---
Gig
---
Postage
---
Economy
11. Regarding pay and retention:
Pay
---
Retention
12. Regarding award:
Congratulations to all truckers who receive a reward for their excellence on the job!
My husband Mike and I wish you — and all professional truck drivers — safe travels and lots of money saving opportunities on the road.
---
---
Return from TDMST Weekly Round-Up: 2021.06.05 to our TDMST Weekly Round-Up Trucking Commentary or our Truck Drivers Money Saving Tips home page.
---