This is the TDMST Weekly Round-Up of news affecting professional truck drivers, written by Vicki Simons for the week ending March 13, 2021.
We welcome your comments, thoughts and feedback on the items of your choice below.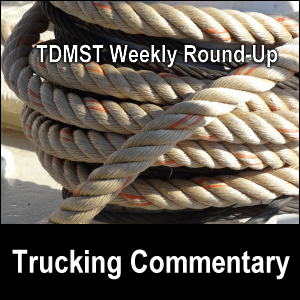 1. Regarding PRO Act, speed limiters, and classification:
PRO Act
I found out about the PRO Act of 2021 on a Facebook trucking group — after the legislation had already passed the U.S. House.
I utilized information from one trucking resource to write a letter to the two U.S. Senators from South Carolina (my home state).
In my letter, I concluded with the following:
Please do two things immediately:

1. Vote against H.R. 842, the Protecting the Right to Organize Act of 2021, at least the requirement for prong B as it concerns truck drivers who want to work as an independent contractor for a motor carrier; and

2. Work to repeal the overtime exemption for employee truck drivers under the Fair Labor Standards Act.
If you feel strongly about this, please contact your U.S. Senators, preferably by phone.
---
Speed limiters
Again, if you feel strongly about this issue, please get in touch with federal elected officials (Representatives listed here).
---
Classification
2. Regarding inspections, violations, drugs, and smuggling:
Inspections
Always be ready for an inspection of your tractor and trailer.
---
Violations
Please review the Federal Motor Carrier Safety Regulations (FMCSR) to see what is legal and what is not legal — both in a commercial motor vehicle and in/on your person as a professional truck driver.
---
Drugs
Never, ever haul illegal drugs!
---
Smuggling
Never ever offer to treat human beings like cattle!
3. Regarding autonomous vehicles and electric vehicles:
Autonomous vehicles
I am sharing these articles only as a courtesy to help you stay on top of what is happening in this industry.
I hate to say it, but I can't help but feel that eventually, one of these driverless trucks is going to be involved in a crash that results in a fatality.
As good as artificial intelligence may be, a robot can never be programmed to have human intuition.
If you feel strongly about the FMCSA's Chief seeming to allow for or push autonomous trucks, please make your voice heard!
---
Electric vehicles
4. Regarding economy, capacity, containers, and volume:
Economy
---
Capacity
---
Containers
If you haul containers, these articles might be good news to you.
Please make sure that you are legal every inch of the way when it comes to your credentials and truck requirements.
---
Volume
freightwaves.com/news/port-of-long-beach-volume-jumps-433%25-year-over-year (no longer online)

5. Regarding ELDs, technology, and employment:
ELDs
---
Technology
---
Employment
6. Regarding accidents, fatalities, hitchhiker, and weather:
Accidents
---
Fatalities
---
Hitchhiker
This is at least the third article like it that I recall having seen.
Is the best way to avoid having a hitchhiker on the back of your trailer to install a cab-monitored camera on the rear (perhaps on top of the DOT bumper)?
---
Weather
7. Regarding fuel, insurance, and purchase:
Fuel
The news about the Oregon bill — that would ban petroleum-based diesel by 2028 — is disturbing.
If you travel in the northwestern USA, please take action.
---
Insurance
---
Purchase
8. Regarding lottery, pension, predictions, and politics:
Lottery
Some people who win big money don't have the financial discipline that is required to manage it.
I hope this trucker has it!
---
Pension
---
Predictions
---
Politics
9. Regarding loyalty, operations, safety, and roads:
Loyalty
How well do these strategies work for you as a trucker?
---
Operations
---
Safety
---
Roads
10. Regarding rally, risk score, and women:
Rally
---
Risk score
---
Women
11. Regarding taxes, tolls, and towing:
Taxes
---
Tolls
---
Towing
If you've been the victim of predatory towing, please contact your state's Attorney General.
12. Regarding expertise and awards:
Expertise
OK, this video only shows what happened "after" the trucker backed his rig in the hole, not what he did to get there.
Still, we commend the trucker for a job well done!
---
Awards
Congratulations to all truckers who achieved safety milestones!
My husband Mike and I wish you — and all professional truck drivers — safe travels and lots of money saving opportunities on the road.
---
---
Return from TDMST Weekly Round-Up: 2021.03.13 to our TDMST Weekly Round-Up Trucking Commentary or our Truck Drivers Money Saving Tips home page.
---