No discussion on idling is complete without addressing how summer heat creates a hot truck.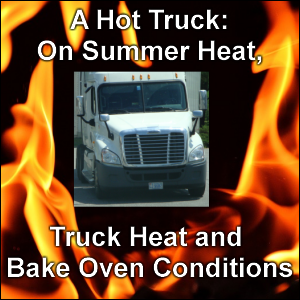 Every professional truck driver knows that with the sun beating down, there can be tremendous heat build up inside the truck.
There is so much truck heat at times that the inside of a large commercial motor vehicle feels like a bake oven.
We have experienced it for ourselves.
Sometimes it is all that a driver can do just to stay even remotely comfortable inside a hot truck with the sun blazing down during the long summer days.
The question is:
How Hot Can a Hot Truck Get?
Based on what we've been able to find, there is little formal research on the subject of measuring the temperature inside large trucks, that is, how hot a hot truck can get.
However, there is plenty of research on how hot cars get.
We cannot verify it, but we would take a calculated guess that what applies to cars also applies to trucks with little variation.
Some of the more heavily insulated trucks (like a Freightliner Cascadia) may heat up more slowly once the air conditioning is turned off when the truck is parked (assuming no idling alternatives).
But take it from us, even a well insulated truck can become a hot truck in the summer heat.
This subject is of intense interest to us because we hail from South Carolina, an area in the southeastern USA that has hot summers.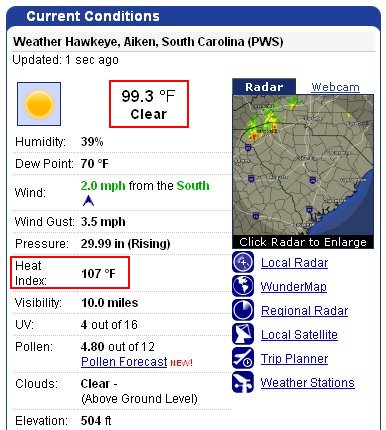 The screen capture from Wunderground.com at left — which was taken on June 16, 2010, and to which red boxes were added to draw attention to temperatures — shows that the temperature in Aiken, South Carolina was 99.3°F and the heat index was 107°F.
Ouch!
One article from Land Line Magazine quoted Mike Joyce, OOIDA legislative affairs director, as saying regarding truckers' ability to rest, "When it's 100 degrees outside, it's 120 degrees in their truck."(1)
It can get worse than that….
Mike found a post on TheTruckersReport.com about a hot truck, with two photographs of a digital thermometer taken inside a truck in Kingman, Arizona.
The first photo shows the temperature of the air coming out of the vent with the A/C on full at 125.5°F and the second with the A/C off and heater on full at 141.5°F.
Ouch!
We've never personally experienced a hot truck like that.
But we used to run Swift's freight lanes coast-to-coast in the lower USA and go to their headquarters in Phoenix, Arizona, often enough to have documented the effect of our hot truck on our thermoelectric coolers.
A May 3, 2011 article from Land Line Magazine quoted OOIDA Senior Member Danny Schnautz of Pasadena, TX, as saying,
"During the summer months we're forced to sit in this hotbox. Anything that moves toward the flexibility of letting the truck idle is a good thing."(2)

Hot box, sweat box, hot truck: they're all the same to a driver of a truck.
Document, Document, Document!
As we mentioned on our empowerment page, we recommend that if you struggle with a hot truck, you obtain a digital thermometer and start measuring the temperature inside your truck, at least at the start and end of your sleep break.
Document the temperatures (we suggest on our "Temperature vs. Rest Documentation" sheet which is available through our Free Downloads page) and send off your daily numbers to two folks: someone inside your company and a trusted family member or friend.
The reasons for this may become more evident the further down this page you read….
Here Come the Warnings…
It seems that every summer, one reads of how a pet or child died from being inside a hot car. We will address each one separately with a view toward building a case about drivers being in hot truck…
Dangerous Combination I: Pets, Vehicles and Summer Heat
Some truckers have pets who travel with them.
One argument that has been made involves idling (or climate control) on account of pets.
The following information concerns pets in a hot car (and by inference we believe would also apply to a hot truck):
According to Petcha.com:


Even on mildly warm days, when the temperature is 72 degrees or hotter outside, the temperature in a car can be more than 100 degrees, causing severe injury and death to animals, Knaan said.

Studies have shown that with the vehicle windows left slightly open, an outside temperature of 85 degrees can cause a temperature of 102 degrees inside a vehicle within 10 minutes, and 120 degrees within half an hour, according to the District Attorney's office.

AnimalLaw.info has a Table of State Laws that Protect Animals Left in Parked Vehicles.
In an article entitled "Charges likely for woman whose dog died from heat in car parked at RiverTown mall", we read,


The outside temperature was 78 degrees when the dog was freed from the car. The vehicle's interior temperature was estimated at around 100 degrees.(3)

In 2006, the Orlando Sentinel ran an article about how California made it a crime to leave dog in car, stating:


"People think they're going to just run inside a store for five minutes and the animal's going to be fine," Raymond said. "But the temperature in a car on an 80-degree day could easily escalate to 120 degrees in less than 20 minutes. At that temperature, animals can suffer brain damage and die from being locked in an enclosed vehicle."(4)
A pet can just as easily get overheated in a hot truck as in a hot car.
Dangerous Combination II: Children, Vehicles and Summer Heat
We have no idea how many truck drivers have infants or young children traveling with them.
For your convenience, we are providing some documentation about heat exposure in cars, some of which had an emphasis on infants and children.
You can rest assured that a child can just as easily get overheated or die in a hot truck as in a hot car.
CBS published an article entitled "How fast can a car heat up with your child inside? Faster than you think", which stated:


Studies show that when the temperature is 85 degrees outside, the temperature inside a parked car can rise to 90 degrees within 5 minutes, 100 degrees within 10 minutes, and 120 degrees within 30 minutes.

"What the significance of that is, if you leave a child in there unattended in the vehicle, once you hit 107 degrees body temperature, you're going to die because that destroys all the enzyme systems in the cells."

Weather.com has two resources on its site which address the dangers of heat in a car:

In "12 Things You Shouldn't Leave in the Car This Summer," they say, "With an outside temperature of just 90 degrees Fahrenheit, the interior temperature of your car can quickly reach close to 140 degrees in only 90 minutes, making it unsafe for living things." (weather.com/safety/auto/news/12-things-not-leave-car-20120323 – no longer online)
In Meteorologist Plays Role of Child Locked in Hot Car, they say, "From the driver's seat of his black car on an 88-degree day, Wycoff spent 30 minutes of the noon hour documenting the heat's effect on a person left in a hot vehicle. …
It took just 30 minutes for the temperature inside the car to close in on 125 degrees — enough for Wycoff, clearly sweating through his shirt on camera, to experience a rising heart rate and exhaustion. At least one of his cameras succumbed to the heat. …
'Excessive heat buildup in a closed vehicle can be dangerous, even on marginally warm days,' said weather.com senior meteorologist Jon Erdman.
According to Jan Null of Golden Gate Weather Services, who tracks these child vehicle heat deaths, one death on Nov. 20, 2012 in Tahlequah, Okla. occurred on a day with an air temperature of only 64 degrees."

Although specifically warning about leaving children in a hot car, the Canada Safety Council says,


On days that seem almost mild as well as the summer days of searing heat, the passenger compartment of a car can turn into an oven, with potentially deadly consequences.

According to the Canada Safety Council, in the confined space of a car, temperatures can climb so rapidly that they overwhelm a child's ability to regulate his or her internal temperature. In a closed environment, the body, especially a small body, can go into shock quickly, and circulation to vital organs can fail.

According to Dr. Oded Bar-Or, a pediatrician and director of the Children's Exercise and Nutrition Centre at McMaster University, extreme heat affects infants and small children more quickly and dramatically than adults. Because of their size, their core temperature can increase three to five times faster than that of an adult. Heatstroke, or hyperthermia, occurs when the body's core temperature reaches 40.5 C (105° F).

Dr. Bar-Or's unprecedented study was funded by General Motors of Canada. It found that within 20 minutes the air temperature in a previously air-conditioned small car exposed to the sun on a 35 C day (95° F) exceeded 50 C (122° F). Within 40 minutes the temperature soared to 65.5 C (150° F).

Leaving a window slightly open, or "cracked," did little to prevent the temperature from rising to a level that is dangerous for children, vulnerable adults and pets.

Then there is the abstract from the report entitled "Journal of the Louisiana State Medical Society: HEAT EXPOSURE IN AN ENCLOSED AUTOMOBILE":


During July 1995, an infant in southeast Louisiana died as a result of heat exposure in an enclosed automobile. To evaluate degree of heat exposure in a vehicle, we compared the temperature rise inside an enclosed, dark-colored vehicle with the temperature rise in a light-colored vehicle with the windows partly open. Within 20 minutes, readings in both cars exceeded 125°F and reached approximately 140°F in 40 minutes–a temperature rise of over 45°F. A person who is unable to remove himself from an enclosed vehicle is at risk for a life-threatening crisis if left alone in a sun-exposed car for even a relatively short period of time. …

injuryprevention.org/states/la/hotcars/hotcars.htm (no longer online)
Temperatures as They Affect a Hot Truck
With great respect to professional truck drivers from other countries around the globe, we are most familiar with the USA.
We also think (although we are not certain) that there is more climate data available within the USA than other countries.
For these reasons, we are taking the liberty of listing some links to temperature data for the USA with regard to a hot truck:
In order to show that there are recent temperature extremes, here are some within the 2006-2011 range:
City, State
Temperature Extreme
Date
Link
Fort Pierre, SD
(north of I-90)
120°F
July 15, 2006
(no longer online)
Lake Havasu City, AZ
(south of I-40)
128°F
July 5, 2007
link
Big Black River, ME
(nr. Saint Pamphile, PQ)
(far north of I-95)
-50°F
January 16, 2009
(no longer online)
Nowata, OK
(north of I-44)
-31°F
February 10, 2011
link
We don't have the answers, but we have to ask:
How hot will a hot truck get inside without air conditioning when it is 128°F outside? Even in the shade?
---
OK, we've covered what happens pets and children in a hot car.
(Most likely the same thing would happen in a hot truck.)
What about what happens to full grown adults?
Dangerous Combination III: Adults, Vehicles and Summer Heat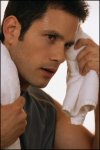 We found it difficult to find information about the effects of a hot car or hot truck heat on adults.
But we found one example.
You may recall the case in which a truck driver smuggled illegal aliens in the back of his truck and many of them died.
Here are some interesting quotes about the "hot truck" for your consideration:
Smuggler Gets Life For Immigrant Deaths


A truck driver was sentenced to life in prison Thursday, avoiding a death sentence for his role in the United States' deadliest human smuggling attempt in which 19 illegal immigrants died from the heat inside a sweltering tractor-trailer. …

Nineteen of the immigrants died from dehydration, overheating and suffocation during the smuggling attempt from South Texas to Houston. …

Truck Driver Charged After 18 Illegal Immigrants Die(5)


… Some of the victims were said to have torn off their clothes because of the unbearable heat. …

Ratcliff said four of them were hospitalized in Victoria with heat-related injuries, while another 40 were staying at a temporary shelter in the city. …

The National Weather Service said it was 74 degrees with 93 percent humidity at 2 a.m. Wednesday. The high Tuesday was 91, one degree shy of a record for the date.

Deaths of Immigrants Uncover Makeshift World of Smuggling


… According to her indictment, Ms. Chávez packed far too many immigrants — at least 77 — into a tractor-trailer that had neither water nor ventilation, for a 325-mile journey in scorching desert heat. Some immigrants who survived the journey had body temperatures of 105 degrees when they were discovered. …

nytimes.com/2003/06/29/us/deaths-of-immigrants-uncover-makeshift-world-of-smuggling/?_r=0 (no longer online)
So if the temperature outside the truck was a high of 91 that day and the conditions caused their body temperature to rise to 105, what was the temperature inside the hot truck?
We don't know.
We realize that the circumstances are not the same between these folks in the back of a hot truck and a truck driver in a hot cab.
But we do know from the articles that being enclosed in a hot environment long enough can lead to health problems and even death.
Let's take a look at that a little more closely….
The Dangers of Humans Being Too Hot
No matter what the situation (hot truck or not), can adult humans experience brain damage or other problems as a result of being too hot?
A Wikipedia article on Thermoregulation lists under Human temperature variation effects the effects of being hot at the following body temperatures (note: this is not air temperature but body temperature):
37°C (99°F) – Normal body temperature (which varies between about 36.12-37.5°C (97-100°F))
38°C (100°F) – Sweating, feeling very uncomfortable, slightly hungry.
39°C (102°F) – Severe sweating, flushed and very red. Fast heart rate and breathlessness. There may be exhaustion accompanying this. Children and people with epilepsy may be very likely to get convulsions at this point.
40°C (104°F) – Fainting, dehydration, weakness, vomiting, headache and dizziness may occur as well as profuse sweating. Starts to be life- threatening.
41°C (106°F) – (Medical emergency) – Fainting, vomiting, severe headache, dizziness, confusion, hallucinations, delirium and drowsiness can occur. There may also be palpitations and breathlessness.
42°C (108°F) – Subject may turn pale or remain flushed and red. They may become comatose, be in severe delirium, vomiting, and convulsions can occur. Blood pressure may be high or low and heart rate will be very fast.
43°C (109°F) – Normally death, or there may be serious brain damage, continuous convulsions and shock. Cardio-respiratory collapse will likely occur.
44°C (111°F) or more – Almost certainly death will occur; however, patients have been known to survive up to 46.5°C (115.7°F).
We conclude, therefore, that being forced to stay inside a hot truck can result in heat-related illness.
While we plan to cover heat illness separately, for now, let us explore the recommended solution for heat illness from various respected resources.
Recommended Solutions Regarding Extreme Heat
The Centers for Disease Control and Prevention have on their website under Natural Disasters and Severe Weather a page with Frequently Asked Questions (FAQ) About Extreme Heat. They have used the words "air conditioning" numerous times.
cdc.gov/disasters/extremeheat/faq/ (no longer online)
The Missouri Department of Health and Senior Services published a page on Additional Information on Heat-Related Illness and Prevention. Under the "What to Do" section, one instruction was to "Rest in a cool, preferably air-conditioned, area."
Another resource is from the U.S. Occupational Safety and Health Administration, which has produced a Quick Card (.pdf) entitled Protecting Workers from Heat Stress. It addresses working in hot environments, not having to rest in one.
The Canadian Centre for Occupational Health and Safety has put together some information on "Hot Environments – Health Effects."
What Effect Can the Extreme Heat Have?
Although this sequence of events may not affect every professional truck driver who cannot stay comfortable in his or her hot truck, we think that it may have a bigger effect than anyone currently knows.
We have already described how drivers can sleep better by adjusting their sleeping environment, such as through controlling the temperature.

WebMD.com addresses the issue of sleeping temperature in its page entitled Can't Sleep? Adjust the Temperature.
In an article about Temperature and Sleep, the author stated, "Sleeping in temperatures above 75 degrees can be difficult for anyone, no matter how hardened to the heat one may be."
sleeplikethedead.com/temperature/ (no longer online)

The Wikipedia page on sleep deprivation states, "Sleep deprivation can adversely affect the brain and cognitive function."
Wikipedia's page on Cognitive Dysfunction says that it is "defined as unusually poor mental function, associated with confusion, forgetfulness and difficulty concentrating. A number of medical or psychiatric conditions and treatments can cause such symptoms, including … sleep disorders (including disrupted sleep)."
A 2006 study entitled "Hypersomnolence and Accidents in Truck Drivers: A Cross-Sectional Study" was published by Informa Health Care, the summary of which contains this opening (emphasis added):


Truck drivers are more likely to suffer severe injury and death due to certain truck driving characteristics. Identifying and preventing factors associated with accidents in this population is important to minimize damage and improve road safety. Excessive daytime sleepiness is a major public health problem, leading to impaired cognitive function, reduced alertness, and increased risk of motor vehicle crashes.
Is There Any Truck-Specific Temperature Research Available?
The National Renewable Energy Laboratory (NREL) is working with truckers to reduce fuel usage: "As part of the U.S. Department of Energy's (DOE) Advanced Vehicle Testing Activity (AVTA), the National Renewable Energy Laboratory's (NREL) CoolCab project tested and modeled the effects of several thermal-load reduction strategies applied to long-haul truck cabs."They recognize that "truckers have good reason for idling their trucks – driver comfort." Furthermore, they state:


"Truckers typically idle trucks while at mandated rest period to get either air conditioning or heat," NREL Senior Project Leader Ken Proc said. "NREL is looking for ways to reduce the thermal load in trucks, possibly enabling a battery or other energy storage solution to be used for comfort control rather than running the truck engine the whole time. Reducing the amount of truck engine idling can significantly reduce fuel consumption, save money, and also reduce tailpipe emissions."

A similar page entitled "NREL Works with Truckers to Reduce Fuel Use" appears on the Electronic Component News website. If you scroll about half-way down the page, you will see "Infrared camera imaging shows the heat loss in truck cabs and helps NREL researchers identify short term solutions like insulation and window screening that will help reduce idling time and save fuel."
nrel.gov/news/features/2009/1602/ (no longer online)
Workplace Temperature
In some offices, there are "thermostat wars" where the men want the office cooler and the women want the office warmer.
(We wonder if women often want the office warmer because they don't usually wear the same kind of heavy suits that men do, and often wear open-toed shoes as opposed to men wearing socks and closed shoes.)
Thermostat wars have no bearing on the "solo office" setting of a professional truck driver.
He/she can set the temperature in his/her truck at will (assuming that is possible).
However, this idea spawned a question about workplace temperature requirements as it affects being in a hot truck.
At one time, The Society for Human Resource Management published a page answering this question about OSHA Standards:
Are we required to keep the workplace a certain temperature?

The answer:

Not necessarily. There is no requirement for employers to maintain a certain workplace temperature under federal OSHA regulations; however, OSHA does recommend employers maintain workplace temperatures in the range of 68-76 degrees Fahrenheit and humidity control in the range of 20 to 60 percent.

According to a 2003 OSHA interpretation letter "office temperature and humidity conditions are generally a matter of human comfort rather than hazards that could cause death or serious physical harm. OSHA cannot cite the General Duty Clause for personal discomfort."(6)
Any Temperature Over 95°F

Our concern about drivers being forced to stay in a hot truck in the summer led us to all kinds of interesting resources.
The National Safety Council has published an answer to the question,
"What causes workers to commit mental errors when the ambient temperature is higher than 95° F?" in a document entitled "Effects of heat stress on workers" (link).
We encourage you to read the entire article, only selected parts of which we are quoting here:
… Private research and government tests have consistently proven that an ambient temperature exceeding a person's normal skin temperature (90-95° F at the surface) causes mental fatigue and physical exhaustion.

… any environmental condition or circumstance that tips the natural balance between a warm body and a cooler surrounding will quickly and dramatically stress a body's ability to function at peak performance.

A NASA study concluded that when the temperature is 95° F for an extended period, people can make 60 mistakes per hour – without realizing it. … Similarly, any environment or circumstance that exposes the body to heat sources higher than 90-95° F will quickly overwhelm a person physically and mentally. … These two factors are responsible for a cascading series of events that cause a person to be both physically uncomfortable and fatigued, along with diminished thinking skills.
Based on information from this NSC article, we infer that the temperature in one's truck has an impact on a driver's body (even while resting).
So, being in a hot truck obviously has an adverse impact on a professional driver.
Although one may exist, we have never found a study showing the toll that sleeping in a hot truck, cold truck or truck without adequate movement of air takes on truck drivers and their ability to make good decisions while operating their equipment.
The FMCSA's Hours of Service page — and those linked — do not address the quality of sleep that one receives during his or her mandatory rest break in the sleeper berth, even though OSHA's link to this page states, "The new regulations provide an increased opportunity for drivers to obtain necessary rest and restorative sleep."
What good does it do for drivers to have more time to rest if they have to spend it in a hot truck?
Connecting Comfort With Performance for Truckers
It is well known that the trucking industry has come under fire for accidents due to what they think is an excessive number of fatigued truck drivers.
(Of course, that's not true. The Owner-Operators Independent Drivers Association (OOIDA) put this to rest in October 2010, saying that, "… fatigued driving was coded as a factor in only 1.4 percent of fatal large truck crashes ….")(7)
Yes, but what about non-fatal crashes due to fatigue?
They're still expensive!
For drivers of trucks without auxiliary power units (APUs) or other climate control devices, idling may be viewed as a necessity for comfort.
However, among the best ways to keep a driver tired is to force him or her to try to sleep in a hot truck or cold truck.
(If you don't understand this, try sleeping in your house without air conditioning in the summer or without heat in the winter.)
While there is a cost to idle, there is also a cost not to idle (or provide an idling alternative) for comfort.
We can calculate the former, but perhaps not the latter.
Run Even If You're Tired?
The FMCSA's website addresses driver fatigue, one point of which is this (emphasis added):
"A recent study conducted on the sleeping and driving habits of CMV drivers concluded that an unhealthy lifestyle, long working hours, and sleeping problems were the main causes of drivers falling asleep while driving."
Don't you think that sleeping problems can arise from being forced to sleep in a hot truck?
In his article "Motor Carriers Responsible for Truck Driver Fatigue," Allen Smith addressed the Catch-22 that truck drivers are in regarding taking or not taking a load in spite of being tired. Pay attention to this because in the end, driver, you are responsible for how you operate your truck.
askthetrucker.com/motor-carriers-responsible-for-truck-driver-fatigue/ (no longer online)
Update: Vicki asked a question about this topic — being forced to rest/sleep in a hot truck and not being able to get good sleep — at the 2012 Truck Driver Social Media Convention, during the Open Panel on Saturday, October 27, 2012. Attorney Paul Taylor gave the best answer in our opinion.
Lawsuit Dead Ahead
Do anti-idling laws and/or the failure of some trucking companies to equip their OTR trucks with idling alternatives contribute to professional drivers' interrupted sleep because of less-than-optimum sleep conditions, further leading to impaired cognitive function and increased accidents?
Will anti-idling laws lead to cases among truckers of heat stress in the summer or frostbitten extremities in the winter?
"ohiomohawk" asked on 06-07-2008:
So what if they start finding truckers suffering from heat strokes and other heat related illnesses due to exposure to extreme temperatures?

Could a company face a lawsuit if a trucker suffers a heat stroke?
classadrivers.com/forum/new-truck-drivers-get-help-here/34195-its-getting-hotter-hows-your-idling/ (no longer online)
We predict that the time will come when it can be clearly demonstrated that a driver who was forced to "rest" in an uncomfortable, non-idling truck (a hot truck) without any climate control alternative will be involved in a fatal accident.
The temperature inside the truck at the beginning and end of his/her rest period will have been clearly documented ahead of time.
We further predict that the time will come when the surviving family members of those involved in the accident will sue either the jurisdiction where the anti-idle law was in place or the trucking company or both for wrongful death (or something similar).
We would not put it beyond a capable attorney to argue that driving a truck while having to "rest" under such hot truck conditions (especially if the driver was under contract for the trucking company) was cruel and inhumane — or worse.
---

Money saving tip: Before you sign on to work with any trucking company, find out what climate control options they have in their trucks. Will you be forced to rest in a hot truck in the summer?
If they do not have an idling alternative (preferably a diesel-powered APU), you might want to think twice about working for them. Why would you want to work for a company that places its profits above its people?
Consider the impact on your body of working and resting in a hot truck without idling alternatives in whatever circumstances you find yourself, whether in the middle of a bone-chilling winter or a roaring hot summer.
What happens to you not only affects you but your family and the motoring public around you.
Heat can also affect the quality of your sleep. You may have "rested" for the required number of hours but still feel tired.
You are not a guinea pig. You are a professional.
The only choice we see to valuing yourself as a person and continuing to work for a company that restricts idling and refuses to install idling alternatives is to offer the company a proposition.
---
Return from A Hot Truck: On Summer Heat, Truck Heat and Bake Oven Conditions to our Truck Operations page or our Truck Drivers Money Saving Tips home page.
---
Reference:
1.  www.landlinemag.com/Story.aspx?StoryID=19402 (no longer online)
2.  www.landlinemag.com/Story.aspx?StoryID=20625 (no longer online)
3. www.mlive.com/news/grand-rapids/index.ssf/2009/06/charges_likely_for_woman_whose/ (no longer online)
4. blogs.orlandosentinel.com/features_lifestyle_animal/2006/09/california_make/ (no longer online)
5. www.click2houston.com/news/2205490/detail/ (no longer online)
6. www.shrm.org/TemplatesTools/hrqa/Pages/workplacetemperature.aspx (no longer online)
7.  www.landlinemag.com/Story.aspx?StoryID=19786 (no longer online)