This is the TDMST Weekly Round-Up of news affecting professional truck drivers, written by Vicki Simons for the week ending May 12, 2018.
We welcome your comments, thoughts and feedback on the items of your choice below.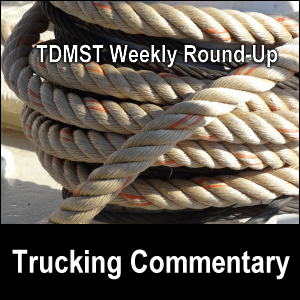 1. Whom would you rather protect when it comes to truckers' wages:
– truckers or
– trucking companies?
I hope you said truckers!
According to a May 9, 2018, article:
"Though a few hurdles remain in its path, a provision on the table in Congress aims to protect trucking companies, including small carriers with only a few trucks, from litigation that could force them into costly settlements with drivers. …"
What is the "litigation" and what are the "costly settlements" being referred to?
Farther down in the article, we read:
"Allen Smith, a former trucker and current blogger and social media activist, has loudly opposed the provision. Just this week he posted a lengthy essay on Facebook decrying the Denham Amendment as 'wage theft' against truckers, arguing that an upswell of state laws like California's would allow 'drivers [to] demand being paid for all time on duty not driving.'"
Let's look at another article to get a feel for how the Denham Amendment would forever change the landscape not only for trucker wages, but also for the U.S. federal government to tell the 50 states what they can and cannot do.
A January 19, 2017, article opened this way:
"Both the American Trucking Associations and the Western States Trucking Association have expressed interest in federal legislation to remove decision-making power from states when it comes to laws for trucker breaks and pay."(a)
This is a clear encroachment on the Tenth Amendment to the U.S. Constitution, which reads: "The powers not delegated to the United States by the Constitution, nor prohibited by it to the states, are reserved to the states respectively, or to the people."
You may read more about the purpose of Amendment X here.
On April 26th the U.S. House of Representatives voted on adding the Denham Amendment to the 2018 FAA Reauthorization Bill.
You may see how your U.S. Representative voted in Roll Call 159.
– AYES 222
– voted against truckers
– voted with ATA and for Denham Amendment
– NOES 193
– voted to support truckers
– voted against ATA and against Denham Amendment
Now, the bill must go before the U.S. Senate.
We are urging our readers to contact their two U.S. Senators and urge them to vote against the Denham/Fischer Amendments.
2. So that you will be prepared, there are a number of law enforcement actions being planned:
– "The Commercial Vehicle Safety Alliance (CVSA) announced the dates for this year's Operation Safe Driver Week … [which is] slated for July 15 – 21, 2018", according to a May 9, 2018, article.
– According to a May 9, 2018, article, "The Michigan State Police (MSP) have announced that there will be an increased police presence along I-94 this spring and summer."
– "Operation Big Rig is putting a watchful eye on tractor trailers in an attempt to combat human smuggling in Laredo, Texas," according to a May 8, 2018, article.
3. Wouldn't it be nice to know more about how to prepare for an inspection?
Thankfully, several of those are coming up, too.
Even though these training sessions and written documents may be geared for owner-operators, I think that it would be tremendous for trucking companies to learn this info and pass it along to their company drivers!
– The CVSA "will host two training sessions this summer open to trucking industry stakeholders to teach about the driver and vehicle requirements for roadside inspections," according to a May 8, 2018, article.
– A May 8, 2018, post that leads to teaching about what is needed in advance of roadside inspections with electronic logging devices, contains a form where one may register for more info.
– Another May 8, 2018, post that leads to teaching about preparing for an electronic HOS audit also requires registration.
4. A short and scary video embedded in a May 9, 2018, article shows the reason why truckers who are hauling trailers and loads need to slow down when negotiating a turn.
5. A number of trucking companies have been raising their driver pay. According to a May 9, 2018, article,
"K&B Transportation's new pay package goes into effect on 5/7/18. This pay increase raises starting pay to 50 CPM for all hires and guarantees $1250 per week minimum. With this pay increase pay now caps at 54 CPM for senior drivers with a $1350 weekly guarantee!"
I would like to hear from truckers who are working for any trucking company which has a weekly pay guarantee.
I want to know if there are qualifications which must be met in order to be paid that minimum payout.
For example, does a driver have to
– accept a certain minimum number of dispatches or
– run a certain minimum number of miles per week or
– meet some other criteria
in order to be paid the weekly guaranteed amount?
If so, what are those minimums?
If you have experienced this, please comment below with some details. Thanks!
6. A May 9, 2018, article says that the state of Virginia is considering tolls in an upcoming study — but only for trucks.(b)
Part of the bill signed into law that covers this study also includes a "provision that directs the Transportation Board to address the truck parking problem along the I-81 corridor."
Read the rest of the article for other evaluations that will take place.
7. FDRsafety has published an article entitled "Fall Protection: Opinions, Obstacles, And A Fix".
I anticipate that this info is good for all truckers, but especially those who work with flatbeds and who get up on their trailers and/or loads.
8. If you find yourself getting sleepy behind the wheel, the best thing to do is to find a safe and legal place to park as quickly as possible.
One trucker fell asleep while driving and ended up completely flipping his rig upside down!(c)
Ouch!
9. Congratulations to the 2018 Citizen Drivers announced by TravelCenters of America on May 9, 2018.
My husband Mike and I wish you — and all professional truck drivers — safe travels and lots of money saving opportunities on the road.
Furthermore, we wish a happy Mother's Day to all professional truck drivers who are moms!
---
---
Return from TDMST Weekly Round-Up: 2018.05.12 to our TDMST Weekly Round-Up Trucking Commentary or our Truck Drivers Money Saving Tips home page.
---
Reference
a. truckernews.com/trucking-associations-look-to-pursue-denham-amendment/ (no longer online)
b. www.landlinemag.com/Story.aspx?StoryID=72275#.WvPdQnYh2M8 (no longer online)
c. livetrucking.com/truck-driver-falls-asleep-flips-rig-completely-upside-down/ (no longer online)