This is the TDMST Weekly Round-Up of news affecting professional truck drivers, written by Vicki Simons for the week ending October 13, 2018.
We welcome your comments, thoughts and feedback on the items of your choice below.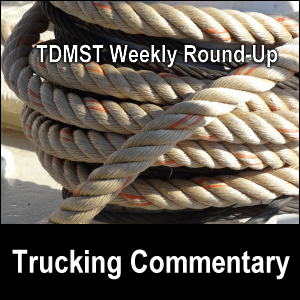 1. In less than a month, two hurricanes — Florence and Michael — have brought massive amounts of rain to the southeastern USA. (Florence made landfall on September 14 and Michael made landfall on October 10.)
Regardless of the federal Hours of Service regulations being suspended in major weather events like Michael (link, link), please remember that tractor trailer combinations are not immune to being swept away in floods.
Also, if you are in the market for a used tractor or trailer, you need to do your due diligence regarding whether or not the equipment was in a flood.
Previously flooded equipment may have a lower lifespan than other types of equipment.
2. According to an October 8, 2018, article, J.B. Hunt "agreed to pay $15 million to settle a class-action lawsuit with certain intermodal and regional drivers employed in California between November 2003 and December 2018."
"[As] many as 11,000 drivers" could be plaintiffs and receive part of the settlement.
What is interesting about this case is that it involves California's meal and rest break laws.
According to an October 5, 2018, article, "The FMCSA is seeking comment on how California's rest and meal break rules conflict with current transportation industry regulations based on an ATA petition."
As a reminder, the Tenth Amendment to the U.S. Constitution states: "The powers not delegated to the United States by the Constitution, nor prohibited by it to the states, are reserved to the states respectively, or to the people."
So, every state is free to make its own laws and truckers would do well to remind the FMCSA of that fact!
"All comments must be received on or before Oct. 29. Submitted comments must be identified by Federal Docket Management System (FDMS) Number FMCSA-2018-0304".
You may see more here.
3. An October 4, 2018, article stated, "The U.S. DOT on Thursday released updated guidance on automated vehicles, including a loosened definition of who — or what — is considered a vehicle's driver."
The guidance is entitled, "Preparing for the Future of Transportation: Automated Vehicles 3.0 (AV 3.0)".
Another article stated that the DOT's "autonomous policy… no longer assumes [that a] truck driver is human".
An October 5, 2018, article states that the USDOT "has established a clear and consistent Federal approach to shaping policy for automated vehicles" based on a number of principles.
An October 4, 2018, article on Bloomberg.com stated,
"Long-haul trucking, with its hours of cruising in relatively simple highway environments, is is seen as a key opportunity to deploy automated driving technologies. Major truck manufacturers such as Daimler AG and Paccar Inc. are working on automated driving systems for commercial trucks."
Land Line Magazine published on October 9, 2018, an article entitled, "What does USDOT's Automated Vehicles 3.0 mean for trucking?"(a)
They stated:
Perhaps the most significant change in the commercial motor vehicle industries is the following statement within the Automated Vehicles 3.0 document:

"In general, subject to the development and deployment of safe (automated) technologies, the Department's policy is that going forward FMCSA regulations will no longer assume that the CMV driver is always a human or that a human is necessarily present onboard a commercial vehicle during its operation."
This October 4, 2018, article is the only one that I've seen with an actual link to the Automated Vehicles 3.0 document and stated, "The Department of Transportation has expanded its voluntary guidance for the development of what it calls 'automated vehicles.'"
One commentary addressed "Are Autonomous Trucks Job Killers?"
Deborah Lockridge wrote a bunch of questions about autonomous trucks here.
An October 8, 2018, article stated that "the department will accept for 60 days comments on the new report."
Comments can be made by searching Docket No. DOT-OST-2018-0149 at www.regulations.gov.
4. Yes, evidently when a road is constructed, it can have a "subsequent reduction in skid resistance" that leads to wrecks.
According to an October 5, 2018, article, "two wrecks — involving multiple trucks — occurred in the westbound lanes of I-90 near Cle Elum, Washington."
The road will be narrowed to one lane in order to "grind the surface to increase friction and add traction".
I wonder if a lawsuit will be filed by the truckers, their companies or their insurance companies against the Washington State DOT — or the road construction company — for this situation.
Furthermore, I wonder what would happen if a trucker was on the verge of receiving a safety bonus and wound up in a wreck due to an unsuitable road surface. Hmm…
5. Have you ever wondered which 10 states are the toughest when it comes to "violation intensity"?
Wonder no more: See this October 5, 2018, article.
6. An October 5, 2018, article opened with this:
"The Supreme Court on Wednesday heard oral arguments in a case that could have ramifications on the contracts made between fleets and owner-operators and lawsuits that arise from those contracts."
Furthermore, the article states, "The key question before the nation's high court is whether owner-operators are exempt from the Federal Arbitration Act of 1926. The act protects arbitration clauses within employer-employee contracts."
7. As of the time that I checked, there had been 373 votes cast in Overdrive Online's poll asking, "How much money do you currently have saved for retirement?"
For more information about retirement, you may wish to read our articles:
– Planning to Retire from Trucking One Day, Trucker?
– The Future of Social Security: Considerations for Trucker Retirement
– Forced to Retire from Trucking and Truck Driving
– Second Income for Truckers? What to Look For
8. Congratulations to Anne Goodnough, who "has been driving for 28 years and she was recently recognized by her fleet and the National Private Truck Council with a major award", according to an October 9, 2018, article.
We feel especially proud because Anne is from our home state of South Carolina, and is the first woman to win the All-Star award.
My husband Mike and I wish you — and all professional truck drivers — safe travels and lots of money saving opportunities on the road.
---
---
Return from TDMST Weekly Round-Up: 2018.10.13 to our TDMST Weekly Round-Up Trucking Commentary or our Truck Drivers Money Saving Tips home page.
---
Reference:
a. www.landlinemag.com/Story.aspx?StoryID=73101 (no longer online)