TDMST Weekly Round-Up 2022.07.16 is the trucking commentary on news affecting professional truck drivers, written by Vicki Simons for the week ending July 16, 2022.
We welcome your comments, thoughts and feedback on the items of your choice below.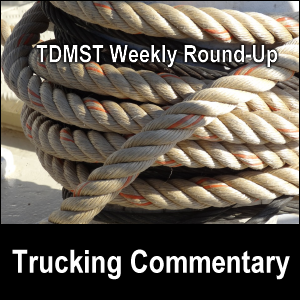 1. Regarding AB5, limiter, and regulations:
AB5
Recently, I commented on a truckers' Facebook group — based upon my time as a company driver in the trucking industry and since then — that I saw 3 potential avenues for California truckers regarding AB5.
I received feedback that there was a 4th option: for truckers to get their own authority.
I wonder how many of the estimated 70,000 truckers in California who will be adversely affected by AB5 will take that 4th option route of becoming their own trucking company.
If you have thoughts on this, please comment through the form below.
Thanks.
---
Limiter
From the first article linked below:
The comment period for the advance notice of supplemental proposed rulemaking ends July 18.
The information in our article — Truck Speed: Impact of Maximum Speed on Travel Time, Driver Pay — may inspire you to write your own comments.
---
Regulations
2. Regarding inflation, economy, purchase, pay, and tolls:
Inflation
The price of some goods and services has increased far more than the 9.1% inflation rate cited below.
---
Economy
---
Purchase
---
Pay
The citation of the article below does not constitute an endorsement of the trucking company.
---
Tolls
What are the pros and cons of tolling systems going "cashless"?
3. Regarding fuel, fuel economy, and oil:
Fuel
For context, here is the table showing Weekly U.S. No 2 Diesel Retail Prices (Dollars per Gallon) 1994 – 2022.
The earliest data available shows for the week ending March 21, 1994, the price of a gallon of No. 2 diesel was $1.106.
Entering 1.106 and March 1994 into the inflation calculator, one finds that as of June 2022 (latest date available as of this writing), the buying power is $2.23.
So, for the week ending July 11, 2022, with the price of No. 2 diesel set at $5.568, that is a 149.68% increase in the cost above standard rate of inflation!
---
Fuel economy
---
Oil
4. Regarding accidents, drugs, fatalities, and Tesla:
Accidents
Please learn from these articles how the accidents described could have been avoided.
---
Drugs
Never, ever haul illegal drugs, no matter how big of an incentive you've been offered.
---
Fatalities
Our deepest sympathies go to the families of those who died.
---
Tesla
Just throwing this question out there for what it's worth:
How is the technology behind Tesla cars different from that being used in autonomous, driverless, or self-driving trucks?
5. Regarding ELDs, robots, and theft:
ELDs
---
Robots
According to the article:
Additionally, 57% of global manufacturers said the robots they are deploying are not displacing human workers but rather working alongside them to allow human laborers to perform more skilled, less-repetitive work.
As far as I'm concerned — and in spite of what the Fair Labor Standards Act says — I believe that driving a commercial motor vehicle is a skill!
---
Theft
How can you protect yourself and your rig from theft while you're on the road?
6. Regarding employment and DOT physical:
Employment
On Friday, July 15, 2022, I attended a business meeting in our home county in South Carolina.
I heard a restaurant owner say that he was having a very hard time finding people who want to work.
So, one way that he was going to address the situation was by installing a kiosk in his restaurant to let customers place orders themselves.
Trucking is a different kind of "job" because for those who are on the road for days, weeks, or months at a time, it is a lifestyle.
When Mike and I were in training with our first trucking company, I was with a trainer who often drove with the "last chance trainer" for the company.
The trainee whom the "last chance trainer" had with him at that time did not count on the lifestyle that would be required of him as a professional truck driver driving for an irregular route carrier.
He hadn't done his due diligence before going through truck driver training school.
I am not certain what happened, but I am confident that the trainee did not hire on with the company.
Those planning to enter the trucking industry need to be aware of the things that we have on our website here:
Become a Truck Driver: Understand the Job and Requirements.
Meanwhile, here are some of the most recent articles on this topic of employment.
---
DOT physical
Quote from article:
On its website, the Association offers a guide to help drivers know what to expect – and what to avoid – when it comes to their physical. This includes information on the ins and outs of the appointment itself, what types of documentation you need to bring, when to seek a second opinion, and more.
Unfortunately, the page linked to is non-existent.
7. Regarding inspections, law enforcement, and risk:
Inspections
---
Law enforcement
---
Risk
This article indicates that you need to hone your skills of attentiveness and defensive driving!
8. Regarding driver manager, broker, and ports:
Driver manager
Please refer to the page on our site:
Your Driver Manager or Fleet Manager is the Key to Your Paycheck
---
Broker
Need a load board with a proven record?
A Load Board Overcomes the 'No Freight' Layover Problem
---
Ports
Problems at California ports are probably going to be greatly exacerbated by the AB5 situation.
9. Regarding parking and ice:
Parking
---
Ice
I asked this question back in the winter of 2014-2015:
What's the Answer to This Seemingly Impossible Winter Trucking Problem?
I proposed a "No Snow Roof" solution for it on April 13, 2018, too, but I've never seen anyone try to implement it.
I wonder who will be the first manufacturer to try this.
10. Regarding autonomous vehicles and electric vehicles:
Autonomous vehicles
I totally oppose the use of autonomous, driverless, and self-driving commercial motor vehicles on the roads with the motoring public, but list the articles below as a courtesy to help you stay current with the topic.
While I fully understand the "driver quality of life" issue that truckers are facing, please be aware that the infographic in the first article linked just below appears to put a very shiny appearance on using automation for trucking for health reasons.
The author appears to show no negatives associated with autonomous trucking whatsoever when it comes to a trucker's health.
Is this possible? Please comment through the form below.
---
Electric vehicles
Please be aware of:
the limitations associated with the range of miles that an electric vehicle can run;
what will happen if an electric vehicle is stuck for a long period of time in congestion, construction, or an accident;
the availability of charging stations; and
just how "green" an electric vehicle is compared to those that run on other fuel systems.
I shudder to think of what's going to happen to drivers in electric vehicles that are stuck in very cold or frozen conditions.
Will they freeze to death because their vehicle ran out of charge and they had no way to keep the heat on?
Will these electric vehicle literally conk out on the roads and be unable to move without having a mobile recharging device come and help them?
Just saying.
Meanwhile, here are some of the most recent articles on this topic.
11. Regarding atmospheric gas and emissions:
Please also reference the section immediately above.
Atmospheric gas
---
Emissions
12. Regarding tricks of the trade, recognition, and awards:
Tricks of the Trade
We appreciate seeing expertise in action in the trucking industry!
---
Recognition
Thank you to those who help out their fellow human beings in a time of need.
---
Awards
Congratulations to each and every trucker who was honored and awarded!
My husband Mike and I wish you — and all professional truck drivers — safe travels and lots of money saving opportunities on the road.
---
---


Return from TDMST Weekly Round-Up: 2022.07.16 to our TDMST Weekly Round-Up Trucking Commentary or our Truck Drivers Money Saving Tips home page.
---