This is the TDMST Weekly Round-Up of news affecting professional truck drivers, written by Vicki Simons for the week ending November 16, 2019.
We welcome your comments, thoughts and feedback on the items of your choice below.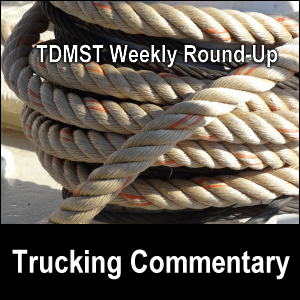 1. Regarding California's labor law that threatens owner-operators:
According to a November 13, 2019, article:
"The California Trucking Association (CTA) has filed a federal lawsuit in California to try to stop an impending law that they say threatens the livelihood of tens of thousands of truck drivers."
"The lawsuit argues that AB 5 infringes on interstate commerce and threatens the ability of approximately 70,000 independent truckers within the state to earn a living."
"AB 5, which goes into effect on January 1, 2020, would force many companies that employ independent contractors to reclassify these workers as employees who are entitled to minimum wage and workers compensation."
More about the California independent-contractor law was written here and here, here.
In response to a post about this within a trucking group on Facebook, I wrote:
Based on their highest-in-the-nation state debt (link below), California had better be careful what they do.

It is my understanding that many people are moving out of California.

Given fewer and fewer people to support the debt load, there may come a time when the state will have to do something drastic.

IMHO, restricting truckers through this state law is a very poor move, akin to a somewhat accelerated asphyxiation.
2. Regarding trucking technology:
According to a November 13, 2019, article, there are 3 ways in which larger shippers have begun to incorporate tracking technologies:
one of which is GPS technology; and
none of which is ELD or telematics data.
---
A white paper covers "4 Ways Telematics Can Improve Fleet Maintenance", which may be helpful to owner-operators.
---
A November 8, 2019, article says that artificial intelligence technology is "reducing unsafe driving habits for fleets" that includes such things as "instant risk detection" and "driving safety improvements".
---
We also learned that "Walmart Canada and DLT Labs have launched a blockchain-based freight and payment network that tracks deliveries, verifies transactions and automates payments and reconciliation among Walmart Canada and the carriers that delivery inventory to its retail stores."
More about Walmart Canada's blockchain technology was written here, while another article described what blockchain means for lawyers, e-commerce and financial services.
---
Regarding dash cams and video-based safety, we read that more and more truckers are hearing "stories of their colleagues being exonerated when blamed for an incident that was not their fault" and seeing their "CDLs saved by video that showed they didn't do anything wrong".
---
Digital technology is being employed to customize service for roadside assistance.
---
Verizon Connect's Coach app "lets drivers track their progress towards individual safety goals and notes areas in need of improvement", supposedly giving "instant feedback".
---
How do you feel about these aspects of trucking technology?
Are they helping you save money, save time, save your CDL, or save your job?
Please comment below.
3. Regarding CVSA Brake Safety Week numbers:
Some 34,320 vehicles were inspected during this year's Brake Safety Week,
with 4,626 "vehicles [being] placed out of service for critical brake-related violations" (13.5%);
OOS violations being "down from more than 5,000 in last year's event"; and
"60 jurisdictions in Canada and the U.S. [participating]" in the event.
according to articles here, here, here, here, here, here and here.
To avoid having brake-related violations at any time, make sure that your truck's brakes stay properly adjusted.
If you are a company driver, you can ask to have your tractor and trailer brakes inspected — and if needed, adjusted — every time you go through a company terminal, especially since you may have a different trailer each time.
If you suspect that your rig's brakes are not working as they should, notify your trucking company immediately.
Depending on how badly out of adjustment the brakes are, your company may instruct you to go to the nearest truck stop shop to have them adjusted there — or another action may be initiated to prevent a brake-related accident on the road.
While some owner-operator truckers may wish to adjust their own truck's brakes, please be aware that certification is required.
For more guidance on this, see:
Remember that during inspections, other parts of trucks may be inspected, including rubber hoses.
4. Regarding fuel economy:
A November 11, 2019, article about How Tires and Wheels Can Help Save Fuel opened with this statement: "Everything at the end of an axle has an impact on fuel economy."
---
A November 8, 2019, article described how "Hirschbach Motor Lines fleet… is now realizing a 10.5% improvement in mpg compared to its baseline" with some aerodynamic aids and re-evaluation of APUs based on driver use.
---
You may also read more about:
5. Regarding driver detention and truck booting:
A November 8, 2019, article stated:
The Transportation Intermediaries Association recently released a report examining the detention issue, talking to players on all sides. TIA interviewed shippers, brokers and carriers for the case study and found that all sides viewed detention as an opportunity to execute new policies that might remove the friction point.
You may wish to read the report to gain understanding regarding detention pay as a point of negotiation in your contracts.
---
Meanwhile, a November 8, 2019, article describes "one small fleet owner's ongoing crusade for a solution" to the "truck booting trap".
6. Regarding truckers sentenced for being out of control:
Do you remember back in August that I reported about how not to deal with a messy truck?
Well, the trucker who stabbed his co-driver over this has now been sentenced to 20 years in state prison for attempted murder!
More about this assault was written here and here.
While all of the charges brought against the assailant are listed in the article, the one charge of "fourth-degree unlawful possession of a weapon" raises a concern for me.
Could truckers who have knives in their trucks for meal preparation or eating ever be accused of something similar?
Do not allow disagreements to escalate to the point where you feel like doing someone else harm.
One rule to live by is "Love your neighbor as you love yourself".
Still, if your life is being threatened, you have a right to protect yourself and engage in self-defense.
---
Meanwhile, we read a November 8, 2019, article that stated: "A trucker who fell asleep before a deadly crash in March 2018 was sentenced to 10-20 years in prison on Tuesday."
Getting good, deep, restorative sleep is imperative.
If you find yourself getting drowsy, find the nearest safe, legal truck parking spot and park until you are rested.
No load is worth your life or the life of someone else.
Do not risk an accident.
It just isn't worth it.
7. Regarding seat belt usage:
This is the first time Vicki has ever read or heard of this happening:
A November 8, 2019, article describes how a driver "wearing his seat belt… was ejected from the vehicle."
Huh! Why didn't the seatbelt "work"?
Was the trucker wearing it correctly?
---
Meanwhile, after not wearing a seatbelt, a trucker was ejected from his truck and consequently pinned beneath his tractor-trailer.
Ouch!
---
It is important to wear a seatbelt whenever the truck one is driving is moving.
I know they're confining, but you never know when an accident will happen, during which a seatbelt could keep you from being more seriously injured or killed.
In the midst of an accident, there just isn't time to put on a seatbelt.
8. Regarding bad weather:
There have been a number of multiple-vehicle crashes — and even a jackknifing due to a truck hitting a patch of black ice — due to winter weather this week.
Please drive according to conditions and do not become over-confident regarding your ability to control your truck in bad weather.
If necessary, park your truck in a safe and legal place and wait for bad weather to clear up.
---
Some people on social media have criticized PennDOT's decision to "restrict semi trucks to the right lane any time that the weather is bad enough to lower the speed limit to 45 m.p.h."
Given the fact that "PennDOT issued multiple truck travel bans [last winter] due to inclement weather that completely restricted commercial vehicle travel on certain roadways", I would say that this is a step in the right direction, but it is certainly not the last that should be taken.
More about PennDOT's decision was written here.
9. Regarding an oh-so-preventable truck bridge strike:
It was a painful video to watch because you knew from the description what was going to happen:
A truck driver "hauling a large containment unit struck an I-43/94 overpass in Milwaukee" at "around 6:30 a.m on November 13", according to a November 14, 2019, article.
First, since the load was oversized, the driver should have gotten a Wisconsin permit, complete with specific truck routing.
Second, it is the trucker's responsibility to follow the permit routing and not run into low clearances.
Third, I wonder:
what had been contained in the unit;
what problem(s) resulted from the containment unit being damaged in the accident; and
how the trucker will be held responsible.
10. Regarding protecting your identity:
"There was a Unified Carrier Registration data breach earlier this year. Time is running out for drivers and carriers to take action to protect their identities", states a November 13, 2019, article.
11. Regarding truck tolls:
The Michigan Senate is looking at how to "fund repairs for roads and bridges" in the state, and is reviewing a bill package that has tolls as an option.
---
Meanwhile, Connecticut's governor has debuted a new transportation funding plan called CT2030 that would require truckers to "pay seven times more than car drivers".
More about this "Truck-Mostly Toll" was written here.
12. Regarding attracting women into trucking:
Ladies, I was a professional truck driver as part of a husband-and-wife trucking team for almost 3 years.
So, I am not against women getting into trucking.
All I ask regarding attempts to get women into the trucking industry — as has been written here — is that you go into it with your eyes wide open, knowing ahead of time what you will encounter, such as
We wish you well!
My husband Mike and I wish you — and all professional truck drivers — safe travels and lots of money saving opportunities on the road.
---
---
Return from TDMST Weekly Round-Up: 2019.11.16 to our TDMST Weekly Round-Up Trucking Commentary or our Truck Drivers Money Saving Tips home page.
---
Reference:
a. www.cvsa.org/wp-content/uploads/FMCSA-Brake-Regulations-101-1.pdf (no longer online)