This is the TDMST Weekly Round-Up of news affecting professional truck drivers, written by Vicki Simons for the week ending April 16, 2022.
We welcome your comments, thoughts and feedback on the items of your choice below.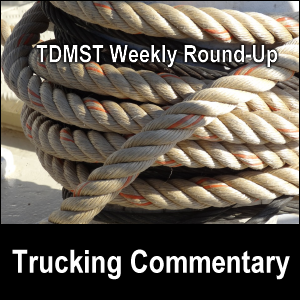 1. Regarding border inspections, violations, and coal:
Border inspections
An April 12, 2022, article states: "An order from Texas Gov. Rob Abbott increasing inspections at the Mexican border is snarling commercial truck traffic coming into the U.S."
The following are some of the most recent articles about this situation:
---
Violations
These articles vary in their focus and perspective.
Please learn from them what you can so that you are less likely to get flagged or ticketed for a violation.
---
Coal
In my opinion, the article linked in the bullet list below just goes to prove that the USA — particularly the Executive branch of the federal government — needs to revise our nation's independent energy status regarding petroleum products.
Under the previous administration, according to a 2019 article, the USA achieved a milestone by reaching its "first month in at least 70 years exporting more crude oil and petroleum products than it imported per day."
However, a March 2022 article states that the USA is still energy independent, regarding the calculation to "add up all of our energy production (oil, natural gas, coal, renewables) and then subtract our net energy consumption. The U.S. is a net exporter of coal and natural gas, so it really comes down to the petroleum balance."
Still, if the USA has become more dependent upon other nations for petroleum products — when we have access to it right here — that's a problem, in my opinion.
2. Regarding accident, death, drugs:
Accident
Please do everything in your power to avoid being involved in an accident.
---
Death
Our deepest sympathy and condolences go to the family of this trucker.
Truck driver killed on Wyoming highway after load enters cabQuotes from article: "Troopers said that Castro was not wearing a seatbelt and succumbed to his injuries at the crash scene.""Equipment failure is being investigated as a potential contributing factor."Always wear a seatbelt when driving a commercial motor vehicle.Did this trucker have his CB radio on and were the crashes ahead being reported on the CB?
---
Drugs
Never ever haul illegal drugs, no matter how lucrative the potential pay-out.
3. Regarding autonomous vehicles, electric vehicles, fuel, efficiency:
Autonomous vehicles
I am 100% opposed to driverless, self-driving, or autonomous commercial motor vehicles being on the same roads as the motoring public, but share these articles as a courtesy to help you stay current with what's going on in the trucking industry.
---
Electric vehicles
---
Fuel
---
Efficiency
4. Regarding AB5, age, training:
AB5
I still hope that AB5 is overturned for all independent contractors statewide in California.
In my opinion, no government entity has the right to force workers to not be independent.
---
Age
---
Training
5. Regarding pay, employment, retention, classification:
Pay
We do not endorse or recommend any of the trucking companies listed in this section.
---
Employment
---
Retention
---
Classification
6. Regarding emissions, repair, parts, load securement, recall:
Emissions
Two of the articles listed below describe shops that tampered with truck emissions control systems.
How would anyone know that this happened after the fact?
Are there penalties associated with emissions if a truck driver is caught — even innocently — with a tampered emissions control system?
Please comment on this through the form below.
---
Repair
---
Parts
---
Load securement
---
Recall
7. Regarding lease, LTL, surcharge:
Lease
Does it make sense to unbundle your lease?Please read the whole article, but here's a quote:"A full-service lease takes the transportation burden away from a company and gives it to someone that has the know-how, tools and technology to operate the fleet more efficiently. The full-service lessor also has the human resources experience needed to hire and retain technicians and to handle the administrative work associated with safety, tax reporting, etc."
---
LTL
---
Surcharge
8. Regarding economy, buy/sell, rates:
Economy
---
Buy/Sell
---
Rates
9. Regarding personal conveyance, parking, politics:
Personal conveyance
---
Parking
There may have been others in recent years, but this is the first truck stop that I recall being built in New York State in quite some time.
---
Politics
10. Regarding operations, last mile, doubles, innovation:
Operations
---
Last mile
I wonder if the time will ever come when the "long miles" on interstate highways are taken over by autonomous trucks and human truckers will strictly be responsible for the "last mile" of the journey.
I certainly would not approve of that.
Please share your thoughts through the form below.
---
Doubles
Regarding the article, Louisiana proposes tandem trailer hauling to "solve the [trucker shortage] problem overnight", I have these comments:
A number of things would have to happen in order for this potential double-up-the-trailers "solution" to be practical:
Truckers would have to be trained on how to handle and maneuver double 48-foot or 53-foot trailers;
The routes that double long trailers could be used on would have to be clearly defined ahead of time;
Tractors that haul double trailers may need to be modified to handle — especially regarding the braking — of double trailers;
Extra pickup and dropoff yards would most likely have to be constructed; and
There would have to be a lot of new converter gear dollies built to handle connecting two long trailers together.
What are your thoughts about this?
Please comment through the form below.
---
Innovation
Live demo preview: Moving containers without leaving your seat — QuickLoadzThe website (linked in the article linked above) states,"90% of the world's freight travels in sea shipping containers."Also, the site states: "pick up and delivery of these containers to end users is currently a hazardous and inefficient process requiring drag and drop tilt bed trailers, winch trailers, forklifts, or cranes."So, I'd appreciate your thoughts on this type of device.
11. Regarding weather, violence, technology, scam:
Weather
Please stay on your guard regarding weather conditions during the entire year, but particularly when temperatures are cold and frozen precipitation has fallen or is falling.
Sometimes it is just too dangerous or treacherous to drive, at which point, you will need to refuse to drive until conditions improve.
As the driver of your truck, you are the "captain of the ship" and no one can force you to drive when it is unsafe.
You may also want to read about "whistle blowing" truckers when it comes to driving safely.
---
Violence
Please see the information we have written about self-defense.
---
Technology
---
Scam
Let the buyer beware — every time!
12. Regarding awards:
We look forward to congratulating the winner(s) of the Driver Excellence Award.
We also recognize the "Highway Angel" for helping out his fellow human being in a time of need.
My husband Mike and I wish you — and all professional truck drivers — safe travels and lots of money saving opportunities on the road.
---
---

Return from TDMST Weekly Round-Up: 2022.04.16 to our TDMST Weekly Round-Up Trucking Commentary or our Truck Drivers Money Saving Tips home page.
---