This is the TDMST Weekly Round-Up of news affecting professional truck drivers, written by Vicki Simons for the week ending May 14, 2022.
We welcome your comments, thoughts and feedback on the items of your choice below.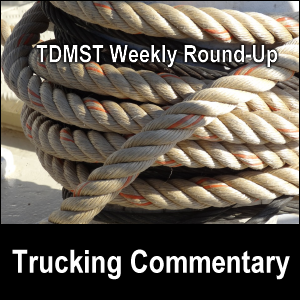 1. Regarding limiters, accidents, fatalities, and safety:
Limiters
No pun intended, but there is a limited time when comments may be submitted regarding speed limiters on commercial motor vehicles.
We encourage you to write and submit comments here (noting that there are helpful tips in the Commenter's Checklist).
---
Accidents
Please learn what you can from the accidents described in these articles and seek to avoid being in the same set-up.
---
Fatalities
We extend our deepest condolences to those who died in connection with a truck accident.
Please practice safety at all times!
---
Safety
2. Regarding fuel, fuel – hydrogen, and autonomous vehicles:
Fuel
There's a raging problem in the USA right now concerning both increasing prices and shortages of fuel — including diesel for big trucks.
If you have any suggestions for how to improve this situation, please comment through the form below.
---
Fuel – hydrogen
---
Autonomous vehicles
The big news this week was about how an autonomous, driverless, or self-driving truck pulled off the road all by itself! after it got a flat tire.
I saw in the video what I perceived to be one hazard that happened.
Be that as it may, I disapprove of these types of trucks being on the public roads with the motoring public, but share them as a courtesy to you, our reader.
3. Regarding electric vehicles, batteries, emissions, and zero:
Electric vehicles
---
Batteries
---
Emissions
---
Zero
4. Regarding inspections and insurance:
Inspections
If you and your truck are always ready for an inspection, you'll never be caught off-guard.
---
Insurance
5. Regarding drugs and smuggling:
Drugs
Never, ever haul illegal drugs, no matter how much of an incentive you're offered.
Don't take illegal drugs or narcotics and then drive a truck. Period.
---
Smuggling
Never, ever smuggle people like they were animals or cargo, no matter how much of an incentive you're offered.
6. Regarding employment, future, statistics, and testing:
Employment
---
Future
---
Statistics
---
Testing
7. Regarding economy, costs, and inflation:
Economy
---
Costs
---
Inflation
8. Regarding technology, tires, and weather:
Technology
---
Tires
---
Weather
9. Regarding last mile, parking, parts, recalls and sustainability:
Last mile
---
Parking
---
Parts
---
Recalls
---
Sustainability
10. Regarding rates, taxes, and surcharge:
Rates
---
Taxes
---
Surcharge
11. Regarding operations and securement:
Operations
---
Securement
12. Regarding awards: championship, citizen, DOTY, recognition:
Awards: Championship
We wish all contestants safety and success.
---
Awards: Citizen
If you know of someone who deserves this award, please make that known.
---
Awards: Driver of the Year
Congratulations to all of those who have been awarded!
---
Awards: Recognition
We appreciate it when folks help out their fellow human beings in need.
My husband Mike and I wish you — and all professional truck drivers — safe travels and lots of money saving opportunities on the road.
---
---

TDMST Weekly Round-Up: 2022.05.14 to our TDMST Weekly Round-Up Trucking Commentary or our Truck Drivers Money Saving Tips home page.
---