This is the TDMST Weekly Round-Up of news affecting professional truck drivers, written by Vicki Simons for the week ending October 22, 2022.
We welcome your comments, thoughts and feedback on the items of your choice below.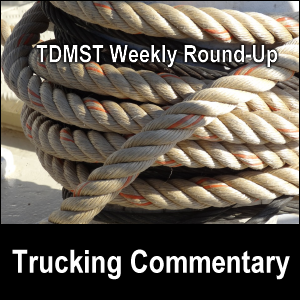 1. Regarding HOS, Black Friday, economy, and bonus:
HOS
In my opinion, the "emergency declaration" regarding the Hours of Service regulation — for the C0VID-19 sc@mdem!c — lasted far too long.
Others may disagree with me, but I think this whole episode was "cooked up" in order to compel people through fear to submit to getting a jab that has been far more harmful than helpful.
Be that as it may, now that the HOS declaration has expired, can we now go back to "normal"?
Feel free to comment through the form below.
---
Black Friday
Due to consumer push, "Black Friday may never be the same."
---
Economy
These are some of the most recent articles regarding the economy from the trucking industry's perspective.
---
Bonus
Article subtitle: "Fleet executive: It's important to recognize all good driving, not just top performers".
I agree.
2. Regarding accidents, staged, fatalities, predictions, and drugs:
Accidents
Please scan through these articles to see what led up to the accidents and do your best to avoid getting into the same set-up.
---
Staged
I am so pleased that those who conspired to trap truckers into fake accidents have been coming forward to confess their dishonesty.
I'm hopeful that others will learn from this long drawn-out situation and never repeat the practice.
---
Fatalities
We extend our deepest sympathy to the families of those who passed away.
Please learn what you can from the articles below so that you are not caught in the same kind of situation.
---
Predictions
Please learn what you can about these predictions so that if there is something you can do to improve your driving so as not to be involved in an accident, you can.
---
Drugs
Never, ever agree to haul illegal drugs in your tractor or trailer — no matter how much you are promised!
3. Regarding electric vehicles, autonomous vehicles, fuel, and oil:
Electric vehicles
I have severe reservations about electric vehicles, but share these articles as a courtesy to keep you informed.
---
Autonomous vehicles
I am 100% opposed to autonomous, self-driving, and driverless commercial motor vehicles sharing the public roads with the motoring public — but share these articles as a courtesy to keep you current on the topic.
---
Fuel
---
Oil
I believe that releases of oil from the Strategic Petroleum Reserve at this time is politically driven to try to win votes.
I also believe that it is dangerous.
Just saying.
4. Regarding barge, winds, operations, and LTL:
Barge
Be aware of the connection between water-carried vessels and the trucking industry.
---
Winds
Please see our article:
On Driving in Wind — Strong Winds — in a High Profile Truck
---
Operations
Please take a few moments to learn what is — and what is not — a demonstration of good operations when it comes to a commercial motor vehicle.
---
LTL
5. Regarding Canada, safety, inspections, speed limiter, road rage, parking, and ports:
Canada
---
Safety
---
Inspections
---
Speed limiter
I believe that imposing a top speed limit on commercial motor vehicles is a wrong-headed way of trying to deal with all of the causes of large truck crashes on the road.
One of the things that I do not see is an endeavor to limit the top speed of four-wheeled vehicles — even though the non-truck vehicle in a vast majority of truck/car crashes was mostly the fault of the driver of the car.
Just saying…
---
Road rage
---
Parking
---
Ports
6. Regarding employment, shortage, supply chain, and technology:
Employment
---
Shortage
---
Supply chain
---
Technology
7. Regarding maintenance, recalls, and repair:
Maintenance
---
Recalls
---
Repair
8. Regarding insurance, last mile, regulations, and violations:
Insurance
---
Last mile
This initiative is also referred to as "final mile."
---
Regulations
From the article:
While FMCSA plans to issue a proposal next June to require speed limiters on most commercial motor vehicles, a notice of proposed rulemaking regarding automatic emergency braking systems is expected even sooner.
---
Violations
9. Regarding private fleets and shut down:
Private fleets
---
Shut down
While this is sad and regrettable, I think that — based on the economy — this kind of thing will only increase in the days to come.
10. Regarding purchase, rates, surcharges, and tolls:
Purchase
Let the buyer beware.
---
Rates
---
Surcharges
Peak parcel surcharges likely to stick despite slowing demand, carrier overcapacity
freightwaves.com/news/despite-slowing-demand-peak-parcel-surcharges-arent-going-anywhere (no longer online)
---
Tolls
11. Regarding move over, nuclear verdict, and legal:
Move over
Please be aware of "move over" laws — and as often as possible, practice good courtesy when someone is parked on the shoulder.
---
Nuclear verdict
---
Legal
12. Regarding free lunch, veterans, and recognition:
Free lunch
---
Veterans
---
Recognition
My husband Mike and I wish you — and all professional truck drivers — safe travels and lots of money saving opportunities on the road.
---
---


Return from TDMST Weekly Round-Up: 2022.10.22 to our TDMST Weekly Round-Up Trucking Commentary or our Truck Drivers Money Saving Tips home page.
---