TDMST Weekly Round-Up 2022.12.10 is the trucking commentary on news affecting professional truck drivers for the week ending December 10, 2022, written by Vicki Simons.
We welcome your comments, thoughts and feedback on the items of your choice below.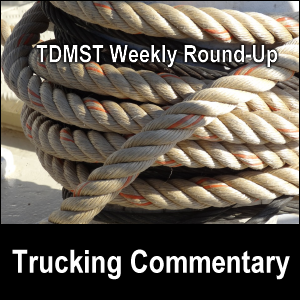 1. Regarding fuel, oil, Detroit, and autonomous vehicles:
Fuel
Please also see the section below on California.
---
Oil
According to this resource, an oil industry insider from the 1890s paid a group of trained people to call "oil" a "fossil fuel" in order to promote the idea of scarcity (and thus attach a commensurate price to it).
The resource goes on to say that oil is "actually the second-most prevalent liquid on earth next to water, and regenerates within the earth faster than it can ever be deleted."
Is the "oil scarcity" claim true or is this liquid extremely plentiful?
What are the financial repercussions of any associated deception?
Please comment through the form below.
---
Detroit
---
Autonomous vehicles
I totally oppose the operation of autonomous commercial motor vehicles on the same roads as the motoring public.
However, I share these articles to help you stay current on this topic.
2. Regarding electric vehicles, Tesla, and ATRI:
Electric vehicles
Please also see the section on ATRI below.
---
Tesla
---
ATRI
According to the PDF entitled "Charging Infrastructure Challenges for the U.S. Electric Vehicle Fleet":
New research from the American Transportation Research Institute (ATRI) provides an assessment of the infrastructure needs for electrification of the U.S. vehicle fleet, with an emphasis on the trucking industry.

This analysis focuses on three infrastructure components that may prove challenging for electrifying the nation's vehicle fleet:

1 U.S. Electricity Supply and Demand
2 Electric Vehicle Production
3 Truck Charging Requirements
Please see the full PDF for details.
Other articles referring to this are:
3. Regarding accidents, fatality, staged, and drugs:
Accidents
Please scan through these articles to familiarize yourself on the accidents and what you can do to protect yourself and your rig from being involved in a similar situation:
---
Fatality
Please be careful driving around those pulled over in the breakdown lane, so that you don't hit the people or their vehicle(s).
---
Staged
---
Drugs
Never, ever haul illegal drugs in or on your tractor trailer, no matter how much you are promised.
4. Regarding economy, pay, tolls, and rates:
Economy
These are some of the most recent articles on this topic.
---
Pay
---
Tolls
---
Rates
5. Regarding winter, operations, distractions, and idling:
Winter
---
Operations
---
Distractions
---
Idling
6. Regarding California, comments, speed limiter, inspections, legal, and HOS:
California
---
Comments
"The public will have through Dec. 13 to comment on the proposed worker classification test."
---
Speed limiter
---
Inspections
If you keep yourself and your truck in perpetual readiness for an inspection, you'll never be caught off-guard.
---
Legal
---
HOS
7. Regarding injuries and theft:
Injuries
---
Theft
8. Regarding ports, recalls, LTL, parking, trailers, and roads:
Ports
---
Recalls
---
LTL
---
Parking
---
Trailers
---
Roads
9. Regarding employment and discrimination:
Employment
---
Discrimination
10. Regarding 3PL, holidays, and last mile:
3PL
---
Holidays
---
Last mile
11. Regarding technology, quiz, and lottery:
Technology
---
Quiz
---
Lottery
I hope that this driver has some degree of financial discipline.
12. Regarding recognition and award:
Recognition
We are grateful whenever we read that someone had compassion on a fellow human being in need.
---
Award
We congratulate the finalists named in the article linked just below.
Quote:
"The National Tank Truck Carriers recently announced the eight Champion Finalists of the 2022-2023 Professional Driver of the Year contest, sponsored by Great West Casualty Company."
My husband Mike and I wish you — and all professional truck drivers — safe travels and lots of money saving opportunities on the road.
---
---


Return from TDMST Weekly Round-Up: 2022.12.10 to our TDMST Weekly Round-Up Trucking Commentary or our Truck Drivers Money Saving Tips home page.
---