There may be a lot of things that freeze on truckers in the winter, but I want to tell you about three that we know about first-hand.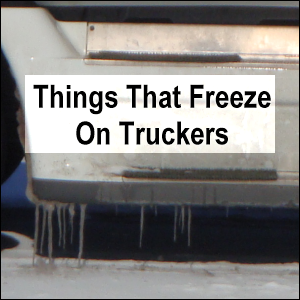 I categorize these under the Tricks of the Trade section of our site.
Frozen Brakes
The first winter that Mike and I were in the trucking industry, we were rookies with Swift.
We didn't know after running in snow not to set the parking brakes on our trailer when we parked on level ground.
I don't recall why I didn't take over driving that night (since we were team drivers), but Mike parked our rig in Monticello, Utah.
It was cold — below freezing.
Of course, the brakes froze to the drums overnight.
Unfortunately, we didn't have the tools with us to be able to free them very well.
I don't recall what happened other than that Mike came back to the cab bleeding from trying to use a tool that wasn't meant for the job.
That's why we now have a tools and equipment section on our website, so that others can learn from that mistake.
Since we learned well from that experience, it backfired on us once.
I asked through our Truckers' Savings Blog last month, "How much of an incline or decline does it take for a truck to start rolling if the brakes aren't set?"
It doesn't have to be much with a heavy truck and heavy load!
What happened was that we had parked in a rest area in Wyoming.
Mike set the brakes on the tractor but not the trailer.
We thought the ground was level, but it wasn't!
I don't remember why I was in the driver's seat.
Perhaps we were going to swap out driving.
Anyway, it was an act of providence that I happened to glance out the mirror and saw that our whole rig was sliding backwards!
Yikes!
I quickly stepped on the brake pedal.
How horrible it would have been to have slid into the truck parked behind us.
Whew! My heart was pounding hard!
Freezing Fog and Ice Build-Up
When Mike was driving solo and I was with him as a passenger, he was driving through Kansas one night.
It was foggy and below freezing.
I had never been in freezing fog before.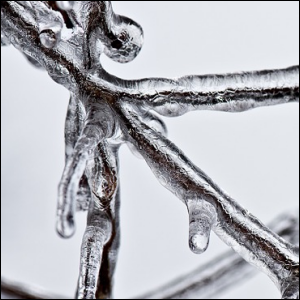 After a while, we heard this "thump, thump, thump" and correctly guessed that the fog had started to accumulate as ice on Mike's CB radio antennas, like the coating of ice on branches shown here.
Under the weight of the ice, they were swaying back and forth and hitting the sides of the truck as it rolled down the road.
Frozen Flatbed Straps
My last example of things that freeze on truckers is something that Mike has experience with in his capacity as a trucker hauling flatbed loads.
In early 2014, we had gotten some rain in our area.
He is in the habit of stopping about 30 minutes down the road after leaving the yard to check his straps.
In just the half-hour between the yard and his strap checking place one cold morning, his straps had frozen.
It was quite a challenge to break them loose when he got to his customer.
Perhaps some flatbed trucker who deals with straps in colder climates than we live in can shed some light on how he/she deals with frozen straps.
Make Allowance for Things That Freeze on Truckers
My conclusion is this: In the winter, allow some extra time to deal with things that freeze on truckers.
Don't put yourself under so much pressure that you take shortcuts.
I encourage you to share some tricks of the trade you have learned as a trucker that can help other truckers who may not know what you know.
Pay it forward. Thanks.
Please share your comments.
---
Comment Submitted on Jan 17, 2014
chock blocks the ticket
by: Anonymous
Makes sense to use them when it's too cold to set your brakes doesn't it? Bet this was s common response to the article. Keep up the good work!
—–
Response from Vicki:
Now that's a great idea! Unfortunately, we didn't have a set of those when we were just starting out in trucking.
Later on, after Mike had a very difficult time moving a set of tandems on a trailer, we got a pair of the rubber kind at our local Tractor Supply Company. Truckers can also find different varieties of them on Amazon.com.
Here's an interesting question: Once placed in position in front of or behind a wheel, what would it take for the chock to move? Could it theoretically slide on ice, just like the truck?
Thanks again for your comment.
We wish you safe travels and lots of money saving opportunities on the road.
Best regards,
Vicki Simons
https://truck-drivers-money-saving-tips.com/
---
Note: This article — which was originally written and published on January 10, 2014, by Vicki Simons — was updated slightly in 2018.
---
Return from Things That Freeze On Truckers to our Tricks of the Trade page or our Truck Drivers Money Saving Tips home page.
---