Your electrical cord or pigtail powers your trailer lights from your tractor.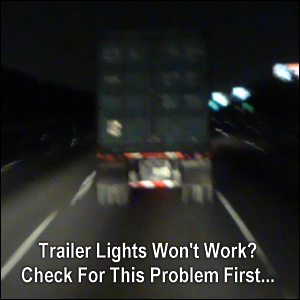 Occasionally, you will see a big rig rolling down the road on which the lights don't all work.
This is most discernible at night.
For example, in the photo shown here, a rig that we were following at night had absolutely no lights lit up on back.
Mike was able to contact the driver by CB radio to let him know.
Interestingly enough, when the driver changed lanes and used his turn signals, the turn signal lights on the sides of his trailer worked but not the ones on the back.
This was most likely a problem with the electrical connection at the point where the pigtail is plugged into the power box.
Trailer Lights Electrical Cord Connection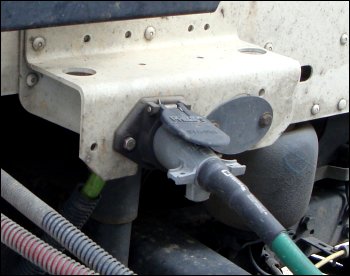 Here, the electrical cord or pigtail that carries power from the tractor to the trailer is shown plugged into the back side of a tractor.
Here, the electrical cord or pigtail that carries power from the tractor to the trailer is shown plugged into the trailer.
Trailer Lights and Driver Responsibility
Trucker, it is your responsibility to do a pre-trip inspection on your entire commercial motor vehicle (CMV) to make sure that all the lights — on both the tractor and trailer — work the way they are supposed to.
Feel free to use our Pre-Trip Inspection Checklist — for free through our Free Downloads page — as a guide, but always make sure that you use the one your company issues.
Trailer Lights Inspection Procedure
Every time Mike inspects a truck, he turns on all lights and his four-way flashers to make sure all of the lights work.
If the trailer lights don't all work, he checks the electrical cord or pigtail — at both the tractor and trailer ends — to make sure that it is plugged in all the way.
Then he walks around again.
If there is still a problem, he will take the cord out of the sockets and gently blow on both the cord and the sockets to dislodge any dirt or sand that may have worked its way inside.
Then he reconnects the cord and walks around the rig again.
During the process of blowing out dirt or sand, Mike will closely inspect
the cord's end to make sure that all of the pins are intact and
the socket to make sure that there are no foreign objects present to prevent contact (such as a pin that has broken off).
He has encountered a pin broken off in the receptacle every once in a very great while.
The broken off pin may or may not affect the lights working.
If it does, he will let his trucking company know about the problem and he will reject the trailer.
Preventing Rust
Another problem that can prevent the electrical connection from working is rust on the connections or water.
Between trailers, drivers can help prevent rust from forming and water from getting in the connection by putting the electrical cord back in its holder on the tractor.
In the event that you have one or more trailer lights that won't work, it is not sufficient to have your four-way flashers running while you're rolling down the road.
This is a dead giveaway that you have problems with your rig and you are just advertising that you're ready for a full-blown DOT inspection to find out what else is wrong with your rig.

If you experience problems that these tips do not fix, it is possible that you may have a burned out light or may need a new electrical cord/pigtail.
Most larger truck stops sell these truck parts.
Federal Regulations Concerning Lamps
If you need to review them, please see the Federal Motor Carrier Safety Regulations that deal with
---

Money saving tip: Since the Federal Motor Carrier Safety Regulations require that all lights work at all times, you can be cited and penalized if they do not.
It is not just a matter of convenience or avoiding a fine to make sure that all of your lights (including your trailer lights) are working.
It is also a matter of visibility.
If you are involved in an accident and it can be shown that your trailer lights were not working properly, you could be found at least partially at fault and charged.
This could be very expensive in numerous ways, including the loss of your job and possibility of never working in the industry again.
Protect yourself.
Be faithful to do a full pre-trip inspection every day and every time you change trailers.
Furthermore, if you need to clean off your tractor or trailer lights — especially in the winter when dirt and road salt can build up on them — take the time that is needed to clean them.
It's worth a few extra minutes' work to make sure that you can be seen.
It's also the professional thing to do.
---
Return from Trailer Lights Don't Work? Check Pigtail or Electrical Cord to our Tricks of the Trade page or our Truck Drivers Money Saving Tips home page.
---