By "parking too far back", we mean
both the position of your truck in a parking

spot

and where you park your truck in a parking

lot

.
We'll cover them both, in that order.
Backing Up in a Parking Spot or Space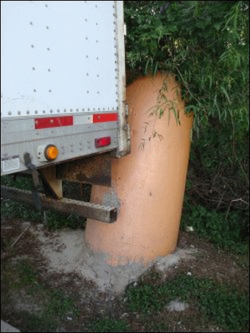 The bumper of this trailer hit a concrete post when the driver moved his truck too far back in a parking space at a truck stop.
The argument could be made that because most trailers have an "overhang" of trailer past the rear wheels, the post should not have been built so closely to the curb.
Still, it is the driver's responsibility not to do this.
Now, once the post was bent backwards, what else was affected?
More Than Just The Concrete Post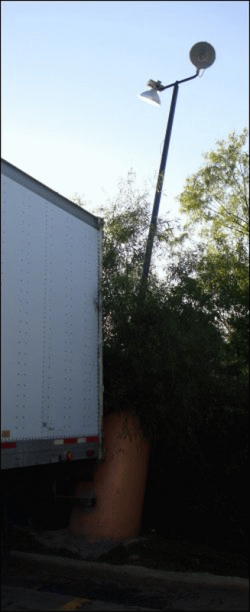 This taller vertical view shows that the concrete post that this driver's trailer hit had a light post embedded in it.
Since it was still daylight when this photo was taken, we don't know whether or not the light still worked.
Between the light post being bent backwards and the tree branches hindering where the light was shining, it might have been difficult to see the post in the dark.
Depending on how fast the driver was backing, he or she might not have even felt the contact as being any different from hitting the curb.
Don't Bend the Bumper
A close-up of the concrete post shows that this trailer is not the only one that has hit it.
Many other drivers have parked too far back in the space and their trailer bumpers scraped it.
This particular trailer's bumper was not bent in the process of hitting the post.
But, was anyone else's?
Learning How to Back Up
Vicki tells the story on our CDL road test page of the lesson she learned about how to back up a big rig while in truck driver training school.
Parking Too Far Back in a Lot
Depending on the lot you park in, parking in the rear can be a good thing or a bad thing.
From a health and wellness perspective, the farther back you park from the building means that if you're going inside, you'll get that much more walking in, which can be good.
It means that you get a little extra exercise!
From a security standpoint, you will want to be sure that, if the lot is at all questionable, you park where there is at least some lighting.
To park in a wide open place in a dark and unsecured lot is like inviting trouble.
You could be putting yourself at risk for cargo theft or worse.
If there are multiple places to park — where well-lit spots are closer to the building while darker spots are toward the back — from a safety standpoint, you may not want to park too far back.
---

Money saving tip: Be aware of what's around you and the distance your truck is on all sides from nearby objects.
There is no sense risking trailer damage from backing into a stationary object.
If you need to get out and look, by all means, do so.
Yes, it is a delay to go look, but the time you spend could keep you from paying out later.
If you park at night, you may need to take a flashlight with you.
Be aware that precipitation can hinder your view regarding backing distances, especially in mirrors covered with water droplets.
Also, be aware of security issues wherever you park.
If you park too far back in some parking lots, you'll only risk the potential of cargo theft.
Of course, no matter where you park, you will want to practice good security measures anyway (like putting a lock on your trailer's doors).
If you have a choice of well lit spots all over a secure parking lot and you want to force yourself to do a little more exercise in walking to the building and the weather is good, we're not sure that it is possible to park too far back in the lot.
---
Return from On Parking Too Far Back in Your Tractor Trailer to our Truck Operations page or our Truck Drivers Money Saving Tips home page.
---