There are two types of trucker legal help that a professional truck driver might need:
for personal use and
for business use.
The former needs may span a lifetime.
The latter may span only one's trucking career.
Why Truck Drivers May Need Legal Help
Everyone who has ever driven professionally (at least in the USA) knows that the trucking industry is one of the most scrutinized and most heavily regulated industries in the nation.
The FMCSA and USDOT have multiplied rules and regulations over time, and now hold drivers (through such programs as CSA) responsible — in full or in part — for things that they never used to be held responsible for.
Some truckers wonder if they are targeted by zealous law enforcement officials because
a quota has been set and must be met;
financial coffers aren't as full as some people desire; or
truckers are unlikely (for multiple reasons) to fight tickets.
Case in Point
In late April 2013, we engaged in a Twitter conversation with a trucker, who with her co-driver, had received an "$890.90 ticket on a road side inspection."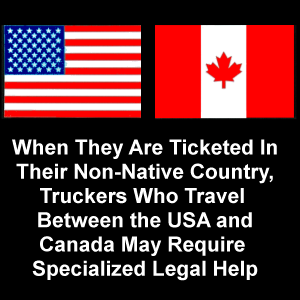 The reason stated was that the truck was overweight on the steering axle.
But a later tweet said that the truck always weighed the same and the load was legal.
The trucker stated, "If u ask me its a cash grab scam."
The trucker didn't say where the ticket was issued, but we found out later that this trucker is from Canada.
This raises another aspect of getting trucker legal help:
When they are ticketed in their non-native country, truckers who travel between the USA and Canada may require specialized legal help.
The legal services plan we have has a network of attorneys not only across the USA but also in Canada.
If you think that legal matters in another jurisdiction within the country can be bad, they can be far worse internationally.
Why Don't Truckers Get Legal Help?
Here are some reasons why truck drivers don't get the trucker legal help they may need or set up a legal service plan in advance:
They think it is unaffordable.
They think they will escape trucking-related detection or inspection.
They think they can handle legal issues themselves.
They don't think they can successfully fight a ticket or win a legal battle.
They are unaware that different legal jurisdictions may have their own unique way of handling trucker tickets.
They have never thought about having a trucker attorney review legal contracts (such as for lease purchase agreements) before signing them.
They have never given thought to death and dying on the road and the need to have a last will and testament.
Our View of a Trucker Legal Service Plan
Although this may not work for everyone, we have used a "family" legal services plan numerous times — including for trucking-related matters.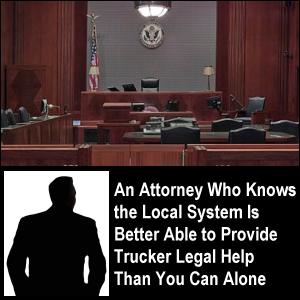 Sometimes it did cost more than the monthly cost of our legal services membership to get a trucker legal matter resolved — such as when a matter was referred to an out-of-state trucker attorney.
But we have never had a trucker-related situation not be resolved satisfactorily on our end.
We think of our legal services plan as being similar to having a big brother ready to help us when we need it.
Even if a trucker is very knowledgeable about the legal system in his/her own legal jurisdiction, he/she is not an expert in every legal jurisdiction where he/she travels professionally.
Furthermore, it has been said that "he who represents himself has a fool for a client."
Your Options for Legal Help as a Trucker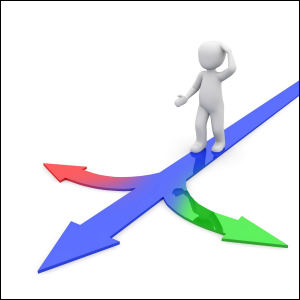 Regarding trucker legal help, here are one's options:
obtain a legal services plan for help before it is needed;
obtain a legal services plan for help after it is needed and pay extra for services on "pre-existing conditions" (matters that happened before the plan was purchased);
pay out-of-pocket for legal services (assuming he/she can find a trucker attorney who is skilled in the area of law needed and can afford the prices the attorney charges).
On our trucker attorney page, we go into detail about average attorney's fees and having a qualified person provide the trucker legal help you may need.
Different Types of Legal Services Plans?
Two questions come up:
What kinds of legal service plans exist?
Do truckers need an actual commercial drivers legal plan?
We are not qualified to address this, but we shared our view above.
In a nutshell, we have used our family legal plan to handle truck-related legal matters — even if it cost us more for an out-of-state referral.
One should not think solely in terms of the difference between the costs of the two monthly memberships, but if (and this is just for the sake of comparison)
a family plan costs $16.00 per month and
a CDLP costs $32.95
the difference is $16.95 per month.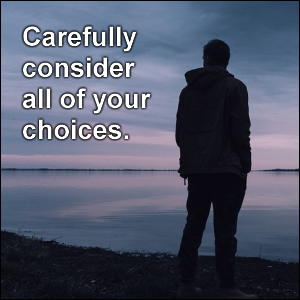 If the fee for a referred attorney costs an additional $450 for a one-time case, it will take better than 2 years to make up the difference:
$450 / ($32.95/month – $16/month) = 26.55 months
There may be legal cases that do not involve a one-time fee but rather ongoing legal representation (such as might be the case in a fatal accident).
The purchase of a legal service plan may be looked upon as a form of risk management.
You need to determine what is right for you.
One thing that truckers should ask themselves when deciding between legal services plans is this:
I may be able to use Personal Plan A to get help with business matters, but can I use Business Plan B to get help with personal matters?
Also, if a truck driver is an owner-operator, he/she may have legal needs that fall outside the scope of a CDLP.
For example, he/she may require a separate business legal plan.
We strongly urge every owner-operator to have appropriate trucker legal help in place before it is needed.
---

Money saving tip: When it comes to legal issues in trucking, ignorance is not bliss.
If you're focused on doing your job as a trucker, there may come a time when you get ticketed, railroaded or falsely accused.
(We describe one such situation on our "failure to obey" page.)
Rather than just "take it" and allow a potential moving violation to appear on your MVR — which will affect your personal auto insurance rates, too! — you should seriously consider fighting it.
How you fight it or whom you choose to help you fight it makes a huge difference.
We have heard horror stories from truckers who signed up for what they thought was trucker legal help through a legal service plan, only to have the person "representing" them drop the ball somewhere along the way.
The "oldest" (or even "older) legal service plans in existence may or may not be the best.
Do your research to find out differences between attorney networks, services rendered under the plan, and discounts for additional services not provided under the plan.
After you get your membership, find out how to best use it to meet your legal needs.
In most cases, you will call your plan's provider law firm, give your membership number, briefly explain your need, get an identification number for your "case", and then wait for legal advice.
Some issues can be taken care of in one phone call.
Other legal work may need more extensive representation.
Whether you have had a good or bad experience in getting trucker legal help, please submit a service review.
---
Return from Trucker Legal Help: How to Get What You Need When You Need It to our Trucker Services page or our Truck Drivers Money Saving Tips home page.
---