Let's calculate some costs associated with the Truckers Ride for the Constitution, which is scheduled to take place on the Washington, DC beltway starting on October 11, 2013.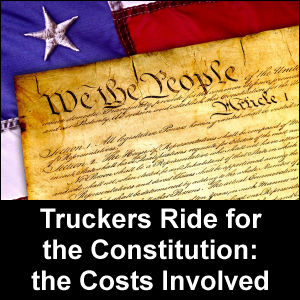 Previously, we addressed the subject of a trucker protest in which truckers planned to shut down their trucks.
In contrast, this event appears to be a "rolling" protest.
Note: Calculations made on this page are for illustrative purposes only. Your experience, equipment, usage and costs may vary.)
Distance Around the Capital Beltway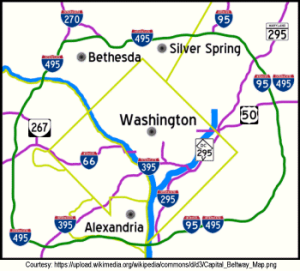 According to Wikipedia:
"Interstate 495 (I-495) is a 64-mile (103 km) Interstate Highway that surrounds Washington, D.C., the capital of the United States of America, and the city's inner suburbs in adjacent Maryland and Virginia. I-495 is widely known as the Capital Beltway…"
If a truck has twin 120-gallon tanks, that means that fully fueled, that truck can carry 240 gallons of fuel.
At an average of 6 miles per gallon, each truck will be able to travel
240 gallons * 6 miles per gallon = 1440 miles before being completely empty.
1440 miles / 64 miles per loop = 22.5 loops around the beltway.
Time to Travel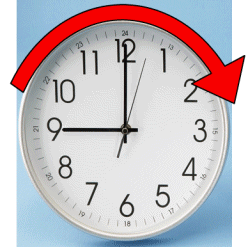 Is it the intention of those participating in the Truckers Ride for the Constitution to "clog" the Capital Beltway continuously all weekend?
Let's calculate the time it will take to run out the amount of fuel (and miles) we calculated above.
1440 miles / 55 miles per hour = 26.18 hours before being completely empty.
For a solo driver driving a single truck, driving 26 hours straight is going to pose a big problem, namely, where to park for sleep along or near the beltway to stay in compliance with the Hours of Service.
This is also going to be a problem for truckers regarding where to stop for restroom breaks and food. (There aren't any truck stops that we know of directly along the beltway.)
Fuel Costs
At an average price of $4 per gallon of diesel, the fuel costs associated with using a whole tankful of fuel would be
240 gallons * $4 per gallon = $960.
This does not take into account the costs of running the truck all that time, just the cost of the fuel.
Loss of Revenue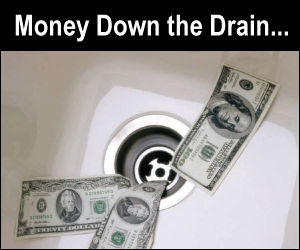 The use of time and fuel to participate in Truckers Ride for the Constitution does not take into account the loss of revenue from not actually
driving to a shipper,
picking up freight,
driving to the receiver, or
delivering freight.
Also, it does not take into account loss of future revenue from shippers or receivers who refuse to do business with truckers who took part in the protest.
Number of Trucks "Needed" for a Traffic Jam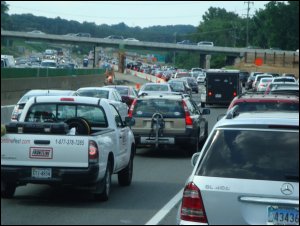 Since the beltway is 64 miles in length,
64 miles * 5280 feet per mile = 337,920 feet around beltway.
If the average rig requires 100 feet (space cushion in front, length of rig and space cushion behind), then
337,920 feet / 100 feet per rig = 3,379 rigs to completely encircle the beltway in one lane.
Multiply that by 2 to encircle the beltway in two lanes.
If there are thousands of big rigs on the Capital Beltway all at the same time during the Truckers Ride for the Constitution, there are also going to be major back-ups of traffic trying to get on and get off the loop.
This could truly disrupt the travel plans of motorists seeking to traverse only I-95.
Road Signs Near and Along Capital Beltway/I-495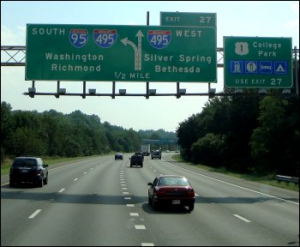 This sign shows the split between I-495 to the south and west.
This sign shows the split between through and local lanes on I-95 and I-495.
Which road will "truckers ride for the Constitution" take?
Esteem / Image
Numerous articles have been written about the Truckers Ride for the Constitution event.
According to this one, more than 3,000 truckers have submitted an RSVP.
Although we can calculate the direct costs associated with Truckers Ride for the Constitution, it would be difficult to measure the indirect costs associated with this event.
Will the event bring about the desired results, to get U.S. lawmakers to follow the Constitution — especially when there is supposedly a "government shutdown" in progress?
How will the motoring public that is traveling on I-495 that weekend be affected?
Could the event turn violent and if so, how will truckers react?
There is concern that the image of the trucking industry will be tarnished even more than it is now.
Legal Costs and Related
Some truckers may say that the benefits of participation in the Truckers Ride for the Constitution outweigh the risks of being caught or penalized.
One article indicated that the goal of the event is to "Jam DC's Major Commuter Highway" and "If police try to stop them, they'll park their trucks right on the highway."
Another article states that some truckers are threatening to have a "three lane roadblock" if they are given a hard time.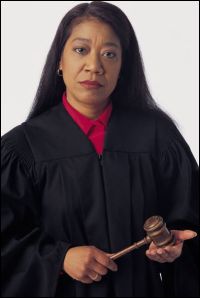 Did you know that there are state laws on the books for impeding traffic in Maryland and Virginia?
If professional truck drivers decide to take the law into their own hands, they may have to endure a whole series of legal complications.
Because of the publicity associated with this event, additional law enforcement may be present to aggressively target truckers whose rigs are seen via traffic cameras to circle the beltway more than twice or whose rigs are parked along or near the beltway.
If a trucker is physically removed from his/her truck, the truck may be towed and impounded at a daily cost to the trucker.
Add to that the legal costs associated with being detained — and any court costs that may be incurred.
Owner-operators may be able to underwrite these costs, but company drivers cannot afford to do so with company-issued equipment.
Conclusion
How many professional truck drivers who have seldom, rarely or never contacted their federal lawmakers in person, by phone, by letter or by email — to urge them to represent the people of their districts according to the Constitution — are now planning to "ride for the Constitution" by jamming the beltway around Washington, DC?
We urge truckers to think twice before participating in the "Truckers for the Constitution" protest for all of the reasons posted on this page.
It could turn out to be very costly in numerous respects.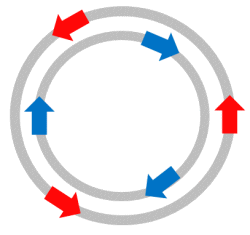 One article indicated that only the inner loop of the Capital Beltway will be affected during this event.
We do not know if that is true.
We have depicted the flow of traffic on the inner and outer loops of the Capital Beltway here to help you make wise decisions about your travel around DC that weekend.
If you are driving a commercial motor vehicle in/through that area on the weekend of October 11-13, 2013, you might do well to avoid the Capital Beltway by taking another truck-friendly route.
Going out of route to avoid the beltway could add a lot of miles to your trip, but depending on the turnout for this event, you could be saving yourself a lot of time and aggravation in the end.
If you are a company driver, you may want to consult with your driver manager for advice about routing.
Finally, we believe that there are better ways for truckers to make their points with elected officials than by staging and participating in this kind of trucker protest.
---
Return from Truckers Ride for the Constitution to our About Us page or our Truck Drivers Money Saving Tips home page.
---