One of the most invaluable tools any professional truck driver can have is a copy of The Truckers Friend (The Trucker's Friend), the National Truck Stop Directory, which is published annually.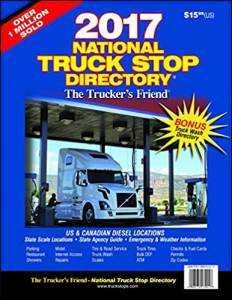 We have referred to this publication on our site repeatedly because we have often used it ourselves. It is amazing to us how much valuable information is packed into one volume.
What Can You Find in It?
According to Amazon.com (with whom we have an affiliate arrangement), you can do this with the 2017 edition of

Now includes BONUS TRUCK WASH DIRECTORY. Annual directory of 6,700 US & Canadian "big rig" fueling locations and the services they provide. Includes chains and independents. Services include fuel cards, showers, truck wash, CAT scales, laundry, food, TripPak, scanning, parking (including HazMat), etc. Locations are listed in interstate exit order as well as alphabetically by city and state. PLEASE NOTE: the contents of the 2017 Trucker's Friend are IDENTICAL to the contents of the 2017 RVer's Friend. ONLY THE COVERS DIFFER.
Knowing where the truck stops are is definitely advantageous.
Knowing which ones meet your needs — and pass muster — is even better.
That's why on our site, you will find numerous service reviews of fuel islands, restaurants or showers at truck stops listed in The Truckers Friend.
Furthermore, we encourage other professional truck drivers to submit their own reviews through the links above.
A Description of What You'll Find
In a nutshell, The Truckers Friend provides an alphabetical list of
U.S. states (smaller ones may be combined) and
Canadian provinces,
with alphabetical lists of cities where truck stops are located.
Then, you can see in the tables which products and services are offered at each one.
In this photo, you can see Mike looking at a couple of publications, one of which is The Truckers Friend, the other of which is The Next Exit.
[cmamad id="11220″ align="left" tabid="11220″ mobid="11220″ stg=""]
The latter is handy because it reveals which side of the road a facility is on.
For example on a north-south interstate, is the truck stop on the east or west side of the interchange?
(We'll provide a longer review of that other publication separately.)
Akin to an Excel spreadsheet in hard copy form, the tables in The Trucker's Friend list truck stops in the first column vertically (alphabetically by city name).
Please note that a facility may be located in a suburb of a larger city.
An example of this are truck stops in Carlisle, Pennsylvania, a suburb of Harrisburg.
If you look in the alphabetical listing for truck stops in Harrisburg, you'll miss the ones in Carlisle. But the map helps (see below).
The uppermost row in the tables contains the most common services that a trucker may need at a truck stop.
If a truck stop has or offers certain services listed, that is noted in the table.
What We Have Looked For Most Often in a Truck Stop Directory
We have especially appreciated knowing this about specific truck stops in advance of arriving:
the size of the parking lot (S for small, M for medium, L for large, XL for extra large);
the availability of a fax service (especially for brokered loads);
whether the repair shop has a national account for tires and if so which one;
a travel store (for buying placards or other trucker gear);
a document scanning service like TransFlo; and
a CAT scale.
One of the things that we have appreciated in The Truckers Friend is the map of each state/province with the truck stop locations dotted by city.
That way, if you know you're going to be traveling a certain route, you can try to plan out as best as possible where you're going to obtain a service or park for your HOS sleeper berth break.
While many chain truck stops are listed, there are also independent truck stops listed as well.
The Parking Lot was How Big? (You Can Double-Check That)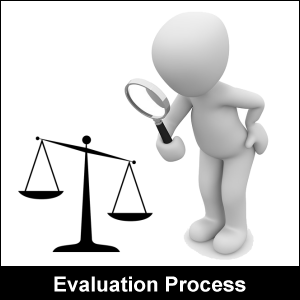 Once when we were in the northeastern USA, we saw a listing for a small truck stop (marked with an "S") with room for up to 5 trucks to park.
In reality, it was a small gas station with not even parking room for one full-sized rig!
Perhaps the publication's editors will increasingly use Google Maps to get a satellite view of whether or not the parking lot is the size that the owners state.
You can check the parking lot configuration of truck stops that have been in business for a while by looking at the satellite view on Google Maps.
(We say "have been in business for a while" because Google updates their maps only periodically.)
Here's a link to the Google Map for the Iowa 80 Truck Stop in Walcott, Iowa, a huge truck stop.
(Make sure you click on the "satellite" option in the upper right corner of the map to view the lot.)
See all the parking spaces for trucks?
Copies of The Truckers Friend are available at many major truck stop travel stores.
They are also available online through Amazon.com through links on this site.
If you order online, see if you can order the minimum to save the cost of shipping.
A good combination might also be with The Next Exit.
Our Recommendation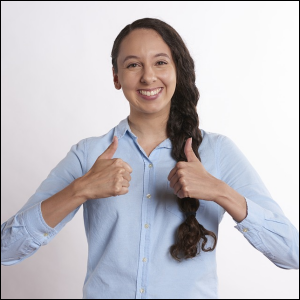 Until an annually-updated digital version becomes available, if you are a professional truck driver, we highly recommend that you buy a copy of The Trucker's Friend, the National Truck Stop Directory, at least every other year.
New truck stops are continually being added and others go out of business.
Another alternative is to visit the websites of each truck stop chain itself– such as those listed on our diesel fuel prices page — and hope you can quickly locate what The Truckers Friend already lists.
Yet another alternative is to download on your Smartphone a trucker app associated with each truck stop chain and hope that that info is complete.
Still, if you concentrate only on the truck stop chains, you may miss some of the delightful independent truck stops listed in the book.
---

Money saving tip: Have you ever stopped at a truck stop where you thought for sure they would have XYZ product or service only to find out that they didn't?
Not only is this irritating but it wastes time (and therefore money) since you will have to go down the road to find what you need.
Armed with an up-to-date edition of The Truckers Friend, you avoid that hassle.
If you're staring a 500-mile trip in the face, you can plan out where you hope to park for your sleeper berth break or to get a meal.
In fact, you can group your errands together to save time.
Assuming a facility provides what you need, you can theoretically scan your documents, buy something at the travel store, get a shower, eat a meal, mail off a note to your loved ones back home, and bunk down for the night — or do a myriad of other tasks — all at one location.
That makes good business sense.
Keeping an up-to-date copy of this resource allows you to know the most recent developments since the last issue.
Our job-related Packing List (available through our Free Downloads page) includes The Truckers Friend.
If you plan to buy your copy in a truck stop, you can save money by buying it in a state with the lowest possible state sales tax.
---
Return from The Truckers Friend: Our Review of National Truck Stop Directory to our Product Reviews page or our Truck Drivers Money Saving Tips home page.
---