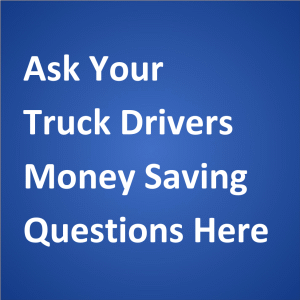 By: Kimmy,
Johnstown, PA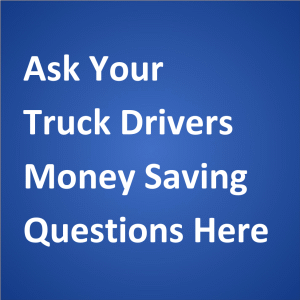 My husband has been a truck driver for 15 years (currently 33 yrs old) and because of a company neglect he broke his skull, jaw, teeth, and surgeries to wire and bolt his face shut. Now plates are holding. Then he went back to work then they fired him for being on nerve pills. We are suing them because they didn't pay for nothing insurance wise plus wrongful firing but that's besides the point. Now because of medication and damage he had seizures and can't no longer drive.(Specialist are waiting to see if it's permnant or not. ) Plus doctors said it started because of the trama and then medication but there's no way of proving it He is so sad. We tried therapy. It's just he's a trucker through and through and now with no finance there won't be a Christmas this year. Now I have 2 daughters (my step daughters) plus a 17 month baby (not ours but took in from drug addict (from birth moms side of family), which he was born on drugs) plus a severely depressed husband. We sold everything we had (cars to cell phones, etc) except one 1999 truck but some lady totaled it day before Thanksgiving Day and it's not being replaced due to a no fault because no one had a stop sign even though she was blazing through an alleyway at 45+ mph. We only had part liability so no vehicle now. We have no heat in house, LIHEAP said soon we'll get oil. We can't get cash assistance because Baby is not blood related, (same as WIC), and can't get child support from mother of my girls because she engaged to a pedafile whom she let touch girls so she don't have rights. He does get unemployment $550 twice a month because PA has a cap on finances. He was a fracking driver who use to make that amount in a day. What can I do? I'm not sturdy mentally myself, now trying to hold and help four other severely depressed souls….I don't know what to do. I pray & pray but losing hope fast. Wildeyez9669@yahoo.com
—–
Response from Vicki:
Hello, Kimmy. Please accept our sympathy over the compounded losses that you and your husband have sustained. We are praying for you today.
Please understand that I am neither an attorney nor a professional counselor. However, I may be able to point you to some resources that can help.
1. It sounds as though you definitely need an attorney (or attorney firm) that will be able to help you. If you do not already have a trucker legal plan in place, then you may consider getting one.
Although they may help hurt truckers in only two states, our friends at HurtTrucker.com may be able to help you or point you in the right direction.
2. Our friend Buck Black at TruckerTherapy.com may be able to provide you with therapy to guide you through your emotional distress.
3. If you have a PayPal account, you may be able to ask for donations from friends. Have you set up your email account to receive PayPal donations?
4. For some emergency needs, please consider turning to the following in your area: churches, food banks or food pantries, or other social service organizations.
Let me please transition into the money angle of your situation…
If it is the case that your husband was earning $550 [per day] on his job, then at just 4 days' worth of work per day and 50 weeks per year, your husband was earning over $100,000 per year. May I gently ask if you had any kind of savings plan in place? If you did not, then please let this situation be the impetus for saving once you get back on your feet.
We do recommend that truckers have a second income stream in place for situations including the one your husband faces. There are things that you as a trucker's wife can do to generate income. Right now, though, I suggest looking for a job that is in demand. For example, you may consider working at a place that needs Christmas workers.
For the Johnstown, PA, area, I see these jobs listed on Monster.com. I'm sure there are probably other job listings in the daily newspapers in your area. Even if you have to beg a ride from a friend to get to work, having some income right now may help you.
Please be aware that certain amounts of income will also impact the amount of assistance that you can receive from some sources.
If I understand your husband's physical health correctly, unless there is a miracle that takes place in his life, he may never be able to return to trucking as a professional truck driver. For someone who has his heart set on being a trucker, being forced out of a job he loves is going to be difficult to come to grips with.
However, perhaps he can find a different kind of job within the trucking industry so that he can stay connected. Perhaps he can become a dispatcher, planner, driver manager or freight broker. However, he will probably not want to take on this kind of work until his body has had a chance to heal a bit.
Because of the below freezing temperatures in Johnstown, PA area at this time of year, if your home lacks heat, I suggest going to a place that has heat. You don't want for any of your family members to experience temperature-related health challenges.
Although I usually remove email addresses from posts that are made through our site — because of the possibility of spam — I am leaving yours publicly viewable so that anyone who feels inclined to help you may do so.
I hope that this has been helpful. Please let us know how your situation progresses.
Thanks.
Best regards,
Vicki Simons
https://truck-drivers-money-saving-tips.com/


—– Comment —–
Thank you Vicki by Kimmy
Date: Nov 29, 2014
We have a great attorney (so far). People on Facebook gave me lots if information in where to turn. Truckerfunds is setting up a possible donation. As for saving the accident was July 2013 and he was just starting with new company after being laid off. His one surgery costed $180,000 at UPMC. The trucking companies insurance paid none. Our personal insurance coved some but not all. He's been in and out of 4 major hospitals. It's not cheap. We re down to pennies. We did get oil today so that helps. And we decided to put a tree up to maybe cheer him up but I think it made things worse. ACRP is going to council him in therapy if I can talk him into going back. I got a closer job opportunity literally closest place possible just at 8 tonight. Only thing what about baby Mayson because I can't get daycare help yet because government is helping with fostering and child abandonment clause so until done I can't get help. Alan can't watch him alone he's fainting and seizuring often now. (Never had one until accident caused by company neglect) Plus Alan's needs I can't leave him home alone and welfare turned us down bc I just lost 2jobs (bc too many doc appts and 2nd boss had two strokes and can't use me no more) so they say I'm there I can take care if him. I'm checking with others to see what we can do. There's more info posted on truckers (community) on Facebook. Ur welcome to friend us (kim n Alan jones-biss) or check the board. OOIDA may help. I think I just got overwhelmed lately and we ll be okay though. God helps. Thank you for your thoughts and pointers. Everyone one community (other than two naysayers) lifted our spirits and we put a tree up like I said and if u asked me yesterday if we were I'd say definitely no. But look we did 🙂 Oh about the money thing. I'm not asking for money. I may go through truckersfund start a donation to help for bills and gifts for the kids. Thank u for u assistance and words. God bless you.


—– Comment —–
CDL student. by Anonymous
Date: May 14, 2015
Thank God that you are a strong women who supports her husband. May God bless you with angelic assistance in the name of Jesus Christ. God knows your pain.